Greenhill Primary School, Wakefield in West Yorkshire, achieves Inclusive School Award with Centre of Excellence status for the third time.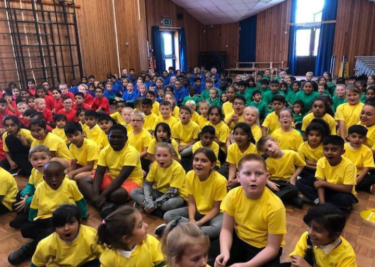 Supporting During COVID
The school team should be congratulated for their hard work in relation to thinking about the needs of their children and community. They have responded to the impact of COVID-19 and worked tirelessly to ensure vulnerable families have been contacted, home study has been supported and that individual needs have been addressed. That same pastoral and supportive care has been extended to the whole team in school, which is to be applauded. As noted on the school website 'We aim for high standards and expect our pupils to always try their best.'
Valuable Meetings Took Place
The timetable for the day enabled me to review evidence linked to the areas of development. The time given by the Headteacher and IQM Lead, staff and parents was valuable and helped to make clear the current position of the school.
A Clear Curriculum
There is a clear statement of curriculum intent that is understood and shared by everyone, centred around three key aims:
• Developing Positive Attitudes.
• Developing Key Skills.
• Engagement in Learning.
These are embedded into the work of the team and evident from the way in which children respond and talk, the way in which staff speak enthusiastically about their role and the value placed on the school by parents and community including governors.
The School Offers Caring Support
It is apparent that the school offers the care and support needed by pupils and has a wide-ranging enriching curriculum, 'We provide a rich and exciting curriculum in a caring and supportive environment that enables pupils to develop the confidence, determination and resilience to achieve high levels of knowledge, skills and understanding.' The curriculum is coherently planned and sequenced. All teachers have good subject knowledge that enables them to present subject matter clearly. The school has the resources and materials to support the curriculum intent.
The Development Plan
It is pleasing to note that the school SEF and Development Plan is shared on the school website which reflects openness and transparency. The school team aim is to ensure that every child in their care reaches their full potential.
Unity of Purpose
There is unity of purpose in the way in which the team work together for the benefit of the children.
Find out more about the IQM Inclusive School Award
If your school is interested in obtaining the IQM Inclusive School Award or you wish to talk to a member of the IQM team please telephone:
028 7127 7857 (9.00 am to 5.00 pm)
or email: info@iqmaward.com for further details.
Want more information on the IQM Award? Click here to request your free IQM information pack