Field End Infant School, Ruislip in Middlesex, achieves the Inclsuion Quality Mark's Inclusive School Award with Centre of Excellence status.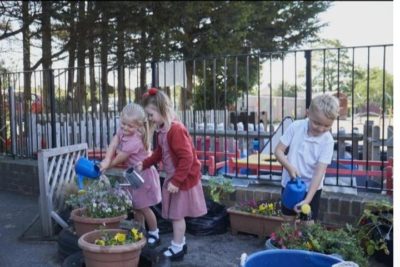 Context
Field End Infant School is larger than average size, with four forms of entry. Pupil Premium children account for around 17% of the school population and approximately 17% of children are on the SEND Register. There is a wide range of ethnicities in school; the largest groups of which (after White British) are Indian, White Eastern European, Tamil, and other ethnic backgrounds. A substantial proportion (around 44%) of the school population speaks English as an Additional Language. The school's last OFSTED Section 5 inspection took place in 2013 and was graded as outstanding. The school is committed to its vision of:
'Developing aspirational lifelong learners to shape the future for every child.'
The School Truly Embraces Inclusion
Field End is a warm and welcoming school that truly embraces inclusion for all. There is a calm, happy, purposeful atmosphere and the environment is bright and positive throughout the school with beautiful displays in the corridors, halls, and classrooms. The staff have created a safe, stimulating, and supportive atmosphere where pupils can love life, learning and play. Leaders ensure that the quality and opportunity is right for all pupils irrespective of their educational needs, race, gender, disability, religion and belief, or socio-economic background. The staff have a passion for developing a culture of inclusion and diversity in which all those connected to the school feel proud of their identity and able to participate fully in school life. It is abundantly clear that the school celebrates diversity and considers this to be a strength of the school and that this should be respected and celebrated by all those who learn, teach, and visit the school.
Benefits of Working Together
From talking to the pupils, staff, parents and Governors, the strength of the Field End attitude in working together for the benefit of all the pupils is tangible throughout the school. This drive for continuous improvement is led by a group of purposeful and caring leaders. The pupils are strongly supported in all areas of the curriculum by passionate and dedicated staff led by strong leaders, who share a determination that all stakeholders should be listened to and work relentlessly to provide equality of learning opportunities for all pupils in school regardless of gender, race, age, or disability.
Motivating Curriculum
Field End Infant School has a child-centred focus towards education with a curriculum that inspires, motivates, and empowers pupils to develop resilience and become independent, confident learners, who are fully prepared for life in modern Britain and the wider world. As an infant school, leaders and staff know and recognise the importance of early intervention and removing barriers to children's learning as quickly as possible. The school employs an Educational Psychologist and Speech and Language Therapist to provide assessment, recommendations, and advice to help the school identify and remove barriers to learning. A Play Therapist is employed to assess and provide weekly support for children. In addition, the school has a wide range of interventions delivered by skilled staff to meet the pupils' needs. Children's additional needs are assessed, and year group teachers plan additional provision across the year group on a provision map. Pupil data is updated termly including the analysis of progress and attainment of different groups.
Pupils are Happy and Valued
Teachers and support staff have high expectations of all pupils. This, together with the attention to individual needs, has resulted in pupils who enjoy learning and who love coming to school. The pupils are happy, respected and valued by all the staff. The pupils are strongly supported in all areas of the curriculum by enthusiastic and dedicated staff led by strong leaders, who share a determination that all stakeholders should be listened to and work hard to provide equality of learning opportunities for all pupils. The staff are effective at delivering tailor-made provisions and these personalised programmes enable pupils to make solid progress across the curriculum, regardless of starting points.
Regular Celebrations
The school has regular afternoons dedicated to celebrating a wide range of celebrations, for example, Diwali and Eid. Pupils come together for a celebration assembly to observe birthdays, give out certificates for a range of school values etc. The school follows the SEAL programme to deliver most of the PHSE curriculum, this helps the children with many different aspects of school life and for pupils' future lives, from transition to recognising what they want to achieve and how to get there. Transitions for pupils are carefully planned from Nursery to the end of Year 2 when children move to the adjacent Junior School.
Staff are Valued and Valuable
Support staff are well trained and make a valuable contribution in class or provide interventions for individuals and groups where necessary. There are high levels of analysis, and the tracking of pupils is rigorous. Governors monitor the process and understand that they are critical friends. They are fully committed to the school's vision, and they play a positive, active, and supportive role in the school. They have a range of skills and expertise which they use effectively to ensure that all pupils are safe and receive a high-quality education.
Staff and Parents Work in Partnership
Parents feel that they are listened to, and the school has fostered a real partnership ensuring both parties share the process of educating their children. Parents commented that communication between school and home is excellent. If parents have any concerns, they are confident that staff will take them seriously and act immediately. They said that their children are making very good progress and they appreciate the support given by the very approachable staff. Parents rightly believe that the school provides a place of safety and security for their children, and it enables them to succeed academically and in their personal, social, and emotional development. They have particularly appreciated how the school has dealt with the smooth transition of children coming back into school in a COVID-19 secure way with the school regularly communicating with parents. One parent said,
"I couldn't be happier with the school. The staff have found time for my child as well as my family. They care about all of us and that makes things very special because they all genuinely care for the children and the families!"
Another parent felt the use of class dojos made a real difference in making sure that she could communicate with the staff, and they were
"Very responsive and dealt with anything that I was worried about immediately."
Continuous Learning During the Lockdown
During the national lockdown, teachers and staff ensured that children had a continuous education, setting up online and recorded learning so children were able to keep up with their learning. Staff have stayed connected with the children and sent encouraging messages to support the children. Staff have even delivered home learning to families who may struggle with accessing online learning. All this support demonstrates the care and commitment that all staff have for the children and their families, particularly during a time of great turbulence and uncertainty.
Everyone Included
All the staff, parents, Governors, and pupils spoken to during the assessment were extremely positive about the school's work. There is a very genuine sense of team effort here, of mutual support, of listening, discussing and including everyone.
Find out more about the IQM Inclusive School Award
If your school is interested in obtaining the IQM Inclusive School Award or you wish to talk to a member of the IQM team, please telephone:
028 7127 7857 (9.00 am to 5.00 pm)
or email: info@iqmaward.com for further details.
Want more information on the IQM Award? Click here to request your free IQM information pack