Colindale Primary School in Barnet, London achieves the Inclusive School Award for the third time.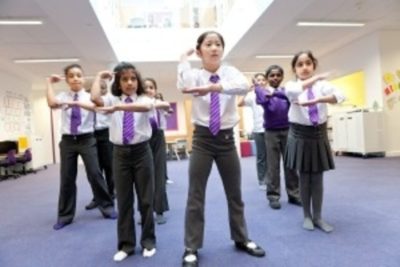 Context
Colindale Primary is a large 3 form entry school with a nursery and it recently opened two-year-old provision. Situated in Barnet, Northwest London, it serves a diverse multicultural community. The largest ethnic groups are Asian, Indian, Eastern European and Somali and over 80% of the pupils speak English as an additional language. The number of new arrivals has been increasing recently. The percentage of pupils with SEND and those eligible for Pupil Premium are above the national average.
The School's Vision
The school has an ARP for pupils with physical disabilities and strives to ensure that these pupils can access the same learning opportunities as their peers. They are based in mainstream classes and therefore benefit from participating in all classroom activities, as well as from the specialist facilities and resources that the school provides. All staff buy into the school's vision which is clearly inclusive:
'To enable every child to achieve their potential, to live and learn together and to respect diversity'.
Inclusion is central to the school's ethos, as is evident through being a Rights Respecting School and in its Rainbow Values: Respect, Aspiring to be the best we can be, Inclusion, Never giving up, Being a good friend, Optimistic to make the world a better place, Working together. The RRS articles and the school's values are the basis of assemblies, displayed in classrooms, clear visible on the website and are understood by pupils.
Colindale has achieved many other awards and quality marks, which externally validate the excellent work that the school does. These include ECO green, Healthy School Award (silver), Parent Champions, International School Award and PSQM.
A Wonderful Learning Environment
The school has created a wonderful learning environment in its huge indoor and outdoor space, which includes a swimming pool. All areas are accessible to wheelchair user's and it is well-resourced throughout for different needs. This calm, caring and supportive environment is an excellent example of inclusivity.
Generating Success
Pupils at Colindale achieve well. The school works very hard to identify and overcome any barriers to learning that pupils may have in order that they can achieve success. There is a strong and effective inclusion team with senior leaders having responsibility for SEND, EAL, ethnic minority pupils and Pupil Premium. They ensure that the school does whatever it can to meet the wide range of complex individual needs, which currently include visual impairment, ASD, physical needs, tube feeding, new arrivals, mental health and trauma. These needs are not seen as limiting factor to success, instead, the school sets challenging goals and works with other professionals, for example, physiotherapist, OT and the VI teacher from Barnet LA to provide the best education and welfare possible. The Shared Goals system for SEND pupils has been particularly effective in engaging parents and enabling pupils to achieve success and it is totally understandable that the school has a good reputation locally for SEND provision.
Supporting Each Other
While a range of teaching strategies are employed and the curriculum is adapted to meet different needs,
'there is an expectation that everyone will join in'.
This extends to all aspects of school life. When visits are planned, the school always checks that locations are accessible to everyone and on sports day staff ensure that everyone can take part. This inclusive approach is taught by staff and understood and accepted by all pupils. It was lovely to see so much evidence of pupils supporting each other.
Learning During Lockdown
Home learning was quickly and successfully established during 'lockdown', partly due to staff having already been trained in using Teams. They knew how to record lessons, share work and send messages and senior leaders had trialled its use. At the beginning of 'lockdown' pupils received help with Teams in the playground and an audit of IT facilities at home was undertaken. Where home situations were not supportive of home learning, pupils were invited into school. Online lessons were run for small groups rather than whole class and there were additional sessions for SEND pupils. All live lessons were recorded to help ensure that every pupil had access. Printed packs / publications were produced for some pupils, with some adaptations for different needs and SEND pupils. The school has prepared emergency packs should they be required.
Pupils all appear very happy and high levels of pupil engagement in learning were observed across the school. They are encouraged to be independent and to take responsibility, including through the five pupil bodies. Pupils say they particularly enjoy English, maths and science lessons, playtimes and socialising with their friends and that behaviour in their school is good, with any incidents sorted out fairly. They also say that teachers help them learn and provide fun activities, so they do not get worried.
Parent Champions
Both teachers and support staff feel included and appreciate being consulted on possible changes and being listened to by senior leaders, knowing that their views will be taken account of. They say the Headteacher is very supportive and open and 'involves us' and feel that senior staff care about their personal and professional development. The relationships between staff and between pupils across the school are very good:
'I'm proud of the school'

'It's a happy place'

and

'It feels like a family'.
The school works hard to forge a strong partnership with its parents, involving them in school life, providing information and support and taking account of their views. The Parent Champions initiative is proving to be very successful and worthy of being shared with other schools.
Creating a Positive Impact
Colindale is open to ideas, continually evaluating its provision and seeking ways to improve and to meet the needs of all its pupils and their families. The Headteacher and senior staffs' inclusive approach has a positive impact on the whole school community and there is much to celebrate and to share.
Thank you for your clear and thorough self-evaluation document which so many staff, governors and pupils contributed to and for arranging the informative virtual review day. It was an absolute privilege and a pleasure to have been able to visit Colindale for the second day of the review and to see such a good example of inclusive practice.
Find out more about the IQM Inclusive School Award
If your school is interested in obtaining the IQM Inclusive School Award or you wish to talk to a member of the IQM team please telephone:
028 7127 7857 (9.00 am to 5.00 pm)

or email: info@iqmaward.com for further details.
Want more information on the IQM Award? Click here to request your free IQM information pack