Calthorpe Academy, Birmingham in the West Midlands, achieves Flagship School status.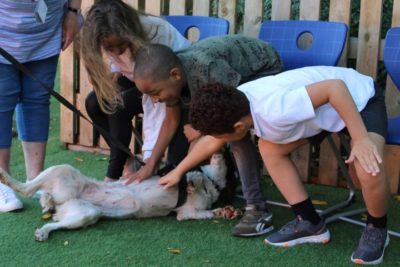 Context
Calthorpe Academy is a 2-19 special needs school in the centre of Birmingham. The Senior Leadership Team is determined to provide the best possible education to their learners regardless of their needs, background, beliefs, or age, to enable them to develop the 'skills they need for the life they want'. They strongly believe that all learners have the right to be safe, engaged, and happy to enable them to learn effectively. Their strength is in their diversity, creativity and unconditional care for their learners who are at the centre of everything they do. Calthorpe Academy is part of Thrive Education Partnership. The previous Headteacher is now the CEO and has designed a succession planning programme aimed at retaining and developing their outstanding team of Leaders to grow Leadership capacity. It is rated good by Ofsted but clearly on the pathway to Outstanding, and it is of no surprise the Leadership was judged at such.
No Compromise
Today I visited Calthorpe Academy for its third year of IQM Centre of Excellence status, in their relentless mission to be recognised as a Flagship School. The school is there to serve the most vulnerable in their community. It is a complex operation that meets the needs of children with special needs from the age of two and a half to 19. It is the largest SEND school within their MAT and is a hive of good practice that is unselfishly disseminated throughout the Trust. The new Head was appointed during the pandemic, yet the staff present as a united family, with expert staff and a clear vision for the shape of their Academy; you would not know they were a newly formed team with re-designated roles. Roles have been purposefully refined to ensure that their remits are clear and the impact demonstrable in their actions and pupil outcomes. There is no compromise on high exceptions for all learners at all levels. Leaders describe their peers as forward thinking and innovative. This is evidenced in their three distinctive pathways for learners, ensuring the curriculum offer is matched to pupil need. Leaders are best described as enthusiastic, passionate, and most importantly knowledgeable about the needs of the pupils who are at the heart of all they do. They know their children; they know the strengths, the needs, and have the vision of their potential contribution to society. I heard constantly the reference to 'reasonable adjustments,' but what they were really saying was that they expected everyone to share their inclusive attitude and demand that every agency, stakeholder, and the wider community take the stance that it is not 'reasonable' to make an adjustment, it is a minimum expectation!
Fantastic Five
The school offers three curriculum paths. There are three distinct pathways: 'Learning for Life' which is closest to the national curriculum, 'Engagement for Life' a pathway for those with PMLD and medical needs, and 'Foundation for Life' tailored for children with Autism, with an emphasis on communication and resilience. The most able children are encouraged to attend a neighbouring mainstream school to access a GCSE curriculum, and in turn, the staff from the Calthorpe Academy offer CPD, advice and guidance. The curriculum is focused on the students being ready to integrate into the adult world. Sometimes this is at conflict of expectations, for example, they do not rely on children using Makaton, as this will exclude them from communication in the mainstream world, but instead focus on communications skills that can be applied universally. It is brave to stand away from traditional SEND teaching models, but their focus is insightful in its intention of preparing the children for life Post 19. Students were able to articulate the purpose of their lessons and tell me how they enjoyed the lessons and their practical nature. The differentiation for the pupils is outstanding, with some students unaware of the learning that is taking place, as they just feel they are having fun: learning is just a positive coincidence. Pupils reported feeling safe, having positive relationships with staff and could identify that they were making progress. Staff have a good understanding of what constitutes a good lesson, and consistently refer to the Fantastic 5: Behaviour for Learning, Communication, Independence, Personalisation, and Assessment for Learning. I am under no illusion that underperformance will not be tolerated. The curriculum is well designed, sequential, and based on research and evidence-based practice. They have developed it through multiagency input such as occupational health therapists, language therapists and SEND specialists as they have the benefit of housing some of these professionals on site. They always take the opportunity to re-evaluate, and revise practice based on the changing needs of the cohorts. One of my favourite moments of the visit was watching a class demonstrate their learning through the hungry caterpillar, where the praise was free flowing, the encouragement was exemplary, and the children glowed with pride. There was a clear building on prior knowledge, and they were having fun: it was clear why the relationships they demand staff foster with students is so important. Children are baselined though appropriate assessments, often as soon as in the early years, and then assigned a pathway. The curriculum is complimented by opportunities for music therapy, 1:1 sessions, communication support and a comprehensive offer of extra-curricular opportunities. They are determined to move beyond the national curriculum to offer life related learning and skills for independence, with all learning must be working towards enabling them to have a readiness for adulthood in an ableist society.
Creating Positive Citizens
Students are offered work placements in the community that are appropriately challenging but supported through the rigorous preparation of the students through their comprehensive transition and their relationship with employers that offer the placements. The tutors adopt a facilitator role, encouraging independence. Each placement is carefully considered and aspirational for the individual. Placements are chosen in consultation with the students, parents, and the vocational team. The school has well established apprenticeships and placements with Tesco's, the Children's Hospital, foodbanks and local employers, with some of these being paid placements. They cannot be described as tokenistic as the placements are enjoyed and celebrated and are truly inclusive. The dedicated staff have worked hard to raise awareness of reasonable adjustments to encourage inclusive employment most recently they are working in collaboration with Health Education England to produce a toolkit to help and support young people with disabilities in employment. Giving their students opportunities to independently demonstrate their learnt skills for healthy living and employment is the pride of Calthorpe, and a model of good practice that should be extended nationally. The pupils spoke with pride of their achievements, and their success was reflected in their feelings of self-worth, and this cannot be underestimated. All pupils are given the opportunity to experience success and the consequence of this is the positivity, energy, and ambition of the students that they emanate in their stance.
Growing Confidence
The Sixth Form curriculum is aligned around the Gatsby Benchmarks and the employability and independence skills they need for the future. Through considered nurturing, encouragement, and a challenging curriculum, one pre-verbal pupil was able to explain their equality of opportunity, the positive experience he has at his work placement and his ambition for the future. All pupils have it instilled that they will make a valuable contribution to society, though work, or relationships with others. Those who will access the social care system Post 19, have also been encouraged to develop their skills, through facilitation in joining day care groups of mixed age, and to experience joy in their growing confidence and communication and relationships with others.
Achievable Targets
Assessment is tailored to the needs of those on each learning pathway. They utilise an online app called 'Learning for Life' that enables staff to record the qualitative data, that you cannot map on a spreadsheet. They have produced evidence such as photos of milestones and learning moments, which gives pupils, parents, and teachers the opportunity to celebrate 'the small steps,' which are, in reality, huge. The Leadership spoke about the exceptional support of their Governing links, and it is clear the Governing Body still offer support as a critical, yet challenging, friend. Accountability for outcomes is high and there is a rigorous analysis of the progression made by pupils, at all levels. The usual quality assurance protocols are applied, yet the Leadership has a sensitivity, understanding and rapport with the pupils and are experts at identifying progress at the appropriate level. Targets are personalised and achievable and shared with students, parents, and staff so all parties are aware of the common goal and the small steps that are needed to reach it. Transitions are managed carefully. They benefit from being an aged 2-19 provision as pupils do not have to transition externally. Internal transitions from classes to key stages are managed carefully, with the emotional and academic needs met equally.
Challenges of Covid Overcome
Life during Covid has presented challenges but the school offered a blended approach to learning, offering online lessons and parental workshops as well as on site lessons to the most vulnerable and they ensured every individual had a package tailored to their needs. When implementing school routines at home, parents were surprised at what their children could achieve, and this best practice has been incorporated into the home setting. Leaders speak highly of their parents and their willingness to adopt the team's recommendations and embed the communication routines at home. The parents in turn call the staff 'everyday heroes' and speak passionately about their children's successes at Calthorpe Academy and the dedication and perseverance of staff to ensure that children can access a holistic level of support, unrivalled by any other school in the locality. The parents describe school staff as their extended family and welcome them into all aspects of their lives. They have fostered a culture of communication and parents trust them with their most precious children, which is even more important to these parents as their children are some of the most vulnerable. The words, safety, trust, compassion, and professionalism were used to describe the staff who recognised the need of the families for someone to see and encourage the potential in their child.
Safe Reintegration
Leaders have been eager to establish the new normal. Environments have been adapted and routines re-established, and staff have been inventive and creative in replicating normally external experiences into the classroom environment. For example, classrooms have been turned into shops, supermarkets, and libraries. Daily meditation was also introduced as pupils' health and wellbeing is firmly planted at the core of their curriculum. Access to Level 1 exams was also sustained in this difficult time, ensuring all pupils were able to attain the qualifications they needed to take their next step. To encourage a feeling of togetherness, the bubble was asked to contribute to a big art project on plastic pollution, so they were together even if they were apart. Tentative steps have also been taken to reintegrate into the wider community though visits to Cannon Hill Park and Ackers Adventure Centre, and places where Covid measures and social distancing can be maintained. Even though the Prom has been cancelled due to government restrictions, Leaders are determined to replicate the Prom experience on site, so no one misses out on this pivotal life experience; they will truly make it a celebration and reflection of the success of their pupils. Leaders are reflective of the Covid period and describe how this time gave them an opportunity to evaluate the curriculum and draw down what was essential for their individual cohort.
Investment for Success
There is a commitment to procuring the right resource to match the need. Adaptive technology is utilised across the school to aid communication and handwriting. Hoists were transferred from another school to ensure equipment was not shared so students did not have to wait until the right resource became available. Children have been encouraged to create digital CVs for prospective employers: short videos where they can express their skills and abilities in a way that is accessible to everyone. This has complimented their work in their disability awareness video: the children themselves created a video about disability awareness and are steering their own path in this awareness mission. There has also been a great investment into the play area, making sure swings are wheelchair accessible and the environments adaptable and purposeful, encouraging the incorporation of additional opportunities for outdoor learning. Visitors describe it as colourful, impressive, and truly inclusive, and has been visited by other schools who see it as a model of good practice.
Staff Committed to Calthorpe
Many staff have been with the Academy since their early careers. A great deal of CPD and opportunities for progression are embraced by the staff. The teacher I met with leading the 'Learning for Life' pathway, was encouraged to have high aspirations, and her experience was complimented by CPD which enabled her to gain her teaching accreditation. There are comprehensive packages for staff at all levels. The Early Career Framework is being established, the Teaching Assistants can access a CPD package supported by a local university, and they are embarking on a new leadership pathway for aspiring leaders.
Unique Level of Universal and Targeted Support
The population also has a hidden depth of need that goes greater than the students' SEND need. The school is acutely aware of the proportionately high number of families who are eligible for free school meals or have safeguarding concerns. They support children on CIN plans and through the Early Help referral system. They offer a unique level of universal and targeted support. The effective communication between home and school is matched by its level of trust, and disclosures come though as parents are not afraid to ask for help or be truthful in the difficulties they have at home. Support for the families is outstanding, as they draw in the advice and support as part of a multi-disciplinary approach. The NCPCC has completed a safeguarding review of the school and praise the Academy for their high expertise and model practice in this area. The staff have identified that parents can feel isolated, as their situation means that they have felt excluded from the normal mainstream offers for children. The Calthorpe Leadership has united their parents with commonality, setting up workshops, and peer support, so no one feels alone. They offer a comprehensive menu of workshops for parents such as sleep therapy, behaviour and EAL classes. They confidently spoke about collaborations with the Police who could deliver key RSE messages such as healthy relationships online. They have raised parental awareness of the vulnerability of their children as they struggle to differentiate between the expectations of public, private, and online behaviour. They have worked with different agencies to produce a RSE/SMSC curriculum that is developmentally appropriate for their learners, in comparison to the national age-related standard delivery. School nurses are also actively engaged with the school community and launched an Art competition where a piece of Art was commissioned to appear in each of the special schools. Many agencies offer more than advice and advocacy, they want to be a part of the Calthorpe family. They host a behaviour support team onsite and have school wide prohibition on physical intervention: in a world where team teach and MAPPA training is seen as a key part of SEND provision, the Academy instead rely on relationships, de-escalation, and restorative practices.
Inclusivity Exemplified
Today's visit, although conducted virtually, was an opportunity to see how the Senior Leadership are united in their vision for inclusivity at Calthorpe Academy and ambitiously, beyond their walls into the outside world. The new roles of the extended Leadership have strategic intent, are coordinated and are already evidencing impact. It is understandable why Birmingham's School Improvement Service hold them as a model of best practice. I am in no doubt that they will continue to strive for excellence in all areas. Therefore, I recommend, without reservation, that the school be awarded the Inclusion Quality Flagship Award. I remain firm in my belief the Calthorpe Academy and its Leadership Team, have the drive and capacity to be held as a benchmark for excellence in inclusion in schools and society. The team deserve the recognition for their service to a community that has numerable challenges only disguised by the care, drive, and commitment of the Calthorpe Academy staff.
Find out more about the IQM Inclusive School Award
If your school is interested in obtaining the IQM Inclusive School Award or you wish to talk to a member of the IQM team please telephone:
028 7127 7857 (9.00 am to 5.00 pm)

or email: info@iqmaward.com for further details.
Want more information on the IQM Award? Click here to request your free IQM information pack