Bursted Wood Primary School in Bexley has achieved Centre of Excellence status.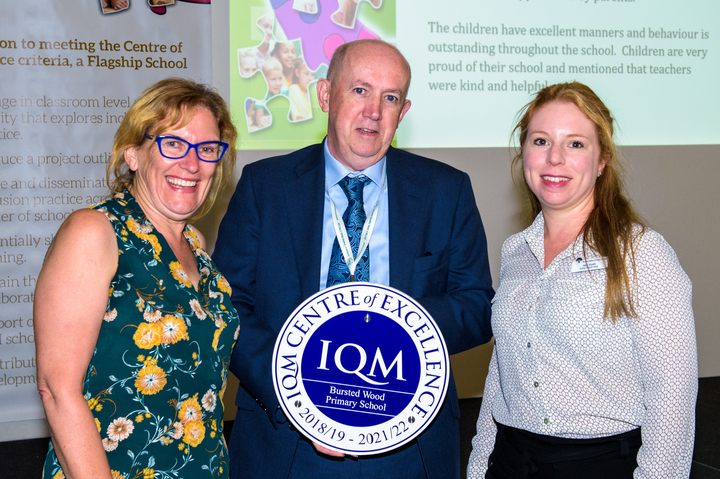 A Very Inclusive School
Bursted Wood Primary School is a very inclusive school where everyone, regardless of their specific abilities, is valued equally. The school is led by a highly respected Headteacher who knows all the children and is appreciated by parents. A thank you note states,
"Thank you for being such an inspiration for our three girls. Your drive, for the future of everyone and presence in the school is heart-warming to witness."
The Headteacher greets everyone personally as they arrive at school in the morning.
"I think our school is a big family that works together because we share our similarities and celebrate our differences", Year 5 pupil.
The school is fortunate to be close to Bursted Wood with all the country feel and outdoor opportunities this gives the children and the school itself stands in spacious and very well-cared for grounds.
Behaviour is Outstanding
The children have excellent manners and behaviour is outstanding throughout the school. The children were singing beautifully and with real enthusiasm as they entered the hall for their Values assembly. The singing was quite inspirational. Everyone was focused and well-behaved as they took part in a quiz to remind each other about the 6 values of the school: respect, tolerance, fairness, care, kindness and responsibility. There was a very celebratory feel to the assembly. The school is well-known for their singing as they take part in events in the local area and sing at a care home with the residents.
Staff Enjoy Working at the School
Teachers and support staff really enjoy working at the school. Support from the SENCO is highly appreciated (her dedication was mentioned by parents) and new staff feel that they can discuss any concerns they may have about children and that they will be addressed. Training is offered to staff who feel that they need more support to meet the children's needs: an NQT recently went on a course about Autism in the Early Years.
Very Proud Children
Children are very proud of their school and gave lots of examples of opportunities they had to learn about exciting topics, such as having a mock trial in a courtroom for year 6, to a year 2 child making salt dough sea monsters for enterprise week. Enterprise week was very popular with all classes making products for the Summer Fair where they would man stalls and sell what they had made. The school has developed a new Curriculum with a corresponding bespoke assessment package.
Kind and Helpful Teachers
All children mentioned that teachers were kind and helpful, with one year 4 girl saying,
"my teacher explains really well so we get most things right."
The yellow of the school uniform was mentioned by two year 6 girls who said it makes them feel special because it is an unusual colour for a uniform!
Children Explore their Thinking Together
A year 2 class were completely focused during their problem-solving maths lesson. The seating plan was obviously very well considered with children exploring their mathematical thinking together. The skilled questioning meant that more able children were challenged and the lesson was accessible to everyone.
Supportive of the Children's Efforts
The same focus by the children was witnessed in a Reception class phonics lesson. The children were reminded of the supports that were available to them such as the word wall and asking each other for help. The teacher and nursery nurse used praise, were very supportive of the children's efforts and set a pleasant tone for the classroom.
Governors are a Strength of the School
Outside agencies, such as the Speech and Language Therapist, speak highly of the inclusive practices in the school. Teaching assistants are very keen to understand the methodology and strategies that can be used when supporting a child with speech and language difficulties and work closely with the Speech and Language therapist when implementing interventions. Governors are a strength of the school and are very committed to their roles and what they can offer to the school.
Skilled and Proactive
The child welfare manager is very skilled and proactive in her various roles such as supporting parents, being the lead for Looked After Children and running a lunch time drop-in club for children who want to talk or need a break from the playground. She is passionate about her work and the children at the group were happy and playing really well with each other.
Early Identification is a Strength
Parents of children with SEND were complimentary about the school, especially about the commitment of the Inclusion team. Early identification is a strength of the school as three of the parents said they had been approached about concerns about their child before they had noticed anything amiss themselves.
Find out more about the IQM Inclusive School Award
If your school is interested in obtaining the IQM Inclusive School Award or you wish to talk to a member of the IQM team please telephone:
028 7127 7857 (9.00 am to 5.00 pm)
or email: info@iqmaward.com for further details.
Want more information on the IQM Award? Click here to request your free IQM information pack.