Barton Hill Academy, Torquay in Devon, part of the Academies Enterprise Trust, achieves Flagship School status for the third time.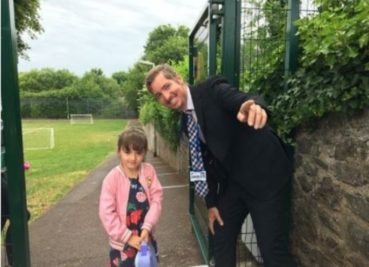 Team Work
The team at Barton Hill Academy are passionate about inclusive education. There is a powerful sense of teamwork,
"we work as a team… we are all involved."
There is a strong leadership commitment to seeing children as individuals as one member of staff observed, we are an Academy,
"where all children's needs are met,"

another member of the team commented:

"if we see a need, we will fulfil that need."
Extraordinary Efforts During Lockdown
The team at Barton Hill are admired for the extraordinary measures and efforts that have been undertaken during this pandemic. Their selfless and principled approach to pupil welfare and pastoral care has been outstanding. The pupils were excellent ambassadors for their Academy, and they have taken advantage of all the available opportunities open to them through the pupil leadership model in the Academy.
The Academy used Google Classrooms as the main platform for home learning and they found the experience engaging and fun. Families are appreciative of their teachers' efforts and the feedback and regular communication they received.
Inclusion Embraced
Another key to the success of Barton Hill Academy is the team's detailed knowledge of the needs of its community and their ever-changing social demographics. Staff consult parents and carers fully and take steps to ensure the pupils are able to thrive and achieve as well as they can. This involves a high level of tolerance, empathy, and support. Communication with families is strong, frequent, and effective. All stakeholders have a sense of belonging to the Academy and inclusion is well embraced so that each pupil is valued for their individuality and can develop their enquiring minds and spirit of curiosity through participating in a range of challenging, fulfilling, and happy educational experiences in order to reach their full potential.
Great Communication
Parents are very supportive and complimentary of the Academy's staff and leaders. One parent described how staff adapted provision in order to cater for her child's additional needs. She explained that her son had flourished and how the staff were able to identify strategies that worked. Parents were incredibly happy with the arrangements for home learning during lockdown and explained that learning packs of hard copy materials were available for families to collect if they could not access the programmes online. Communications are always good but especially so during the period of lockdown. Prior to lockdown, parents explained that the Academy would hold a number of events to which parents and the community would be welcome.
Parents Admire Staff
Parents were keen to express their gratitude and admiration for all staff who went above and beyond to support them and their children during lockdown. Collectively, this engagement with the wider community introduces an element of diversity that would otherwise be missing.
Supportive Governors
Governance is strong and well informed. Governors bring a wealth of experience and skill to their role and are supportive of the Academy's vision and aims. Despite the lockdown, governors continued to meet virtually and, crucially, participated in the discussion about creating a Covid-19 safe environment for pupils and staff upon return from lockdown.
Staff Wellbeing
Along with the pupils, the inclusivity of the learning environment ensures the wellbeing of the staff is at the forefront of the Head's vision so that staff feel confident to deliver Quality First Teaching. The larger community is not forgotten and through the expertise developed within Academy, this is shared with the wider community including parents.
Wonderful Inclusive Practices
The Academy should be congratulated for the skilful way in which it navigated a smooth course through lockdown. The understanding of the context and empathy with their families is outstanding. Staff described procedures which were adapted to ensure safety and the continuation of a meaningful experience throughout the closure. Since September, further measures have been taken to maintain a safe environment and experience for all who work and learn at Barton Hill Academy. The work of support and site staff to make the environment safe for teaching staff and pupils is highly commendable. Barton Hill Academy continues to move from strength to strength in terms of its inclusive practices.
Find out more about the IQM Inclusive School Award
If your school is interested in obtaining the IQM Inclusive School Award or you wish to talk to a member of the IQM team, please telephone:
028 7127 7857 (9.00 am to 5.00 pm)
or email: info@iqmaward.com for further details.
Want more information on the IQM Award? Click here to request your free IQM information pack