Ash Hill Academy in Doncaster has achieved Centre of Excellence status.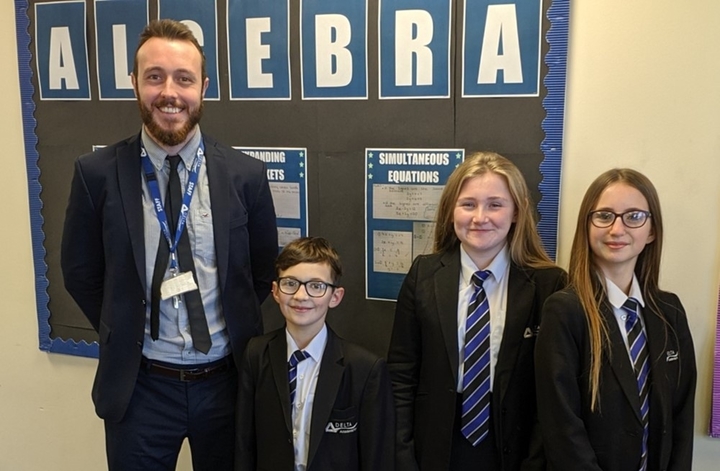 Differences as Opportunities for Learning
Gaining the Inclusion Quality Mark does not depend on a school's attainment in exam results but instead it focuses on learning and achievement in its widest sense and looks at how schools see differences as opportunities for learning. An effective school must be an Inclusive school. Ash Hill Academy embraces diversity and employs excellent inclusive practice as a driver of continued whole school improvement and as a result is an increasingly effective school.
Ash Hill Breathes Inclusion
The psychologist Marsha Forest (who founded the Inclusion Movement in Canada) said, "You can't DO inclusion, you have to breath it." I believe Ash Hill Academy breathes inclusion and that school wide outstanding inclusive practice enables most of their students including those that are vulnerable to make improving progress from challenging starting points.
Sources of Evidence
During the IQM two day assessment visit I met with the Principal, Delta MAT Inclusion Lead, Vice Principal/Teaching & Learning, Vice Principal/IQM Coordinator, Assistant Principal/Inclusion, Bridge Manager, Personal Learning Centre (PLC) Manager, Year 7 (Y7) and Y10 Learning Managers, Chair of Governors (Inclusion, Special Educational Needs and Disability (SEND), Children that are Looked After (CLA), Safeguarding), Staff Governor (Curriculum Lead for Basket 3), SEND Coordinator (SENDCO), Education Welfare Officer (EWO), Associate Assistant Principal/Attendance, a Learning Support Assistant (LSA), a visiting 'Flying Futures' mentor, two parents and approximately twenty pupils from across all five year groups. I joined the morning arrival/welcome, attended two year group assemblies, ate lunch in the dining hall, attended an after school Inclusion team meeting and a Y6 transition meeting with Headteachers from feeder primary schools. I toured the whole school, dropping into the Bridge and PLC provisions as well as history, science, music and dance lessons.
Documentary Evidence
As well as my findings from the many meetings and observations the assessment process included an in-depth evaluation of extensive documentary evidence provided in hardcopy by the school during my visit, available on the school's website and from external sources. The whole staff team and students were exceptionally accommodating especially the Vice Principal/IQM Coordinator, Assistant Principal/Inclusion and Delta MAT Inclusion Lead.
A Can-Do Approach
The school Principal believes attaining the IQM is external validation of the school's effective inclusive practice and improving provision that has led recently to the local community starting to reinvest in the school. The school Principal is inspirational when he speaks with passion of his commitment to improving the life chances of his students as well as the school's Progress 8 Scores. 52% of students receive Pupil Premium and the school is actively combating the social constraints presented by deprivation, improving its provision at a pace in order to support the current generation. As well as challenging the aspirations of its students, the Principal recognises that the school also needs to change those of its families and local community. The Principal sites the huge numbers of students and their families that arrived at school to collect and celebrate the students' exam certificates in August 2018, compared to hardly any in 2015, as an indicator of the community's buy-in to the school's 'can-do' approach.
Background
The school draws directly from the local community with the majority of students living within walking distance. The vast majority of the intake come from the nine main feeder primary schools. As the performance of the school continues to improve, the student population is growing. Over the past three years numbers in Y7, Y8 and Y9 have increased on average by 35% and the current roll is approximately 670. 'This is expected to increase further in light of: a) year on year improvement in outcomes by the Academy, b) a domestic building initiative, which will see the development of 3500 new homes within the locality, c) a new Academy which is expected to complete in 2020.'
Context
The Academy operates in a very challenging environment:
• Pupil Premium – 52% compared to National 25%.
• SEN support – 14% compared to National 10%.
• LAC – 1.9% compared to National 1.0%.
• Deprivation (IMD Bottom 10%) – 50% compared to National 12%.
• Deprivation (IMD Bottom 30%) – 73% compared to National 35%.
• Ed & Skills (Bottom 10%) – 69% compared to National 12%.
• Ed & Skills (Bottom 30%) – 78% compared to National 34%.
Committed to Inclusive Practice
The first strategy of the school's Mission Statement is 'To ensure a school wide ethos where each student is viewed as an individual.' The staff, parents and Governors consistently demonstrate that they are fully committed to inclusive practice as a driver for whole school improvement. The school's first Core Value is to 'Place students at the heart of everything we do.' Organisation of the school is finely managed to enable all students to reach their full potential. Staff are relentless in their work to enable each student to overcome every barrier to learning and achievement. Staff and Governors are driven by their belief in the school's ability to 'change students' lives and to 'improve educational outcomes for the communities which it serves'. The school's Core Values permeate its structures and processes providing a safe and nurturing environment. The school constantly responds and flexes with the same intensity as that of a specialist provision to meet the changing challenges faced by its students and their families.
Outcomes have Continued to Improve
The school's outcomes have continued to improve for the last four years with improved exam performance in 2019 across all identified groups. The multi-million pound partial new build is a signal to all stakeholders and the community that the DfE has confidence in the school's improving standards. In 2018/19 outcomes (3 Year Trend data) for disadvantaged students had improved more than for non-disadvantaged students, those for pupils with SEND have also improved. Progress 8 Scores for disadvantaged students are expected to improve to zero from -0.07 currently (-0.05 all pupils and -0.56 SEND currently), while improvement in reading levels for disadvantaged students is also higher than that for non-disadvantaged students.
The Doncaster Inclusion Charter
The school is benefitting from extra finance and support generated by its location in a Government/DfE 'Opportunity Area'. The Delta MAT is working with the Local Authority and DfE as a member of the steering group. All Secondary schools in Doncaster have signed-up to the 'Inclusion Charter' and there is a recently developed authority wide Y6-Y7 transition team. The Delta Inclusion Lead has supported the school's Inclusion Lead since they began the role eighteen months ago and along with the Local Authority recognises that the greatest impact on vulnerable students' development and progress has taken place in the past eighteen months, with year on year progress over the past three years.
Ofsted
The 12th February 2019 Ofsted report of the most recent Requires Improvement monitoring inspection states 'You and your senior leaders are tackling the areas requiring improvement successfully. You have an accurate picture of the school's performance and your development plan is sharply focused on the areas needing further work.'
Educational Inclusion
'Educational inclusion involves promoting access and diversity, raising achievement for all, creating the environment which provides the opportunity for all to succeed and constantly striving to improve the inclusive nature of the school.' IQM
Find out more about the IQM Inclusive School Award
If your school is interested in obtaining the IQM Inclusive School Award or you wish to talk to a member of the IQM team please telephone:
028 7127 7857 (9.00 am to 5.00 pm)
or email: info@iqmaward.com for further details.
Want more information on the IQM Award? Click here to request your free IQM information pack.