Adelaide School in Crewe achieves the Inclusive School Award for the second time.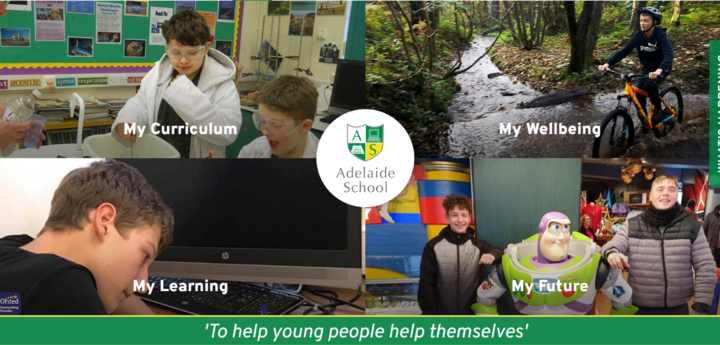 Inclusion Permeates Everything
Adelaide School is an outstanding and truly inclusive school. The school's mission statement is, "To help young people help themselves" and the ethos of the school is centred around the students 'developing an intrinsic desire to make progress.' Inclusion permeates all that the school does.
Background
The school is a therapeutic special school, providing education for pupils with social, emotional and mental difficulties (SEMH) aged between 9 and 18 years. Located in Crewe, in December 2013 Adelaide school established the Adelaide Academy Trust. The Trust has now effectively sponsored two SEMH schools and consists of Adelaide School (Crewe), Adelaide Heath Academy (Knutsford) and Finch Woods Academy (Knowsley). Additionally, the Trust offers link provisions to pupils who are educated off site (Adelaide Link) and outreach support to schools within their locality.
Context
The school serves students from across Cheshire and beyond. Currently there are approximately 95 pupils on roll, inclusive of Adelaide Heath, of which approximately 25 attend Adelaide Link or access bespoke alternative provision. All students have an EHC plan for SEMH, but many pupils have additional needs, such as ASD or ADHD.
Outstanding Ofsted Grading
The school has been 'outstanding' in three successive Ofsted inspections and achieved many awards. The most recent Ofsted inspection in January 2018 graded the school as being outstanding in all areas stating, "Pupils of all ages make outstanding progress from their starting points." They praised the inclusive culture of the school, where everyone is valued, commenting on how well the staff worked as a team, within the school's inclusive approach.
Inclusion is a Shared Responsibility
The Head of School, SENCo and staff share a clear passion for, and emphasis on, inclusion and inclusion is a shared responsibility among all. There is a focus on the whole child and the school works hard to identify and break down any barriers to learning that their pupils may have. There is a sense of true community, with inclusive practices being well embedded and a high commitment from all staff in ensuring that every child is supported and enabled to achieve their potential. Alongside this the belief in the 'holistic development of pupils, not just their academic achievement' shines through and preparation for their future lives, beyond school, whilst making every effort to fulfil their aspirations is comprehensive, with preparation for possible future careers commencing as soon as pupils start at the school. Careers education is embedded in the culture of the school.
Improving Outcomes for All Pupils
There is a clear whole school drive for improvement in order to improve outcomes for all pupils, including the most disadvantaged pupils and the school prides itself on supporting learners with a wide range of difficulties. Pupils in the school have a range of needs and attainment on arrival at the school is often below national expectations. In 2019-2020, 100% of Year 7 pupils were entitled to 'catch up funding' as they entered the school with below national average attainment in all core subjects. The school values of: "Care, Commitment and Collaboration" are very evident and the school meets its commitment to go above and beyond to care for pupils and to ensure that they feel valued. There is a real sense of an exciting and continual drive for improvement.
Committed to Inclusive Ethos
All pupils have individual profiles and plan, do, reviews, which are informed by individual records of their personal and social development, as well as academic progress. Teachers plan and deliver lessons which meet pupils' individual needs as the curriculum is devised for pupils, in recognition of their interests, aspirations and needs. This year the school has developed a new curriculum. Staff enjoy working at the school and are committed to its inclusive ethos and building positive relationships with their pupils. One teacher said
"To see what we do on a daily basis is fantastic. We do see real transformations."
There is low staff turnover at the school and developing staff through CPD is highly valued and is a strength of the school. Communication between home and school is outstanding and the school goes out of its way to support both the pupils and their families. Parents cannot speak highly enough of both theirs and their children's experiences stating,
"It's like a big family"
"A family is a whole thing, not just the child."
Recent parental questionnaires were 100% positive in recommending the school to others.
Pupils are Engaged with Their Learning
Despite having behavioural, emotional, social and mental health difficulties and often negative previous experiences of school, pupils are engaged with their learning. Pupils enjoy coming to school and appreciate how their teachers help them:
"Teachers really care, and they don't throw you in at the deep end. They help you understand everything."
Ofsted (2018) stated: "They are proud of their school, proud of their achievements and proud of the changes that they have made in themselves."
Working Closely with External Agencies
The school works very closely with external agencies to meet the needs of individuals and is viewed as a role model for inclusion. A professional Mental Health Support Worker, who has been working with the school stated,
"They are as inclusive as you can get"
and praised the
"deep respect of where young people are coming from"
and the
"quality of relationships" established.
A Highly Effective and Knowledgeable Governing Body
The Governing Body is highly effective and knowledgeable, they provide excellent support and challenge to the school. The Inclusion Governor spoke of 'The Adelaide magic' and the whole school culture of 'Can do.' She praised the staff who:
"are unbelievably committed to the children and to each other"
and the way that the school works with the pupils at
"an appropriately developmental level."
Find out more about the IQM Inclusive School Award
If your school is interested in obtaining the IQM Inclusive School Award or you wish to talk to a member of the IQM team please telephone:
028 7127 7857 (9.00 am to 5.00 pm)
or email: info@iqmaward.com for further details.
Want more information on the IQM Award? Click here to request your free IQM information pack.