Acre Heads Primary School, Anlaby in Kingston-Upon-Hull, achieves the Inclusive School Award for the second time.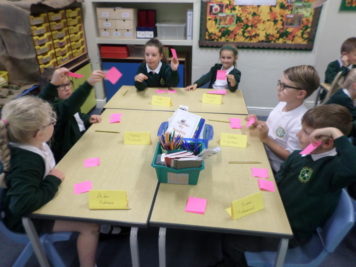 Context
Acre Heads is a primary school in the East Riding Local Authority. The school currently has a roll of over 400 pupils and is oversubscribed in most year groups. Many pupils come from the immediate vicinity, but unusually, it is a school right on the boundary and have mix of both Hull and East Riding Local Authority pupils.
Coping with Covid Challenges
During lockdown, the teaching staff provided work for children to do at home. Some children had work to do which was paper based whilst others accessed Google classrooms. The school's interactive website highlighted lots of useful information and links into the school curriculum. Some children really enjoyed the home learning but missed being with their friends, one child described Acre Heads school as a real family and list the contact with the teachers and with other children. Children ably talk about being the impact of the pandemic and how it is affected their attendance at school. They explain how school has kept the parents informed of when they can come into school and when they need to stay at home.
Support To and From Parents
School clearly values its relationships with parents and seeks to engage them in the learning process. The school fosters trusting relationships with parents and very effective links with other agencies to support a shared approach to children's learning and to ensure children receive a consistent support. The school considers itself a partner with parents in support of children's education, particularly in the recent unprecedented Covid times, and signposts families to significant groups for support. In normal circumstances, parents are welcomed to a range of events during the school year, including parents evening but the school team has been creative during the last year, during the COVID pandemic, in order to engage with them in different ways.
Effective Provision
Regardless of the many difficulties that have existed for schools, the work that has continued in Acre Heads to enhance the environment both indoors and out, and to develop the curriculum has been superb. Staff have adapted their teaching skills, developed curriculum content and strategies to teach children when they have not been in school. The team has been creative in the approaches that they have taken to ensure all children have equal access to education during lockdown. When it has not been possible for children to access online learning the team made available paper copies of work for children to do and this was accessed by several children. Children of key workers and vulnerable youngsters were accommodated within school, it has remained open continually for these groups. Where data is available it is appropriately analysed, evidence/data has enabled identification of interventions needed. A strength of the school has been the way in which the team has worked hard for, and with, parents to ensure positive attendance and engagement in school. The Deputy Designate has forged positive relationships with parents to ensure they feel they can approach her for guidance and advice.
Inclusion is at the Heart of the School
Inclusion is clearly at the heart of Acre Heads. The needs of SEND children were clearly recognised, children had access to a nurturing environment. Children all had points of access to both support staff and SEND staff throughout the day to ensure that emotional needs were met, and any difficulties supported that might arise during the day. Appropriate interventions are in place to address identified needs.
The Power of the Nurture Room
The Nurture Room named 'Paddington' has gone from strength to strength and the curriculum offer has engaged the children in a meaningful way. The children who attend
are keen to learn and have responded positively to the curriculum offer and the sensitive approach of the staff leading sessions in there.
Find out more about the IQM Inclusive School Award
If your school is interested in obtaining the IQM Inclusive School Award or you wish to talk to a member of the IQM team please telephone:
028 7127 7857 (9.00 am to 5.00 pm)

or email: info@iqmaward.com for further details.
Want more information on the IQM Award? Click here to request your free IQM information pack