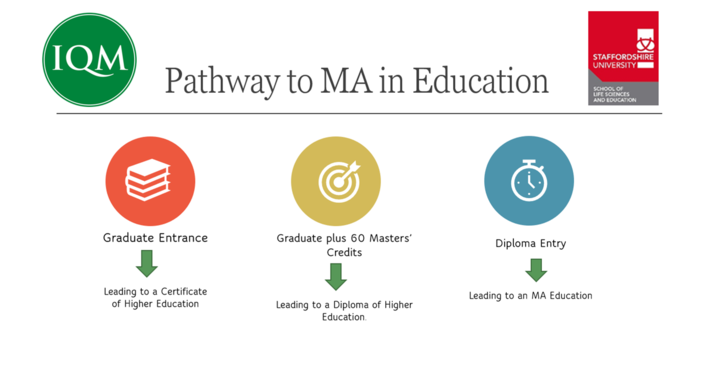 Now Open for October 2023 Applications
Cost – £2700

Following a successful pilot, the Post Graduate Certificate in Promoting Inclusive Education (PIE), which has been designed in partnership with IQM and Staffordshire University, is being rolled out with the course starting in October 2023.
This course recognises the work already completed in pursuing IQM accreditation. It leads to the award of PGC in Promoting Inclusive Education and links directly to the PG Diploma and, ultimately, to the final year of the MA in Inclusive Education.
This course has intentionally been designed in an online format to enable colleagues from all IQM schools to attend regardless of location, thus making it more inclusive and attracting a variety of colleagues across different phases and local authority areas from schools right across the U.K.
As this is a closed course, applications are only open to colleagues from IQM accredited schools as well as those schools working towards accreditation of the IQM Inclusive School Award.

If you already hold prior qualifications at L7, and these have been completed within the last five years, it is possible to gain accreditation of prior learning from the University thus enabling you to complete the course in less time. This will be clarified during the application process.
For further information in the first instance about the course, please contact us and we will be happy to discuss the outline of the course, costs involved etc. Alternatively, we are holding the first of several MS Teams' information meetings on the 6th June at 4p.m. to discuss the course and answer any questions which you may have. Please register your interest in attending one of these meetings by emailing admin@iqmaward.com.
If you would like to apply for a place on the course please complete the online application here.
028 7127 7860 (9.00 am to 5.00 pm)
or email admin@iqmaward.com for further details.