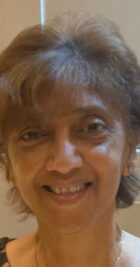 Uma Pandya

IQM Assessor
Uma Pandya has spent 40 years working in education. During that time she had the privilege of working in a number of schools (Academy and MATs) and in a range of different roles. Uma has 25 years as a Headteacher and an additional three years as an Interim Head.
In her last substantive post as Headteacher, in a 4FE London primary with 930 pupils, the school attained IQM Centre for Excellence and is working towards Flagship Status. Uma led through example and worked closely with all key leaders, with greater focus on the under attaining pupils from the Nursery to Year 6, to radically change the culture of the school. This resulted in the school being in the top 2% of similar schools nationally.
Whilst a practising headteacher, Uma was a consultant for the CEA, Trainer, Coach and Assessor for the Institute of Education, University of London on their NPQH programme, and as a Trainer on the International OLEVI Outstanding Teacher Programme with the school being a Training Centre for all other OLEVI programmes.