St Michael's Church School in Peterborough has achieved the Inclusion Quality Mark's Inclusive School Award.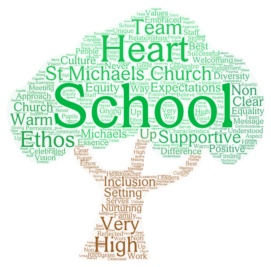 Inclusion At Heart
St Michael's Church School is a very welcoming, warm and supportive setting with inclusion at the heart of the school ethos. There is a culture of positive relationships and a nurturing approach where difference is embraced and diversity is celebrated. Equity rather than equality is understood by the Headteacher and her team as the essence of successful inclusion and there is a clear message to all of non-judgement, meeting people where they are and never giving up on finding 'a way in.'
Expectations Are High
The leadership team recognise the unique characteristics of the community it serves and this is reflected in the 'family' values and the school's vision of supporting everyone "to be the best that we can be." Leaders have high expectations about every aspect of the school's work and this strong ethos permeates across the school where staff believe that all pupils are capable of making at least good progress.
Children Progress
CPD has been incisive and has led to improved pedagogical knowledge in every subject. The whole school team are clearly passionate about supporting all children and is committed to making sure children leave the school at the end of KS2 as confident, well-rounded learners who have the drive and determination to succeed. All teachers complete a provision map at the start of each term and then update it with data at the end of each term to see the progress children have made as a result of planned interventions. This information is fed back to parents at termly meetings.
A Beacon Of Inclusivity
The good practice at St Michael's is widely acknowledged by external agencies and the school is held up as a beacon of inclusivity in the area and by the Local Authority. St Michael's is the SEMH and Nurture HUB specialist provision to support all primary schools across Peterborough with their more complex children. Key leaders have been involved in a number of projects that have and will continue to support both children and staff at the school and in the wider school community.
• Connected Communities Project – Attachment, Trauma and Adverse Childhood Experiences – two-year project.
• Disadvantaged Pupil Premium Project – three years.
• Assistive technology project – one-year project.
• STEPS behaviour trained school.
• Excellence in Nurture Provision
They Celebrate All Faiths And Cultures
In relation to social, emotional, moral and spiritual education the school is fully committed to providing regular opportunities to celebrate all faiths and to learn about different cultures. As a church school, collective worship each day allows for discussion about morals and ethics and pupils play an active part in role-play and sung worship. Cultural festivals and holidays are also celebrated this way. Spiritual education through Religious Education lessons is carefully planned to include aspects of the Christian and other world faiths which is delivered via a specialist RE teacher. The school's Reverend is also the SEND Governor and brings a wealth of experience and expertise to the school. School trips and visits are organised for children to access and learn from first-hand experiences about other people's religions.
An Excellent Role Model
The Inclusion Manager/SENDCo is an excellent role model and has the relevant qualifications, expertise, knowledge and experience of what works, all of which are essential for the ongoing pursuit of excellence in this area. It was clear from our discussions that a finger is most definitely on the pulse regarding ongoing steps for inclusion in the school. This includes the further development of universal, targeted and individualised best practice provision as part of a graduated response to need across all areas of primary need. Along with experienced and knowledgeable Governors and a strong Senior Leadership Team, invaluable expertise is available to all. Staff are supported with advice and guidance on best practice and class teachers are accountable for the progress of every child they teach, regardless of any SEND, EAL or other need.
It Is A Happy, Supportive, Safe Place
St Michael's Church School is a happy, supportive and safe place where adults' wellbeing is prioritised and pupils are nurtured. The Inclusion Team work hard to ensure that children's learning and emotional needs are catered for. In terms of inclusive practice, it is acknowledged by leaders and governors that having a nurturing approach is crucial to pupils' wellbeing and that this is a platform for successful learning.
Find out more about the IQM Inclusive School Award
If your school is interested in obtaining the IQM Inclusive School Award or you wish to talk to a member of the IQM team please telephone:
028 7127 7857 (9.00 am to 5.00 pm)
or email: info@iqmaward.com for further details.
Want more information on the IQM Award? Click here to request your free IQM information pack