St. Chad's CofE Primary School Winsford in Cheshire, achieves Flagship School status for second time.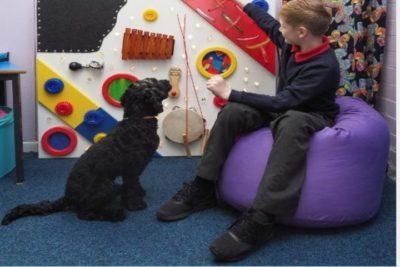 Context
Inclusion is the heartbeat of St. Chad's CoE Primary and Nursery School. The Headteacher explains how inclusion is:
"At the heart of everything we do".
Their vision of a,
"future with hope,"
extends to everyone in the community. They want to give every child wider opportunities and learning experiences, alongside high aspirations, and hope to enable them to do something amazing in the future.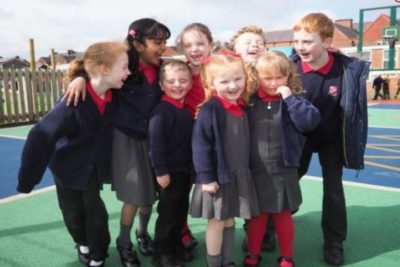 The Wellbeing of Pupils and Staff
Despite the challenges of the past year, the Leaders celebrate the resilience of the children and describe how amazingly they have coped with the ongoing restrictions and changes,
"taking it in their stride."
To support pupils' return to school, the school planned a recovery curriculum, based on identified gaps in learning. Some children were able to get back into the routine quickly, but staff recognised that some needed much more of a nurturing approach. They have provided support for individual pupils where needed. The wellbeing of staff has also been prioritised by Leaders. They are aware of the need to make sure staff are okay and support them by making sure they leave the school building by 4 pm. They also consider staff's workload by asking them to focus on the essentials. They have reduced twilight and Inset time to address work-life balance concerns. The school-wide 'Thankfulness Day' was an opportunity for Leaders to say thank you to all staff and pupils with little gifts and messages. Senior Leaders are constantly checking if any staff require additional support and signpost them to the counselling services available. They have also run specific mental health and wellbeing training and shared publications on this topic regularly. Despite not being able to gather as a whole staff body, communication amongst the team has not suffered. They have created a communal chat forum using social media to allow staff to have a quick, easy communication tool for support.
Good Communication with Parents
The school also had to rethink how they communicate with parents and carers. Social media platforms such as Facebook have been a key method alongside the text messaging system and SeeSaw app. These messaging facilities have had such a positive impact on building relationships with the home that they have decided they will keep them in place moving forward.
The Introduction of New Reading Platforms
Leaders feel that pupils' progress overall is good, despite the disruption to learning caused by the periods of lockdown. They have identified reading as an area that suffered in the first lockdown. To address this, they have purchased the Accelerated Reader Programme to provide personalised interventions. Phonics is taught via the Floppy's Phonics programme which adheres to the Systematic Synthetic Phonics (SSP) teaching principles. In older years, they employ the Pathways to Read and Pathways to Write programmes. Free support to gain pupils' access to books has been obtained through the 'Get Epic' digital reading platform, which also enables teachers to set specific texts and quizzes for children to practise reading at home. For children who receive Pupil Premium top-up funding, the school sent books home using 'Letterbox Books'. They targeted Key Stage One pupils as many don't have books at home and they want to encourage a love of reading from an early age.
School's Vision
The School's vision:
"In a welcoming, inclusive and nurturing environment, we lead everyone to a future with hope."
This gives a long-term plan for preparing the children for life after St. Chad's. The art and music projects are a pivotal part of the curriculum for raising confidence and promoting creativity. The Leaders also recognise how important developing the arts subjects has been to support wellbeing. Through this enriched provision, the school is equipping pupils with skills and experiences which will allow them to compete on a level playing field with pupils from all different backgrounds at secondary school and beyond. The curriculum offer will open doors, not disadvantage them. The holistic curriculum develops wider skills whilst maintaining a clear emphasis on reading, writing and maths. This year, the school has continued to develop the curriculum to ensure it is broad and balanced. There has been a focus on getting pupils active and providing outdoor learning opportunities. They have held cross-curricular cultural theme days and enrichment activities including visits to the local farm. They have endeavoured to make sure no subject has been neglected to provide an all-encompassing, enriching curriculum.
Passion for Learning Outdoors
The Headteacher is passionate about taking the learning outdoors. The school benefits from a range of outdoor learning provisions including a sensory garden, Forest School, allotment, track, and outdoor classroom. The Forest School provision is now well-established. The children, from Nursery to Year Six, access it and the skills are mapped out so that there is a clear progression pathway. The content of the sessions is led by the children's interests and are linked, where possible, to wider curriculum topics. On average, each class accesses six sessions per term. The skills developed include team building, negotiation, communication, cooperation, and independence. In the future, the school would like to be able to build a wooden shelter structure to allow Forest School to take place regardless of the weather conditions. My suggestion would be to look at maximising the use of the Forest School Provision to provide bespoke intervention for targeted cohorts of pupils with focused skills development e.g., a social skills intervention group for children with autism.
Pupils Are Happy and Safe
It was a pleasure speaking to a range of pupils during the review day. One child from year one even performed a recorder recital! Most of the pupils have clear ambitions for the future. They were able to clearly articulate which learning activities they have enjoyed the most this year. The cultural theme days, art and music featured frequently in the responses. They all feel happy and safe at school. One pupil explained:
"How the teachers are kind and give us lots of opportunities to do fun things."
Inclusion is Practised Daily
During the review, the staff were all friendly and welcoming. As the Inclusion Governor said during our meeting, "inclusion is not just something they say they do on paper, it is practised daily". Over the course of the day, all staff, pupils, and Governors held honest discussions about all areas of school development. The Art and Maths Lead presented their project evaluations with an impact-led approach, clearly outlining what they have done, along with the evidence of impact. The Leaders should be immensely proud of what they have achieved this year, particularly given the extra challenges faced.
Find out more about the IQM Inclusive School Award
If your school is interested in obtaining the IQM Inclusive School Award or you wish to talk to a member of the IQM team please telephone:
028 7127 7857 (9.00 am to 5.00 pm)
or email: info@iqmaward.com for further details.
Want more information on the IQM Award? Click here to request your free IQM information pack