Pinner Park Junior in Harrow achieves Flagship School status.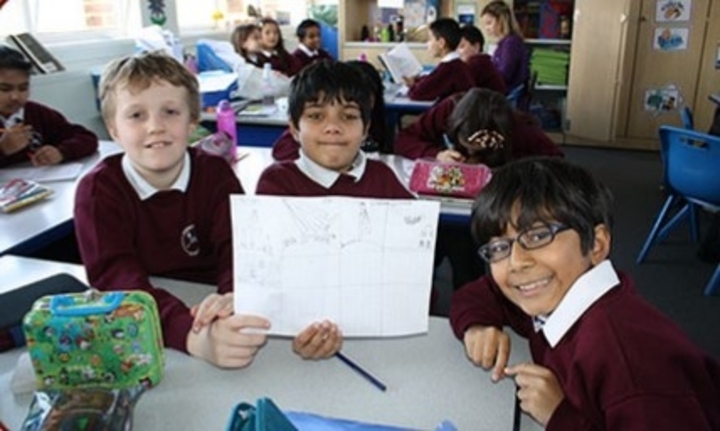 A Growing School
This is a diverse four form entry junior school that is in its final year of expansion from a three-form entry school. The school has many pupils who have English as an additional language, most of these are advanced bilingual pupils, however the school has a growing population of pupils at the early stages of learning English.
Happy, Welcoming and Creative
The school is a happy, welcoming and creative school providing a safe and supportive environment. Its ethos combines inclusive values, the UNICEF rights of the child and its own learner for life statements that permeate all of its work. This ethos runs from the Governing Body and Headteacher all the way through to pupils. This visit was the year 3 Centre of Excellence review. On my visit to the school, I had the opportunity to verify information provided on the Centre of Excellence action plans, conduct a learning walk, interview teaching staff, support staff, pupils and a governor. In addition, discussions with the Assistant Headteacher for inclusion took place to review the school's work towards the action plan and next steps. Prior to my visit to the school, its website provided key information about the school's policies and practice.
Excellent Resources
The school's facilities are utilised well to meet the needs of all pupils. There is the pod that houses a library space and ICT suite on the ground floor, on the first floor there is a music room and a room for peripatetic teachers as one third of pupils learn instruments. Disadvantaged pupils have lessons that are funded through the Pupil Premium. There is a specialist art studio that is equipped for art lessons using a range of mediums, the Rainbow Room for the school counsellor, Blue Room for interventions and the Smart Zone that is a multi-purpose room for family learning, parent coffee mornings and the smart reading intervention.
Inclusive Provision
Governors recognise that inclusive provision is not an add-on, it is a continuation of what is already being done for all pupils. Staff at this school are happy and grateful for the opportunities they have to develop professionally into leaders by observing teaching and learning, driving change in their subject areas and book looks. All staff comment on their first impression of the school being its friendly and welcoming atmosphere and the respect and politeness shown by pupils. Staff support each other to develop professionally through triads that are set up as well as marking clubs and opportunities for team teaching. Teachers are proud that the school's work is heavily weighted in pedagogy and they understand the importance of this in their work with pupils.
Pupils are Proud of Their School
Pupils enjoy coming to school and are proud of their school. They value the opportunities they have to take on responsibilities including Rights Respecting Rangers, Peer Mediators, School Council representatives, Sports Leaders and Healthy Heroes. Pupils behave very well around school and follow the rules on classroom and playground charters. The Rights Respecting Schools' framework forms the foundation of the school's behaviour policy. Pupils work to be awarded Pinner points for their house teams that are named after London underground lines. Pupils speak confidently and articulately about the rights of the child as well as the range of opportunities afforded to them in their local community and beyond. Some recent visits include the RAF museum, Natural History Museum, Affinity Water, litter picking in the local park and a visit from the Mayor who commended their work, Hillingdon Outdoor Activity Centre (HOAC) and Parents Get Lost (PGL). Some pupils' comments about their school include:-
"We want everyone's rights to be respected."

"A learner for life is not perfect, they learn from their mistakes and from other people's mistakes."

"Everyone has the right to an education."
The Importance of E-Safety
The school has worked hard to develop e-safety awareness with pupils and parents. Pupils have made short video clips to tell parents what they can and cannot do on social media with photographs and videos they take at class assemblies. These videos are used at the beginning of each assembly as a reminder for parents.
Significant Progress has been Made
Pinner Park Junior School has made significant progress in its third year as a Centre of Excellence with inclusion remaining high on the agenda. The school has identified areas for development for the next twelve months. In addition to these, there are some recommendations outlined in this report that were discussed as part of my review visit.
Find out more about the IQM Inclusive School Award
If your school is interested in obtaining the IQM Inclusive School Award or you wish to talk to a member of the IQM team please telephone:
028 7127 7857 (9.00 am to 5.00 pm)
or email: info@inclusionmark.co.uk for further details.
Want more information on the IQM Award? Click here to request your free IQM information pack.