Our Lady Immaculate Catholic Primary School in Chelmsford achieves the Inclusive School Award.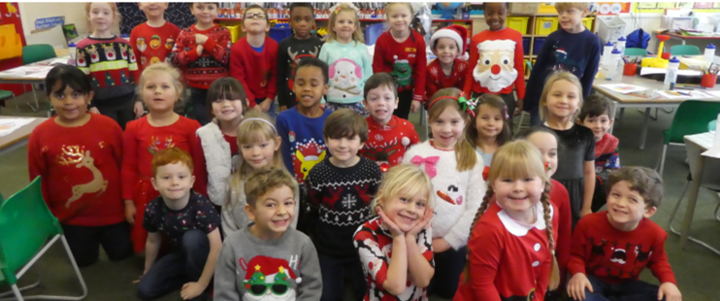 A Challenging, Stimulating and Creative Curriculum
Our Lady Immaculate Catholic Primary School is an excellent example of inclusive practice. Inclusion is evident in all aspects of the school's work and there are good links with the community to offer support for families. The Headteacher works effectively with her Leadership Team and the Governing Body to ensure that all staff have similar aspirations for children at the school. The school encourages all children to have respect for each individual, to live, love and learn together with core values of hope, aspiration, dedication, respect and faith. The school provides a challenging, stimulating and creative curriculum delivered in a calm, supportive learning environment where all pupils are encouraged and enabled to achieve their best and to become independent resilient learners.
Inclusion is a Crucial Element
Pupils make excellent progress in the EYFS, KS1 and KS2. There has been a slight dip in writing in the last round of testing in 2019, but this is being addressed in the school development plan. Everyone is involved in developing the school's Catholic ethos and inclusion is a crucial element of all the school policies. In July 2017 Ofsted judged the school to be 'Good' with the following statement from the Inspector, "Pupils' highly positive ethos and behaviour reported at the previous inspection has been maintained. Pupils get on well together and are kind to one another." Relationships between staff and pupils are excellent and pupils feel cared for and supported in their learning with teachers and support staff understanding their pupils' needs. The Pastoral Lead works with individuals and groups of children to support their wellbeing and liaises with parents. Children enjoy their time in school and consequently attendance is excellent. Disadvantaged children achieve well and the school uses its additional funding to good effect. There are good transition arrangements from pre-school providers into the EYFS and from the school for children moving to secondary school, primarily St John Payne Catholic Secondary School. The work of the Inclusion Leader ensures that parents and staff are well informed of the inclusion agenda.
High Quality Displays
The mottos, slogans and role model photographs around the school provide children with high aspirations. Displays in corridors such as 'What is good about Our Lady Immaculate School?', 'We may be all different fish, but in this school we all swim together', a values' display, the school prayer and the gospel reading for the week reinforce the ethos of the school. There is a high quality and consistency of display in classrooms and shared areas which shows a balance between celebrating children's work and providing a focus for learning. Displays in classrooms demonstrate a consistency with working walls for maths, science and literacy, grammar prompts, golden rules, learner of the week, what constitutes good listening, a thermometer to gauge feelings, house points, references to Growth Mindset expectations and kindness trees just some of the messages found in all classes. The EYFS setting has an excellent outdoor environment with children using free flow in all weathers. The classroom is particularly inspiring and the atmosphere calm and productive with adults supporting children well. The use of Tapestry to record children's work and share with parents is proving popular.
The Learning Environment
The outdoor learning environment is spacious and offers children opportunities to develop aspects of sport and learning through play. The welcoming reception area gives parents and visitors a good first impression of the school and the office staff present a friendly face to parents and visitors. The Year 5 and Year 6 block is currently undergoing building work and improvements, but the children have an excellent temporary building which overlooks the school field, which is spacious. The class garden areas need a revamp, but this is not surprising considering the time that children have been away from school for long periods as a result of COVID-19. At break times during this assessment children were in bubbles and played well together. They have a range of apparatus in the playground which offers opportunities to climb, play musical instruments and sit quietly. Mobile sinks for hand washing have been recently purchased and are in the playground to ensure children continue with good habits during this time. The Forest School's area is excellent with its logs, bug hatch, fire and toadstool. It is used by the EYFS and KS1 who dress for all weathers and enjoy their opportunities to be outdoors and carry out those activities which they might not normally experience. There is a plan to provide a canopy for the area to ensure that there is a little more protection from the elements. The school has a wide range of digital resources with laptops, trolleys of iPads and a recent purchase of chrome books. The library areas are well stocked and the KS2 library is particularly comfortable and attractively decorated with quotes and mementos from the Harry Potter books adorning the walls and area close to the library. These have all been provided by a very talented Site Manager.
Leadership Opportunities for Children
There are leadership opportunities offered to all Year 6 children to help develop them personally and emotionally such as Head boy and girl, Anti-bullying Ambassadors, Eco Leaders, Worship Leaders and School Councillors, they all take their roles seriously. The buddying of reception and Year 6 children has a positive beneficial impact on both cohorts with children articulating their enjoyment and experiences of the process. Unfortunately due to the present covid-19 restrictions this has had to be curtailed, but children are hopeful that it will resume before their time is finished at the school. They miss it!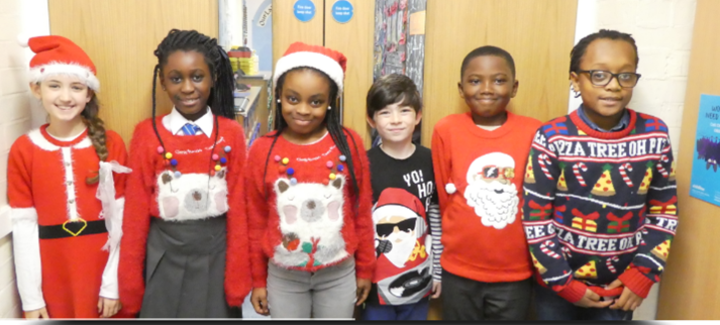 Happy Pupils
A group of Year 6 children spoke articulately to the Assessor about their enjoyment of school life and how they were adhering to the COVID-19 restrictions, but still working hard to reach high levels of attainment by the end of the year. Read, Write, Inc is used in KS1, WOW clouds celebrate good pieces of work, coloured backgrounds on interactive whiteboards aid children with reading problems, Dyslexia Gold and celebration assemblies all contribute to an attitude which makes children of all abilities proactive in their learning. The traffic light system to focus on behaviour is also consistent and is obviously one of the contributors to the excellent overall behaviour in classrooms, corridors and shared areas. The Power Maths scheme, the White Rose Maths resources and a range of easily accessible resources across all subject areas ensures teaching and learning is supported well. The Mighty Oak Public Speaking workshops which take place in Year 4 help children develop their self-confidence and the ability to address a wider audience confidently, as well as offering the opportunity for some children to participate in an inter-school public speaking competition. The work ethic of the children, their good behaviour, friendliness and politeness impacts on their engagement with school work and there are many ways in which children are given opportunities to take responsibility for their learning . The School Council takes pride in its work to improve attitudes and equipment in the school and the children demonstrate maturity in articulating their ideas. Children have access to a wide range of extra-curricular clubs which extend the curriculum and for which they show their gratitude although these are presently a little restricted due to COVID-19 regulations.
Pupils' Personal Needs are Met
Regular monitoring procedures and the detailed tracking of pupil progress data ensure that pupils' personal needs are met. Safeguarding procedures are good and effective in ensuring children are safe and their concerns are addressed. Monitoring procedures also ensure lessons are sufficiently challenging and that the group and individual work carried out with children with additional needs is relevant. There is a planned reasoning club for the more able children. The assessor observed a child with additional needs recounting the story of the War Horse extremely articulately and another child carrying out some innovative physiotherapy with a support member of staff to develop his strength whilst focusing on his school work. NFER tests are used in school and have been taken by children since their return after the long break to identify gaps in learning with a view to providing booster work to address any issues. The school is constantly renewing and reviewing to maintain good practice and consequently standards are high across the school. A Governor and teacher Away Day in February 2020 focused on the role of the school Governor, safeguarding, staff and pupil health and well-being, the new Ofsted framework, the section 48 RS inspection framework and an introduction to the Inclusion Quality Mark and gave staff and Governors a much needed opportunity to work together.
Parents are Very Happy with the School
Excellent work is carried out with families, pupils and the community generally to ensure that children are cared for and valued. The Pastoral Lead provides valuable support for children, parents and carers and works with vulnerable families to improve the chances of all children. The Business Manager is passionate about the school and knows it well, she focuses on staff wellbeing and understands the exceptional link with the church and local community. Her passion and compassion for the children, staff and parents is a shining light within a very supportive community. Parents and carers recognise and appreciate the child centred focus of all staff. There are good communication systems which give parents and carers confidence in the school and in its support for their child's needs. Email, texting, newsletters and parent consultations as well as one to one conversation, keep parents regularly informed about their child's education and needs. This has been particularly important during these difficult times. One parent of a child on an EHCP said, "The school takes on the concerns of parents. They are easy to get in touch with and I feel that my child has made great strides since being on his additional support programme." The parent survey demonstrates a high level of satisfaction with the school and its procedures. The school has a very good website which ensures parents and visitors are kept informed of the latest developments in the school and also has a good focus on children's work.
Close Links with External Agencies
The close links with a range of external agencies to support vulnerable families and the sign posting of families to groups which can address their needs is given much attention. The Friends' Association provides the school with an average of £20,000 a year. This is raised through Christmas bazaars, talent shows, sponsored events, quiz nights, golf days, summer fetes, talent shows and other activities which bring in funds, but also provide an interesting social function for parents and the community at large. During the present covid-19 times this has been curtailed but plans for another cookbook with parent and children recipes and an online quiz are being planned. There is a Parent Forum which has been productive in the past in collecting parent views, but this needs to be re-engaged due to the loss of their Chairperson. The Ark is an outstanding before and after school provision where children are given an excellent start to their day. It also provides working parents with child care at a reasonable cost. Vulnerable families are subsidised in order that anyone in need can still take advantage of the provision. There are close links with the local primary schools. The school is part of a Multi-Academy Trust (The Rosary Trust) which comprises Our Lady Immaculate, St Clare's Catholic Primary (Clacton), St Thomas Moore's Catholic Primary (Colchester) and St Teresa's Catholic Primary (Colchester). They also have strong links with the other Catholic schools in the Mid-Essex Deanery through school to school partnerships. Teachers from these schools support one another in moderation and peer reviews.
Governors are Very Committed to Inclusion
There is a wide range of expertise on the Governing Body, they are well led by an ex-Headteacher and their commitment to the inclusive ethos is evident in discussions. The Chair of Governors attends the school regularly. She has not been Chair for very long and is very aware of the need for Governors to carry out their monitoring function and with some new Governors in position, she is refreshing that expectation. Performance management procedures involve both teaching and non-teaching staff and provide everyone with a common purpose. Training for all groups is linked to the performance management objectives and the actions in the school development plan and there is a commitment by the Senior Staff to ensure that the quality of teaching and learning is consistently good or outstanding throughout the school.
Children Have A Broad and Balanced View
The school has naturally strong links with the local Catholic Church which encourages respect and a deep understanding of Catholicism, but it also focuses on other faiths which offers children a broad and balanced view of the world. Good use is also made of the local parks, swimming pool, museum and services to extend the curriculum. The Year 6 residential visit to France provides children with a much-needed experience of a world different to their own. There is good support for local and national charities and an involvement of the children in raising funds for children less fortunate than themselves.
Committed to Meeting Children's Needs
The Self Evaluation Report reflects the high quality of evaluation that exists in the school. It is comprehensive and reflects the school as seen by the assessor. The school is well led by a Headteacher who has only been in post for one year, yet she has the full, unwavering support of staff and parents. One member of staff told the Assessor that the Headteacher "reacts to events, is passionate, rolls up her sleeves and really cares about her school. During COVID-19 she has been exemplary in keeping staff and parents informed and carrying out the necessary risk assessments." The school reflects that care and attention. Our Lady Immaculate Catholic Primary School is an example of a school committed to meet the needs of its children and is outstanding in its commitment to and implementation of inclusive practice. It is an outstanding, caring environment for pupils where high expectations have a huge impact on attainment, progress and wellbeing.
Find out more about the IQM Inclusive School Award
If your school is interested in obtaining the IQM Inclusive School Award or you wish to talk to a member of the IQM team please telephone:
028 7127 7857 (9.00 am to 5.00 pm)
or email: info@iqmaward.com for further details.
Want more information on the IQM Award? Click here to request your free IQM information pack.