Lessness Heath Primary School in Kent achieves Centre of Excellence status.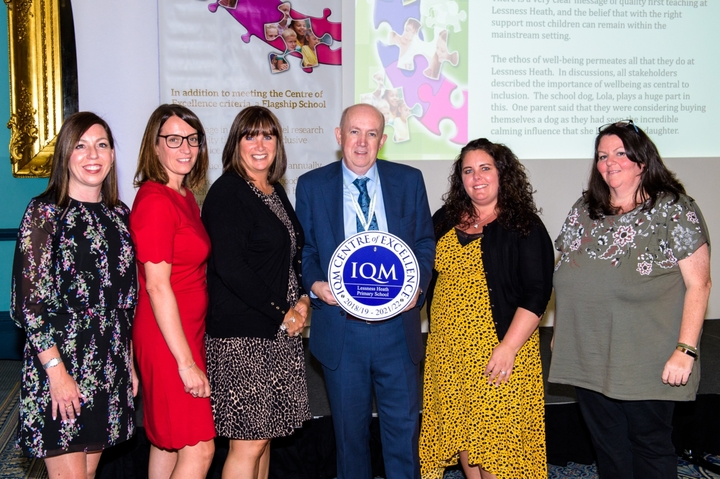 School Context
Lessness Heath is a larger than average primary school in Bexley. There are currently 656 pupils on roll, of which 23% are registered as PPG, 44% come from minority ethnic backgrounds and 25% have English as an additional language. 108 pupils are currently on the SEN register. In the last four years the school has undergone a great deal of change in terms of ethos and staffing, including a new senior leadership team. These changes have seen the school move from an OFSTED rating of Inadequate to one of Good with Outstanding features. The feel of Lessness Heath is one of success and inclusion.
Inclusion is Embedded
Stakeholders believe that inclusion is embedded into the ethos of Lessness Heath. The Lead advisor for SEMH in the LA described Lessness Heath as, "The most inclusive school I visit." A year 5 pupil added,
"It's inclusive; there is no racism, no selection, no favouritism. Everybody is included."
Quality First Teaching
There is a very clear message of quality first teaching at Lessness Heath, and the belief that with the right support most children can remain within the mainstream setting. A small team of LPAs support the most vulnerable pupils, but for the most part, good planning and excellent resourcing allows pupils to stay in their classroom.
A Very Knowledgeable Team
The Inclusion Leader and her team are very knowledgeable and ensure that all stakeholders, including Governors, are kept up to date with the inclusion agenda. The team does a considerable amount of work beyond the school and Trust. The Well-being Lead lectures at Greenwich University and travels the country speaking to local authorities and schools about well-being. The Inclusion Lead is currently part of a working party for the local authority in the designing of an alternative to IEPs which will be used throughout the borough as part of the EHCP process. The school has many visitors looking at their well-being and inclusion procedures and is mentioned in many publications as a good example of both. Lessness Heath was the first school to be awarded the Well-being Award.
Excellent Communication
The school works very closely with both its Trust, the Primary First Trust and with the local authority, particularly in terms of attendance, SEN training and SEMH. The Trust Schools share training and opportunities. There is an excellent, well planned NQT programme led by a knowledgeable lead mentor. One Schools Direct trainee described Lessness Heath as "an easy school to start working in." New teachers feel welcomed and supported. They site excellent communication between all staff as one reason for this success.
The Importance of Mental Health
The ethos of well-being permeates all that they do at Lessness Heath. In discussions, all stakeholders described the importance of wellbeing as central to inclusion. The school dog, Lola, plays a huge part in this. One parent said that they were considering buying themselves a dog as they had seen the incredible calming influence that she had on their daughter. Similarly, the cleaning staff have found that a short walk with Lola before their shift puts them in a good state of mind. Children are able to describe techniques that they have for calming themselves and others, and an army of well-trained pupil well-being ambassadors ensure that it is always high on the agenda, and that there is always somebody to help you feel better. It is great to hear these children speak knowledgeably about mental health.
Interesting and Exciting Displays
Displays in the corridors and classrooms are interesting and exciting and show the wider curriculum, including art, history and PHSE. A stunning corridor wallboard on World War 1, complete with sandbags, really draws your attention. In the classrooms there were examples of excellent working walls demonstrating some great maths. In one Yr 6 room the children had been photographed with negative comments about their learning and then with the positive alternative, these became the inspirational comments to spur the class on. "I am bad at English" became " I have room for improvement." "Plan A didn't work" was extended to "Plan A didn't work but luckily there are 25 more letters in the alphabet!" A focus for the school is developing the children's vocabulary. Displays, changed on a daily basis by Year 6, demonstrated new words found and their meanings.
Children Feel Safe at School
The children feel safe at school and know who they can talk to if they have a problem, they include their peers in this and particularly mentioned their year group well-being ambassador. They also know how to keep themselves safe online and discussed the e-safety day they had recently.
Working Closely with the Inclusion Team
The school has a small team of support assistants, LPAs, who work mainly as 1:1s with their most vulnerable pupils. They enjoy their jobs. One LPA felt that
"The way the school treats its vulnerable children and gives them a sense of belonging."
was second to none. LPAs feel listened to by senior leaders, they feel that communication is excellent between themselves and the inclusion team. Their ideas and suggestions are taken on-board and there is always opportunity for them to stretch themselves or follow an interest through CPD.
A New Global Curriculum
From September the school will embark upon a new Global Curriculum, this has been designed by the senior leadership team taking into account what the children of Lessness Heath need to know in order to become aspirational adults. The staff speak with enthusiasm about this, believing that it will give ownership back to the teachers.
Working Closely with Parents and the Local Community
Discussions with parents showed that the school is popular within the local community and there are clear links between the school and the church, as well as links with a local care home. The PTA work hard to ensure that the inclusive element is also central to their work, making sure that activities are priced reasonably and open to all. They also see part of their role as working with the wider community and, for example, had a stall at the local church fete.
An Emphasis is Placed on Good Attendance
Good attendance is high on the agenda, with plenty of incentives to encourage this. At the end of this week 380 pupils will get their reward with a trip to Greenwich Park. This is a rise of 100 pupils and demonstrates the success of such incentives. A large display board in the entrance hall exhibits the photos of all of the children in the school who have more than 96% attendance each week, and an attendance monkey is awarded to the class with the best attendance each week. The school works very closely with the LA EWO meeting parents, targeting persistent absentees and late arrivals.
Find out more about the IQM Inclusive School Award
If your school is interested in obtaining the IQM Inclusive School Award or you wish to talk to a member of the IQM team please telephone:
028 7127 7857 (9.00 am to 5.00 pm)
or email: info@iqmaward.com for further details.
Want more information on the IQM Award? Click here to request your free IQM information pack.