Hove Junior School, Hove in Sussex, has achieved the Inclusive School Award with Centre of Excellence status for the second time.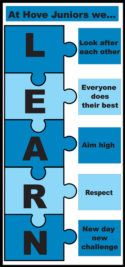 Inclusion is the Bedrock of Provision
Inclusive practice is at the heart of everything Hove Junior School (HJS) does and the Executive Headteacher, SLT, Inclusion Leads, Governors and staff share a strong belief in the importance of inclusion, with a focus on the individual child. An extremely cohesive staff team ensure a holistic approach to inclusion and learning. Great emphasis is placed on pupils' social emotional mental health and well-being, together with their academic progress. Standards are high at the school and children make good progress throughout their time at HJS. The most recent Ofsted Inspection in February 2020 judged HJS as continuing to be good and praised the fact that:
'Leaders have ensured that respect for and celebration of diversity are evident throughout the school. Everyone is included and valued.'
The vision and values include a focus on the partnership with parents; happiness and wellbeing of the children; pupil voice; positive learning traits and values. They state:
'Everyone works together building a secure, safe and inclusive environment to achieve the best possible outcomes for all children.'

Relationships within the school are excellent, and a school council quote contained in the current HJS School Development Plan states;

'Our school community is like a jigsaw puzzle. Each person is a piece, and we need everyone to be complete.'
Inclusive practices and systems of identification, support and review are well embedded, with a strong commitment to meeting pupils' individual needs. Pupil progress meetings are held on a termly basis and together with a range of SEND assessment tools and screeners, help to identify pupils for support. The school endeavours to actively remove any challenges to learning that a pupil may have and continuously seeks to provide the most appropriate interventions for those pupils who need more individualised support. Such interventions are 'matched to the need,' extremely well organised, evidence based, and impact driven and are delivered by highly trained and motivated staff.
Expert Support
The school has a trainee Play Therapist and works very effectively with a range of external support services, such as the EP service; Speech and Language Therapist and Support Service (SLSS); Literacy Support Service (LSS); Autistic Spectrum Support Service (ASCSS); Behaviour and Inclusive Learning Team (BILT) and CAMHS.
Engaging Curriculum
HJS offers a 'fun, exciting, broad and balanced curriculum,' reflective of its pupils. The curriculum is topic based, with a strong emphasis on developing a love of reading in the children. Termly topics are linked to class texts and every topic opens with a 'stunning start,' with the whole school annually engaging in a shared topic. The curriculum statement of intent states; 'Planning for these topics will be shaped by pupil voice and the children's questions for learning. These topics means our curriculum is bespoke for our children and engaging and inclusive for all.'
Well Rounded Extra Curricular Activities
The curriculum is further enhanced through enriching extra-curricular activities, linked to the topics and parents receive termly topic information, to help them engage with the learning going on in school. The school offers a breakfast and after school club, a range of additional clubs, such as multi-skills, art, and football, together with educational visits and trips.
Bright and Stimulating
Classrooms and learning environments are bright and stimulating, supporting, and scaffolding pupils' learning, with visual timetables and English, maths and SPAG working walls. Displays reflect the broad range of curriculum subjects taught to support learning. The school focusses on the learning process and follow LEARN statements, to support learning behaviour – look after each other, everyone does their best, aim high, respect and new day new challenge. They also display learning environment statements, to promote pupils' awareness of their classrooms, school, city, and place in the world and have developed and implemented the 6 learning characteristics of question, collaborate, reflect take risks, independence, and perseverance. Children are taught through a fully differentiated curriculum, planned by the Class Teacher Learning Intentions (IALT) and success criteria are made explicit to the children. The school has an ICT suite on both sites, together with the use of Chromebooks, iPads, and laptops. Teaching Assistants are assigned to year groups according to need.
Lockdown Provision
During the periods of lockdown, in the recent pandemic, the school went above and beyond to support its families, both with home learning and general well-being. All children were supported to access online learning. The school supplied chrome books, laptops, and dongles for families, ensuring that 100% of the pupils had access to IT. They established a digital register to monitor uptake of home learning, resulting in a significant uptake. Pupils were taught through Google classroom, which included live lessons during the second lockdown, and families received regular well-being phone calls. During the IQM assessment one of the Learning Mentors kindly provided case studies of email communications between home and school, together with an outline of support given to a pupil upon return to school, which evidenced the very positive relationships between home and school and the appreciation felt by families for such support. In the remote learning Summer 2021 parent feedback survey, feedback was highly positive:
'The hard work and effort all staff put into the online provision was excellent and kept our children motivated and happy' and 'I think the school does a great job and especially in the last lockdown the home learning was excellent.'
Happy Pupils
Pupils are articulate, polite, and keen to share what they have been learning in school. They enjoy coming to school and attend regularly. They made comments like: 'It's fun, you're never bored' and 'there are loads of activities.'
Investing in Staff
A strength of the school is the high quality CPD opportunities that are provided for staff, both in house, through weekly staff meetings and by accessing external training programmes. Staff feel very well supported, both in their work and career development. I've always felt very well supported and there is a collegiate feel.'
Parental Engagement
Communication with parents is very good, through a range of mediums, including the Schooling app and fortnightly newsletter. A parent council, with representatives from each year group, meets half-termly to discuss a range of issues and operates separately on both sites. All parents are invited to attend but, if unable to, can send issues they wish to raise to the School Office. The Parents' Association provides a range of fun and fund-raising activities throughout the year and recently held a 'spooky disco.'
Networking for Success
HJS is part of a range of partnerships beyond the Federation. This includes membership of the Hove Partnership, comprising of 11 schools 'working together to improve educational experiences and outcomes.' The Executive Headteacher of HJS is Co-Chair and the partnership holds half-termly SLT meetings and works on partnership funded projects and activities, recently being successful in a bid for £9,000 to fund an oracy project. It is also a member of the Sussex Coast Schools Alliance whose aim is to help raise standards by supporting schools. They develop projects and an enquiry-based approach to learning. They are currently running a programme in partnership with Durrington Research School to support schools in addressing the issues caused by Covid 19 school closures, which HJS is participating in.
Find out more about the IQM Inclusive School Award
If your school is interested in obtaining the IQM Inclusive School Award or you wish to talk to a member of the IQM team please telephone:
028 7127 7857 (9.00 am to 5.00 pm)

or email: info@iqmaward.com for further details.
Want more information on the IQM Award? Click here to request your free IQM information pack