Holy Family Catholic Primary School in Essex has achieved the Inclusive School Award for the third time.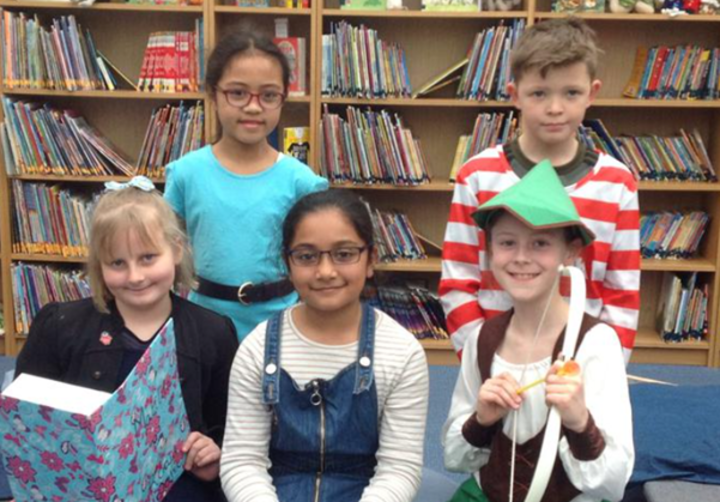 A Strong Vision of Inclusion
Holy Family Catholic Primary School is a very inclusive school. The Headteacher has a strong vision of inclusion within a broad, creative curriculum and she has worked effectively with her Leadership Team and the Governing Body to ensure that all staff have similar aspirations for children at the school. There is a commitment and high expectation of everyone in the school to ensure that children have a positive learning experience. The curriculum is delivered in a calm, supportive learning environment where all pupils are encouraged and enabled to achieve their best and to become independent resilient learners. Pupils make excellent progress by the end of KS2 in all the core subjects and there is also a high level of focus on the foundation subjects to fully enhance the curriculum.
Supporting Learning During Lockdown
During the lockdown period the school continues to provide education for about 20 to 25 children of key workers. Remote learning for the majority of children has continued to be refined with parents being supported and teachers being readily available to aid families who are experiencing difficulties. Vulnerable children are telephoned on a regular basis and programmes, such as Dyslexia Gold can now be accessed from home. Resources for children are readily available with additional books and packs of materials available at the school door should parents need them. Good feedback from parents interviewed confirmed that the remote learning provision, although not ideal, was going very well. The Oak Academy lessons have been particularly well received.
An Excellent Indoor Learning Environment
A virtual tour of the school on the day of the assessment provided an excellent overview of the indoor environment. Classes were in rows due to the COVID-19 restrictions and children had their own trays with their own resources. Clevertouch screens were in all classes and the quality of displays was once again of a very high standard. They demonstrate a consistency with working walls for maths, science and literacy, grammar prompts, references to Growth Mindset expectations and aspirations for the future reflecting a balance between celebrating children's work and providing a focus for learning. An Anglo-Saxon display in lower KS2 and a display focusing on artists in Y2 were very well executed. A World War 1 display, one examining Properties of Materials and another celebrating 'We are scientists', all in upper KS2, reflected the historical, scientific and cross curricular emphasis in the curriculum. In the entrance hall, work from all around the school is celebrated with displays compiled by the Headteacher. In the school hall the 'Living, Loving, Learning Together' motto reminds everyone of its high prominence. The EYFS classroom is 'COVID-friendly' with no sand or water but had the appearance of an exciting environment where In the Moment planning is a core element of the work. This is reflected in the good GLD outcomes at the end of the EYFS. The Y1 outdoor environments have also been developed to a very high level to reflect the ITM curriculum which is also delivered here. The sensory room is another new addition to the school and children interviewed spoke of how 'happy and relaxed' they feel when in this calming room.
A Strong Element of Collaboration
The Leadership Team work very closely together and there is a strong element of collaboration amongst the Inclusion Team, which is led expertly by the Inclusion Manager. Good planning and assessment procedures, accompanied by good tracking of individual pupil progress, ensure pupils are supported well. Regular pupil progress meetings review interventions and ensure that children make the progress that is expected of them. Teachers know their pupils well and assessment is good. There is good liaison with LSAs who are closely involved in the learning process. There is access to high quality external advice from a range of providers to supplement and enhance the work of the staff and there continues to be a high focus on quality first teaching. Pupil and staff wellbeing has always been a priority for governors and Senior Leaders in the school and this has been a particular focus during the lockdown period. The Headteacher has provided a wellbeing station in the staffroom funded by the Governors which provides a range of foods, drinks and care products for staff to demonstrate the high regard in which staff are held. Governors know the school well and there is a wide range of expertise on the Governing Body. They are well led and their commitment to the inclusive ethos is evident in discussions. The Chair of Governors attends the school regularly and Governors are fully aware of the ethos and values of the school and the quality of the Headteacher. They have achieved the Essex Governance Mark and are presently involving their Link Inclusion Governor more in his new role. Safeguarding procedures are excellent and effective in ensuring children are safe and their concerns are addressed. The Safeguarding Governor has regular meetings with the Headteacher regarding these procedures which are reported back to the full Governing Body.
Extra-Curricular Activities
Attainment and progress data at the end of KS2 is excellent. The most recent national comparisons from 2019 reflect the high standards within the school. The school was well above the expected and higher levels in maths, writing and spelling, punctuation and grammar and above expected levels in reading. The school was slightly below the higher level in reading, but a great deal has been put in place since that assessment to improve that outcome. The broad, balanced and diverse curriculum has a major impact on these attainment and progress results. The school is constantly renewing and reviewing to maintain good practice and consequently standards are high across the school. The role of the additional adults in supporting learning and supporting individual children cannot be underestimated. The Inclusion Team is totally involved in the learning process and there is a highly supportive relationship between staff and pupils. Subject leadership is strong with leaders in the core subjects demonstrating great enthusiasm for their subject. Staff have regular and effective CPD which focuses on children's learning and areas for development in the School Improvement Plan. The outdoor learning environment is closely linked to topics and provides extra interest and relevance for the children. Adults and children are encouraged to take risks and this produces an air of excitement. Pupils are also actively encouraged to ask for help and support each other when a task becomes difficult. This relates particularly to the mastery curriculum in maths where children make use of concrete operations whenever possible. There is excellent provision for PE and sport for all children regardless of their physical abilities. The Site Manager offers children a wide variety of sporting activities and links well with the Witham Area School Sports Association (WASSA) to ensure all children participate with children from other schools. A parent of a child with SEND with physical disabilities who was interviewed during the assessment stated that PE is her son's favourite subject. Sport is linked closely to growth mindset and resilience with children always encouraged to 'achieve their personal best'. The provision of a wide range of extra-curricular activities enhances the curriculum and the school is always looking to extend the range of this offer. The children's involvement in the Children's University also has an aspirational impact on their future lives and the participation of the school in the Mighty Oak public speaking programme is another activity which has a big impact on children's confidence.
IT Provision has Improved
IT provision has improved since the last assessment with a member of the Inclusion Team taking an active role in upgrading resources. Accessibility, cameras on desktops, improved online safety particularly in regard to remote learning, Clevertouch screens in all classes, and an investment in additional Chromebooks and Kindles are some improvements that have made a big difference to the ability of staff and pupils to access the IT curriculum. The use of Tapestry in the EYFS and Y1 and Seesaw and Google Classrooms in the rest of the school has not only improved connectivity between staff, pupils and parents, but has also provided an enhanced ability to monitor and assess children's work particularly during the lockdown period. The school continues to look to improve hardware and software provision for pupils in the future.
Opportunities for Responsibility
The work ethic of the children, their good behaviour, friendliness and politeness impacts on their engagement with school work and there are many ways in which children are given opportunities to take responsibility for their learning. The Eco-Council, School Council, Worship Council, Play Leaders, Head Boy and Head Girl provide children with many opportunities to take on responsibilities, influence their school environment and develop independence. Excellent work is carried out with families, pupils and the community generally to ensure that children are cared for and valued. The Inclusion Manager provides valuable support for children, parents and carers and works with vulnerable families to improve the chances of all children.
A Child Centred Focus
Parents and carers recognise and appreciate the child centred focus of all staff. There are good communication systems which give parents and carers confidence in the school and in its support for their child's needs. Email, texting, newsletters and parent consultations as well as one to one conversations keep parents regularly informed about their child's education and needs. This has been particularly important during these difficult times. One parent of a child interviewed stated that,
"The school is really focused on my child and I feel really involved".
Another praised the passport meetings as
"excellent, where we develop strategies to support my child in the future".
The school has a very good website which ensures parents and visitors are kept informed of the latest developments in the school with a good focus on children's work. The close links with a range of external agencies to support vulnerable families and the signposting of families to groups which can address their needs is given much attention. The Friends of Holy Family School provides the school with a large income each year in normal times. Obviously, this year has been different, but nevertheless they have still managed to raise funds with online activities. Parents help the school by organising events that are fundraising as well as supporting a sense of community. Parents and carers are welcomed to many school events and are kept well informed about their children's welfare and progress through regular meetings and reports. For parents with English as an additional language, apps have aided translation and parents can bring a friend if language is a stumbling block. There is a Parents' Forum which has been productive in giving parents a voice. Parents have the opportunity to attend a wide variety of parent workshops organised by the school. These workshops which have included maths, mastery, reading, online safety and language acquisition skills will continue once the school is back to its usual way of working. Online platforms such as Google Classrooms, Seesaw and Tapestry and private telephone conversations with vulnerable families have been excellent in providing links to parents and carers during the lockdown period. There is one area of connection which parents value greatly and that is the friendly office staff and particularly the Office Manager who shows parents and carers tremendous compassion and support.
Enhancing Knowledge and Understanding
The school has naturally strong links with the local Catholic Church which encourages respect and a deep understanding of Catholicism, but it also focuses on other faiths which offers children a broad and balanced view of the world. Good use is also made of the local parks and services to extend the curriculum. There is good support for local and national charities and an involvement of the children in raising funds for children less fortunate than themselves. There are good links with the schools in the Mid-Essex Deanery and with local schools in Witham and the surrounding areas. The school is very much part of the community and even during the pandemic it has maintained, as much as possible, weekly masses in school. Where safe and possible, staff have also planned for outside visitors to enhance experiences and learning in school such as a Stone Age visitor and an outdoor learning Geography 'adventurer'. The school is actively involved in WASSA (Witham Area School Sports Association) and participates in a number of inter-school competitions including cross country, football, netball, cricket and inclusive sports events. Classes also study local geography at the start of the year in each year group and go on local walks to learn more. The school is part of the Children's University which encourages and celebrates enrichment and ensures that it is at the forefront of educational practice by involving staff in action research projects, such as In the Moment Planning and Open University reading teachers/reading children investigations. The school's 'Around the World Days' are designed to enhance children's knowledge and understanding of the global community and staff training accompanies these activities. During lockdown staff trialled an online virtual Egyptian tour to engage key worker children in a different way. The school is held in high regard by the local community. It is involved in many local activities including music festivals and sports Festivals and there are also strong links with the parish council. The school aims to ensure that its children see beyond their 'bubble' and what opportunities exist. Staff want the children to understand that their current learning leads onto many opportunities.
Commitment and Implementation of Inclusive Practice
The Self-Evaluation Report reflects the high quality of evaluation that exists in the school. It is comprehensive and reflects the school as seen by the assessor. Holy Family Catholic School is an example of a school committed to meet the needs of its children and is outstanding in its commitment to and implementation of inclusive practice. It is an outstanding, caring environment for pupils where high expectations have a huge impact on attainment, progress and wellbeing.
Find out more about the IQM Inclusive School Award
If your school is interested in obtaining the IQM Inclusive School Award or you wish to talk to a member of the IQM team please telephone:
028 7127 7857 (9.00 am to 5.00 pm)
or email: info@iqmaward.com for further details.
Want more information on the IQM Award? Click here to request your free IQM information pack