Granton Primary School in Lambeth has achieved Centre of Excellence status.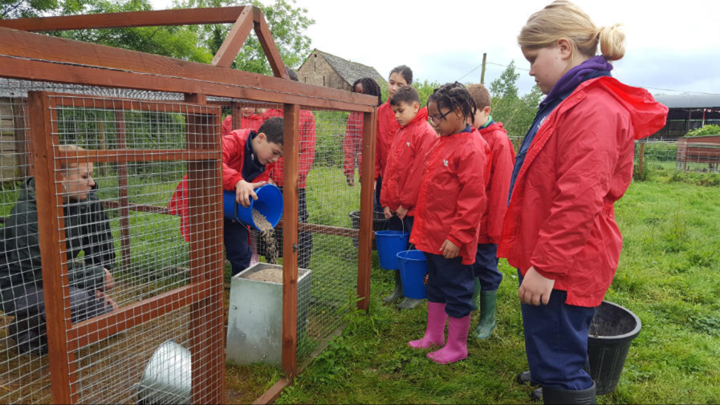 Going Above and Beyond
When I met with the SEN Coordinator, she told me that they have had the best attendance in September as the school reopened for everybody. We talked about everything that had gone on in the school and online during lockdown. It is fair to say that Granton Primary School went above and beyond their responsibilities to ensure children were safe and to ensure families, particularly vulnerable families. It is no surprise that the children were so eager to come back to school, they clearly love the place. Similarly, staff at all levels, are so pleased to be back in school supporting the children and each other through this difficult time. In view of the COVID-19 safety measures many of my meetings were online but I was able to meet staff and pupils on my tour around the school with IQM Leads. I was able to see the children at work and the learning environment for myself.
Supportive Governors
My first meeting was with two Governors. One of the questions I asked in my report on Day 1 was how governors were able to influence the strategic direction of the school. Whilst there is no Inclusion Committee, inclusion issues are discussed and debated as part of the Achievement Committee. At this committee they look at the data and look at children who are falling through the gaps. They are familiar with using data and the school is very good at giving and explaining what the data is showing and furthermore, telling Governors what they are doing to support individual children (and groups) who are falling behind. The Head of Inclusion attends the meetings and provides reports.
Quality First Teaching
The SEN Link Governor explained that when the new Headteacher came to the school he made it clear that his vision was to support children with special needs by keeping them in the classroom and ensuring classroom teachers met their individual needs. Quality First Teaching is now the main tool used to support children in class, they are rarely withdrawn but may be taken out for Speech and Language Therapy. As the SEN Link Governor, she meets regularly with the SENCO and comes into school when she can to see the pupils at work for herself.
A Strategic Mindset
The Parent Governor whom I met is newly appointed. She is very pleased to be involved in the life of the school. She has a high-powered job in a communications company and therefore brings a strategic mindset to the team. She is used to thinking around problems and helping others to think in a similar way. Sadly, the current healthcare crisis has prevented the Governing Body from meeting physically together and they have moved to virtual meetings. However, she does not regret getting involved and hopes to work alongside her Governor colleagues and staff at the school in order to make things better for children at the school.
A Bright and Welcoming Learning Environment
Following my meeting with Governors I was able to go on a Learning Walk with the IQM Leads, we toured the school and the playground stopping to talk to different people we met on the way while ensuring COVID-19 guidelines were adhered to. The learning environment is bright and welcoming with lots of eye-catching displays. It is in excellent condition and is really well maintained by the premises team and is well cared for by staff and pupils. The school has made good use of every available space and there are lots of areas where interventions can take place.
ICT Skills are Built into the Curriculum
ICT is delivered in classrooms as opposed to in a specially equipped ICT Room, the skills of ICT are built into the whole school curriculum. There is a small but well stocked library that is overseen by a part-time librarian. Sadly, this has been closed since lockdown due to COVID-19 guidelines. In normal times it is open during the day, after school and on Saturday mornings. I spoke to the Librarian later on in the day.
Children were Delighted to be Back in School
The playgrounds are a good size and are well resourced. In addition, there is a large green space and a small astro-turf sports pitch. There is also a very wooded area, which is soon to become a new nursery. All in all, it is a very pleasant environment to work and learn in. The calm and purposeful ethos were tangible as we walked around the school. Children were busy getting on with their learning and it was evident they were delighted to be back in school with their friends, they were welcoming and polite to me as a visitor and to the teachers and each other.
Monitored Pupil Engagement During Lockdown
My next meeting was with some of the teaching staff. We talked about their experience during lockdown and about their return to school in September. They told me that they went to home learning straight away once lockdown was announced and they monitored the engagement of pupils very carefully and the Pastoral Team was in contact with parents/carers throughout.
Blended Learning Opportunities
Teachers are more confident in teaching in a different way and in providing blended learning opportunities for pupils either in school or at home. The teachers I spoke to said this was due largely to setting up and implementing the Granton Hour and refresher training on INSET day. Systems are in place for whatever comes next and there are three contingencies plans ready to go if required. The Granton Hour has helped children make progress and not to regress with their learning, it also helped them emotionally by the regular contact from and with school.
Accountability Structures
We talked about accountability structures and procedures in the school and they told me the monitoring timetable is published well in advance and teachers are not surprised when it happens. Middle Leaders are planned to give Subject Leaders time to monitor the area they are responsible for but they understand the pressure teachers are under. With regards to performance management purposes, it is the teacher's choice about what subject they are observed in and what areas are focused on to give feedback. However, if it is a subject monitoring observation, the Subject Lead sets the agenda for the observation.
A Family Friendly School
I was able to meet with a number of Middle Leaders who have leadership roles across the school, they told me the school was family friendly and many of them sent their own children to the school. They are given clear guidance on what and how to teach but say they are not restricted in the way that they chose to teach. They said there is a lot of support from the Senior Leaders in the school. They are all now proficient on using Microsoft Teams following lots of INSET before and after lockdown.
Happy to be Back at School
I met with three pupils in Year 2, they were all in the same class and therefore in the same bubble. These three were very happy to be back at school and told me their parents got an email to tell them who their new teacher was and they then met them when they came back to school. They did not get a chance to say goodbye to their old teacher as she left to have a baby. The children said they did try to work during lockdown but got distracted by siblings or could not concentrate by themselves for long. The children said they found lockdown boring and they missed their friends and their teachers. They told me that their teachers stayed in contact over lockdown through telephone calls, emails and Microsoft to ensure they were safe. They really enjoyed talking to their teachers during that time.
Nervous about Returning to School
I met with three Year 5 pupils who have a new teacher this year, they were very happy to see friends and to have the opportunity to learn a bit more. They said they were a little nervous before the term started but they soon settled in. A few had come into school during lockdown as their parents were key workers, they really enjoyed this experience even though it was very different from normal school life.
Lessons are Fun
When asked about the best things at Granton School they said, "diverse learning" and they said teachers are really nice and make lessons fun. They enjoyed having time to play with their friends and said their learning is not boring and they talked about the many clubs and activities they used to have. The sports clubs have started again but the visits and trips have not. One of the boys described a lesson where the teachers took them on a virtual trip to Dubai, which they are studying in Geography. They even had a virtual flying experience with a pretend air steward serving drinks which they really enjoyed, they said this was an example of the way teachers make lessons fun.
Individual Leadership Styles
My next meeting was with the Senior Leadership Team and I was lucky to meet all eight of them, they told me that as part of their team building and team working strategy they all took the 'Colour Wheel' test that identifies how their (individual) leadership styles and traits and how they all fit together as a group. They said this really helps them to understand where colleagues are coming from and how to work effectively together. There is a willingness to find ways to support each other.
Training and Development is Strong
Training and development across the school is strong and leadership courses are offered at all levels. There are lots of members of staff getting involved and the school is able to deliver these (plus provide coaches) for other schools. The Headteacher acts as a School Improvement Partner for other schools in the area and others on the team provide targeted support other schools.
The Granton Family
Granton Primary School is a very special place. Children and staff are all included as part of the Granton Family, they feel they belong and are safe and secure in their school. Parents/Carers are fully supported and work in partnership with the school to ensure their children can be the best they can. They are secure in the knowledge that their children are loved and cared for at school. The children just love their school!
Find out more about the IQM Inclusive School Award
If your school is interested in obtaining the IQM Inclusive School Award or you wish to talk to a member of the IQM team please telephone:
028 7127 7857 (9.00 am to 5.00 pm)
or email: info@iqmaward.com for further details.
Want more information on the IQM Award? Click here to request your free IQM information pack.