The Federation of Barnehurst Schools, Erith in Kent has achieved the Inclusive School Award with Centre of Excellence status.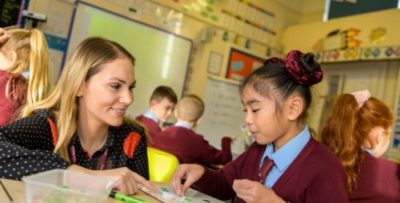 Context
The Federation of Barnehurst Schools is a two form entry mainstream school. It is part of the Primary First Trust, which consists of nine other schools across Kent, Bexley, and Medway. It was clear that being part of the Trust has been a great benefit for the school. The partnership and collaboration have been very effective.
Strong Commitment to Inclusion
The school is led by a determined leader who is totally committed to inclusion. Every child really matters here and staff at all levels care about the children. They have developed a set of policies and practices that ensure high quality teaching, an exciting global curriculum and pupil and staff wellbeing and positive mental health. They have much to be proud of.
Ownership of Inclusive Vision Shared
The Headteacher has successfully shared her vision of inclusion, and this is now owned by staff and pupils alike. This was demonstrated by my conversations with a wide range of staff and many pupils. The school aims were created by staff, pupils, and parents in collaboration, and they inform everything that happens in the school.
Children Come First
Inclusion is about staff as well as pupils and parents. One of the teachers told me that the Headteacher has a deep love for the children, and it comes through in everything that happens in the school. Put simply, the children come first. One teacher told me she was the happiest she has ever been working in the school. It is clear that the leadership care about staff and do all that they can to ensure their working conditions are good and even more importantly that they are treated as professionals who can be trusted to get on with their jobs. Work-life balance is considered, and the school is family friendly. Staff at all levels feel valued and know that their contribution makes a difference. They credit the Headteacher, the Deputy Head and the senior team for leading in this way. The coaching approach is really having an impact and staff recognise and value the fact that they are participating in all developments and oversee their own professional learning. Doing things 'with' people rather than 'to' them is key to the success of the school.
Proactive Preparation
The school is very forward thinking and is aware at the changing world and making sure they are prepared for a changing demographic. They do not wait until something happens, but they anticipate it and are ready to face all eventualities. The leadership is not afraid to take on controversial issues and topics and to include these in the curriculum. They have faced some opposition but have managed this with clear communication and persuasion. However, there is a real determination to do and teach what is right. They are to be congratulated for being true to their vision, their values, and their principles.
Promotion of Positive Mental Health
The work the school is doing to ensure the wellbeing and positive mental health of pupils, staff and parents is a priority and the work they are doing in this area is exceptional.
Celebrating Diversity and Difference
There is a real sense of moral purpose that stands out when visiting this school. Celebrating diversity and difference is a priority and children and staff can be themselves and they feel they belong.
Find out more about the IQM Inclusive School Award
If your school is interested in obtaining the IQM Inclusive School Award or you wish to talk to a member of the IQM team please telephone:
028 7127 7857 (9.00 am to 5.00 pm)

or email: info@iqmaward.com for further details.
Want more information on the IQM Award? Click here to request your free IQM information pack