All Saints C of E Primary School, Dovercourt in Essex, has achieved the Inclusive School Award.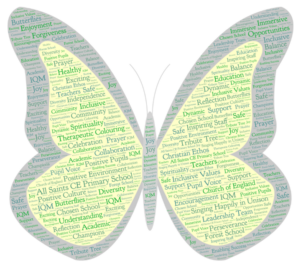 Introducing All Saints
The visit to All Saints C of E Primary School was surrounded by the sounds of children singing, voices in unison during learning activities and at playtimes children happily interacting with adults and their peers in what was, to them, a safe and positive environment. These sounds that accompany a visit to All Saints encapsulate and sum up its welcoming and warm nature. In my feedback to SLT at the end of the visit I described the day as 'oozing inclusivity and community.' Parents reinforce this community feeling. In their words
'everybody knows every child's name; you feel welcomed when you come.'
Butterflies
All Saints is a Church of England Primary School that has fully embraced the values of Christianity in their vision and values. These values are evident throughout the daily routines and environment but are also evident in the voices of the children. The school has recently worked hard to review their vision and have extracted keywords from this to form their core values. Butterflies act as a visual reminder of the ethos of the values, a school prayer and a Spirituality Room are in place to ensure that the vision remains at the heart of daily school life.
Embracing Spirituality
The school prayer was a collaborative effort involving children and staff and is repeated on a number of occasions throughout the school day. The Spirituality Room has the prayer stylishly painted onto the walls and the children freely and enthusiastically talk about how it is used. However, it was particularly pleasing to hear the children speak about those that did not wish to fully participate and how they were able to still gain from the more positive messages from the bible and to respect the wishes of others. One Year 5 child told me how he didn't wish to participate fully in the act of worship, however he did feel that there were some morals and messages contained within the bible that were important to live by and reflect upon.
Tribute Tree
The Spirituality Room is in no way restricted for access to the children. Any child that feels they need a quiet space is allowed to use the room when they feel the need. The room is softly lit and has calming music played during playtimes. There are cosy corners to read, colouring and other therapeutic activities for the children to engage in whilst they are in the room. The room is supported by a specially trained member of staff and can also be used for targeted use when the need presents itself. The supportive and understanding nature of the school is also reflected in the tribute tree, created as a way for other children to positively remember the child too. The whole school environment is filled with examples of where children have collaborated on wellbeing type activities, for example, stained glass crosses.
Perseverance, Forgiveness and Respect
The vision and values also clearly link into the classroom. Each class creates a 'Class Flag' at the start of each academic year where the children revisit the core Vision and Values and complete a piece of work about what this means to them and how this translates into their class ethos. The school values, Perseverance, Forgiveness and Respect are displayed in every learning environment in word format, SLT may consider a more visual way of representing these words in time, to ensure there can be greater level of understanding for all students. However, during conversations with the children, the words came from them, without prompting, further evidence that they are an intrinsic part of school life.
Dynamic and Current Curriculum
The curriculum has recently undergone an overhaul, incorporating aspects of some of the Christian work, each scheme includes a bigger question type approach, allowing children to reflect on their learning in a deeper understanding methodology. Topics then culminate in a cultural focus type of event allowing the children to be immersed more fully in the topic aims. One such event focussed on an Emotional Wellbeing Day for all children and staff. Furthermore, the school has identified in the school development plan a focus on Diversity, which will result in a similar type of event.
Creative Spaces
Teachers are not required to seat children in specific seating plans and SEND children are dispersed across the seating arrangements in accordance with this. Children were observed engaged in their learning, enjoying their interactions with the teachers and each other. There were a variety of activities observed during our walk around the school including interactive times table games, collaborative activities, and independent learning. In the KS1 classrooms there are outdoor learning facilities that the children can talk about enthusiastically and teachers can be seen supporting the learning through play. Outside spaces have also been creatively developed to support opportunities to learn in an outside classroom and a forest school area. These spaces are early in their development, and it will be exciting to see how these spaces provide greater opportunities for the children to extend their learning in the outside classrooms.
Effective Partnerships
Staff at the school describe numerous opportunities to work together and to access additional training opportunities which might extend their skills in a direction of their own choosing. During the COVID lockdown period, support staff were encouraged to complete research projects in an area of their choice. The school is actively involved in the Harwich Education Partnership. This provides opportunities to staff and children to work collaboratively and be involved in joint planning and celebration events across the wider community of schools in the area. A further, fairly new initiative of Subject Champions is ensuring that children and staff work together to ensure that the curriculum is relevant and effective. Each class is represented in a group for every subject. Children are picked for their enjoyment as well as aptitude, ensuring that all children have access to the student voice aspect of curriculum development. Teachers have all been allocated a subject to lead and supported in this via a Senior Lead Link meeting.
Enabling Success
Teachers describe the Senior Leadership Team as supportive of a work/life balance. There are examples of part time work, job shares and completing PPA at home that all contribute to a content and healthy staff community. The marking and assessment policy has been recently reviewed to ensure that it is not unduly heavy in workload for staff. It also ensures that Peer Marking provides a core element, however the books also show that there is an expectation for standards and presentation. The Verbal Feedback Policy supports the positive interaction with staff and the SLT are aware of the need to consider how the feedback loop can be further evidenced.
School of Choice
There is so much more than could be said about the nature of the inclusive work that goes on at All Saints. Ultimately the impact of the numerous initiatives is evident in the culture of the school. Staff don't leave and children don't want to leave. One parent had a child in 3 different year groups within the school and All Saints was their chosen school despite numerous other options within the catchment area. I would eagerly anticipate a further visit because as you leave All Saints you come away having felt the joy of learning that the children and staff experience on a daily basis and there is an eagerness to return to that.
Find out more about the IQM Inclusive School Award
If your school is interested in obtaining the IQM Inclusive School Award or you wish to talk to a member of the IQM team please telephone:
028 7127 7857 (9.00 am to 5.00 pm)

or email: info@iqmaward.com for further details.
Want more information on the IQM Award? Click here to request your free IQM information pack