Vaughan Primary School in Harrow has achieved Centre of Excellence status.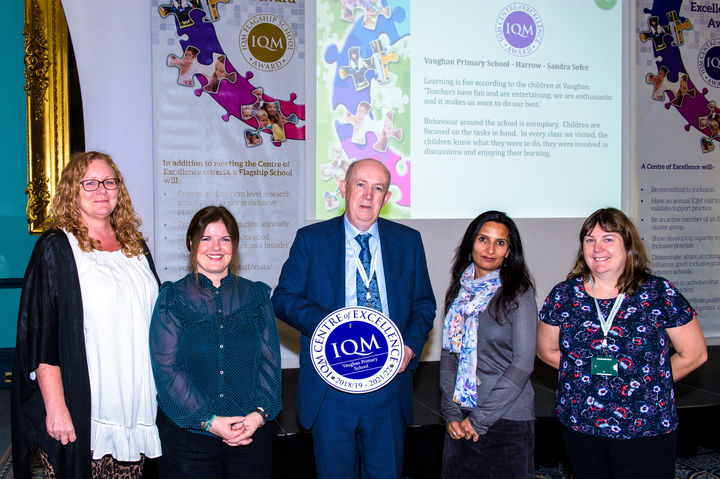 Background
Since the previous IQM assessment, three years ago, Vaughan Primary School has undergone significant change and rapid development. The building now caters for six hundred and sixty-six pupils and has become a three-form entry school. There is a morning and afternoon nursery and the daily breakfast and after school club provision is expanding due to increased parental demand for places.
The Learning Environment
The school has undergone major expansion and a total rebuild. There is a feeling of calmness, light and space throughout the school which also has clarity of purpose and vision for the children of Vaughan. The children benefit from new facilities such as a food technology room used for interventions and specific cooking projects, breakfast and after school clubs; a SEN Hub base for the Learning Mentors where therapy, mentoring, CBT and play therapy sessions take place; a Learning Resource room; music studio; computer suite of 10 computers; library and intervention rooms for each year group where academic and pastoral support takes place.
Behaviour is Exemplary
Behaviour around the school is exemplary. When OFSTED visited they deemed the behaviour of pupils as outstanding, 'Pupils are very polite, friendly and courteous. Their conduct in class and around the school is exceptional. They are highly respectful to each other, staff and visitors. Pupils from all backgrounds get on extremely well with each other.'
Children are Focused
Children are focused on the tasks in hand. In every class we visited, the children knew what they were to do, they were involved in discussions and enjoying their learning. During the assessment, children delivered an anti-bullying assembly with support from the Learning Mentor. The children had made their own posters to highlight key points from their presentation and had written the assembly themselves. The audience responded well to having this delivered by their peers who made clear exactly what bullying entails and what to do about this, should it happen. Children were clear that at Vaughan 'we do not bully.'
Displays are Colourful and Vibrant
Displays throughout the school are colourful and vibrant; a balance of teacher led and child initiated. One example seen was in Reception; children had chosen to create an interactive area called 'scary land' complete with hanging trellis and shapes. Another example was in the year six corridor children had created the most intricate self-portraits for display in the hallway. Children had used symbols and colour to represent themselves.
Pupil Voice
There are many opportunities for the children to become involved in decision making in the school. They are on teams such as Sports Leaders, travel Ambassadors and School Council. The ambassadors and leaders take pride in their roles. The Helping Hands Learning Council meet regularly and are keen for the playground to be zoned. One told me that this was needed because not all children want to run around, some might want a quiet space with equipment to play games together. The school aim, over the next term, to visit a local school where this is in place to gain ideas for implementation.
Passionate about the Environment
Children are passionate about saving their environment and want to do everything they can to help. The travel ambassadors said it was 'nice knowing your school and the environment,' they feel they are 'trying to raise awareness of choosing to be healthy and help the environment as well,' 'We encourage others to walk to school. We held an event in walk to school week, we also had cycle or scoot to school week', 'small changes are big steps.' The school councillors describe how they 'improve the school and anything that needs doing.' They help children and took the important role of interviewing staff and had recently been involved in interviews for the new Deputy Headteacher and new TA.
Learning is Fun
Learning is fun according to the children at Vaughan.
'Teachers have fun and are entertaining, we are enthusiastic and it makes us want to do our best.'
The sports leaders describe their role as 'managing sports around the school.' They really enjoy 'helping the infants, it's nice to have time with them' and organising activities such as the climbing wall, football, and accompanying a class around on the sports day 'motivating children and being a role model.'
Parents Feel Very Well Supported
Parents of children with additional needs feel very well supported and understood. The parents seen today couldn't praise the school enough and in particular the inclusion team. One parent who successfully appealed for a place at Vaughan said she knew her child would be happy and safe at Vaughan and was now thriving. Another parent said her experiences at Vaughan had been nothing but positive. She described how staff
'made time for me, provided exceptional support' and were
'proactive, they don't wait for things to happen.'
Another parent was appreciative of the difference attending the Sanctuary had made to her child who was now thriving.
An Active PTA
The school has an active PTA who, over the years, has helped raise a considerable amount of money for the pupils in the school. Money has been contributed towards outdoor spaces in the EYFS which are engaging and imaginative and are often used by children with additional needs to develop skills. Staff spoke about the difference this had made to a child's level of mobility through regular time on the climbing frame.
Providing Support
Vaughan is a specialist CPD provider for Sport and PE within the Local Authority. Staff at Vaughan have also supported Harrow schools in the areas of assessment and moderation in KS1 and KS2, recruitment of senior staff for the Local Authority, cognitive behaviour therapy and PE conference. Vaughan staff deliver NQT training for Harrow and have hosted sessions on PE, assessment, SEN and core skills. They have shared their good practice in SEN which included ideas for Quality First Teaching provision, ways to maximise use of support and delivery of specific interventions. Feedback from participants indicated that they found this particularly useful, especially as strategies gained could be implemented by themselves.
Partnership and Outreach Working
Partnership and outreach working has widened since the previous visit. The school has close links with Brunel University through delivery of PGCE courses and being an active participant of the steering group. Subjects covered included gap analysis and assessment for learning techniques.
Safeguarding Practice is Effective
Safeguarding practice is effective. When OFSTED visited they found that 'Safeguarding takes a very high priority. Staff ensure that pupils are kept safe. Pupils said that they feel safe and well cared for in school.' Children use 'space to talk' cards in classrooms. If children have a worry they can put them in the centrally placed box and a member of the pastoral team will come and speak with them. Children were able to suggest with confidence, the range of adults they would talk to both at home and at school if they were being bullied. School adults featured amongst these trusted adults. Child line posters and contact numbers are displayed around the school.
Supporting Other Schools
The AHT for inclusion and safeguarding is a member of the Harrow Safeguarding Children's Board Learning and Development pool of trainers. This allows her to deliver level 1 training across Harrow to multi agency partners. She has completed the 'train the trainer' Safeguarding program. She has also provided SEN support to other schools and has hosted visits to Vaughan from other schools and practitioners.
A Thoughtful Approach to Interventions
Senior Leaders have a thoughtful approach to interventions. Pupil Premium champions and the Pupil Premium lead look carefully at the next steps for children. They ensure that there is a balance of in class support and withdrawal for interventions. Interventions such as 'Badger' target language skills which are transferable to the classroom. This supports teachers' planning but also has been seen to have high impact on children. The school continues to go the extra mile for the community.
Find out more about the IQM Inclusive School Award
If your school is interested in obtaining the IQM Inclusive School Award or you wish to talk to a member of the IQM team please telephone:
028 7127 7857 (9.00 am to 5.00 pm)
or email: info@iqmaward.com for further details.
Want more information on the IQM Award? Click here to request your free IQM information pack.