Timbercroft Primary School, Plumstead in London achieves Flagship School Status for the second time.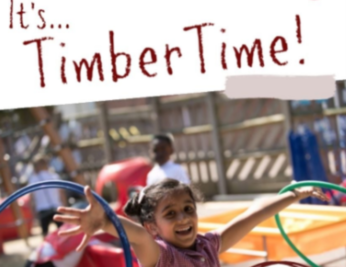 Inclusion is at the Heart
Staff here care deeply about their whole school community and leaders ensure that there is a clearly understood vision and ethos around striving for excellence for each of their pupils, going above and beyond and being innovative and creative in approaches to meet each student's individual need. The well-being of the whole school community is carefully considered, and leaders ensure they listen carefully, removing unnecessary barriers wherever possible in order that everyone can be the best they can be.
Cultivating a Real Sense of Belonging
Creative approaches are taken to facilitate a real sense of safety and belonging whist using all aspects of the environment to support learning and best possible outcomes. For example, the beautiful reading displays, whilst aesthetically stunning really focus to support, scaffold and celebrate learning. Staff are highly aware to reflect the multi-cultural community and celebrate diversity. This includes subject leaders thinking carefully to work with families, for example drawing in family members to support the exploration of wider cultural understanding around 'enslavement" by getting a parent to talk about their experiences when studying Benin. This is also reflected in the 'Train your Brain' displays, again, supporting to make learning visible. This is further enhanced by the regular oracy assemblies where challenging questions are posed for small groups of children to discuss, debate and reflect on. During my virtual tour I was lucky to have observed just a few minutes of one of these assemblies – the buzz of discussion and engagement was clear.
Dynamic Curriculum
The curriculum is well mapped out and has followed a multi layered process of road maps developed over a 6-year period. Subject leaders monitor this and ensure maps are personalised to different cohorts and during this period create opportunities to support the identification of and response to missed learning opportunities as a result of the pandemic.
Student Voice Clearly Heard
Student voice is clearly very important to staff at Timbercroft and whilst the school council has been less active due to Covid this last year, they are currently voting children into posts to prepare for re-establishment in September. The PHSE leads the 'Diana Award' where children can be awarded 6 badges linked to leadership, engagement, perseverance etc. Children who are identified as 'Anti-Bullying Ambassadors' take their role highly seriously and appreciate the training and support they receive and, of course, how valued they are by their peers and staff.
Ensuring Children Flourish and Thrive
The school community is currently working together on a highly innovative project, developing a community cafe. I observed Year 6 pupils preparing the land for what will be the allotment area to then plant various vegetables to support this. As a result of highly creative and innovative leadership all community members are supported to experience high quality learning opportunities, not only through a well thought out road map of learning including key concepts, cultural capital, but also alongside this a rich and varied opportunity to develop life skills and to enjoy 'being' with each other and in relationship. As a result, children flourish and thrive.
Tangible Sense of Belonging
This is a truly 'happy' purposeful school. The sense of belonging from all stakeholders is tangible and, as a result of this sense of safety, adults and children alike are more confident and able to take on greater challenge. The support mechanisms facilitated between children and children, adults and children and adults and adults facilitate to real resilience in an honest, open way.
Find out more about the IQM Inclusive School Award
If your school is interested in obtaining the IQM Inclusive School Award or you wish to talk to a member of the IQM team please telephone:
028 7127 7857 (9.00 am to 5.00 pm)

or email: info@iqmaward.com for further details.
Want more information on the IQM Award? Click here to request your free IQM information pack