The Brier School in Dudley achieves Centre of Excellence status.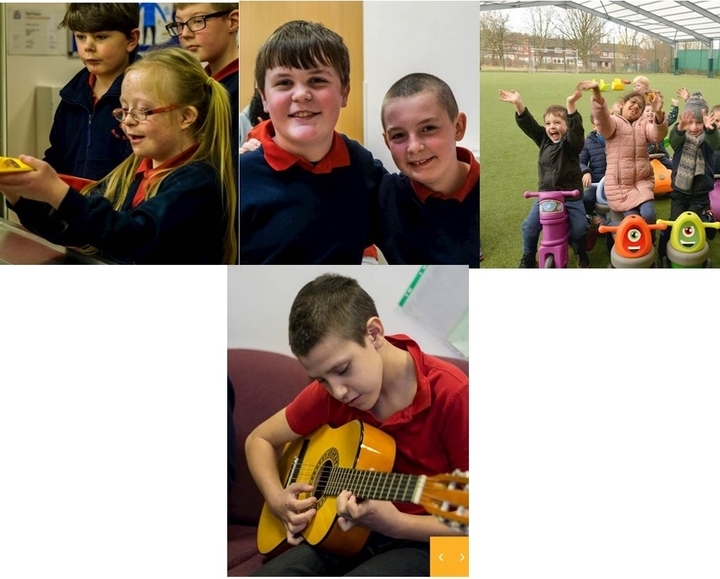 The Brier Family
The Brier is an outstanding, oversubscribed special school age 4-19. It was a pleasure to meet the 154 pupils who make up the focal point of the Brier family, as indeed it is a family. At the Head of the table, sits a newly appointed Head who greets each child daily, as they come into school, who knows the pupils' names and has faith in his inherited Leadership Team. I arrived amongst the organised chaos of taxis, parental drop offs and LA transport, all pupils skipping inside with a happy smile, to be met with an open hand. I knew immediately I was somewhere quite special. What is so strikingly apparent emanates though the positive culture of this school, is the dedication and drive of the staff, at all levels, to make a positive difference to the lives of their cohort.
School Context
The Brier is committed to supporting pupils with moderate learning difficulties and complex learning and communication difficulties. The Free School Meal (FSM) percentage of 34% is notably high and The Index of Multiple Deprivation [IMD] shows that 51.9% of pupils come from the most 30% deprived households compared against national figures. Most significantly, 34.4% came from the most 20% deprived households. The school draws from the whole of the borough, but also has 4 pupils from neighbouring boroughs. There is a waiting list for admissions, with many seeking resolutions at tribunal level, such is the demand for a place for their children at The Brier.
Personalised Provision
The school is located on a campus between two mainstream schools, a Primary and a Secondary Academy, enabling any pupil, when appropriate, to access personalised provision across the three schools. I was lucky enough to meet pupils who were able to access both mainstream and specialised provision though a specifically appointed transition and integration team. They are extremely successful in meeting the needs of some of the most vulnerable learners, through a successfully adapted curriculum, designed or developed to be ambitious and meet the needs of pupils with SEND, developing their knowledge, skills and abilities to apply what they know and can do with increasing fluency and independence. The more able are challenged further in their learning and children who find aspects of their learning more difficult are appropriately supported so that they too are enabled to experience success. Children leave the Academy with a sense of belonging to a community where they have the confidence, knowledge and skills to make decisions, self-evaluate, make connections and become lifelong learners regardless of SEND or socio-economic differences. It is no surprise, therefore, that they have been judged to be outstanding for the third consecutive inspection and shortly after our visit was judged to be outstanding at the fourth consecutive inspection.
Polite, Enthusiastic and Articulate Pupils
Pupils were also proud to be part of the school and were able to communicate their roles on the school council and the voice they had to empower change in the school. They were, polite, enthusiastic and articulate and were not limited by being in special education, indeed it had given them a way for their voice to be heard in their unique community. You could clearly observe that they felt safe and they were part of The Brier Family and this was most evident in the signing assembly that was simply the most joyous experience of unity and engagement through participation. Parents praised the highly inclusive nature of the school, the pastoral care, the SEND provision and the dedication of staff. The behaviour I observed was good in all cases. The culture of high expectations and personalisation translated into calm, learning focused environments. The building looks knew, even though it is older than you would estimate, but the continuous refresh of technology, outdoor spaces and the pride they take in every pod, in creating a warm and nurturing but learning focused environment.
Genuine and Honest Reflection of Everyday Working Practice
I felt an overwhelming sense of disappointment as the day came to a close, as I felt like I had been welcomed with such warmth and openness, I didn't want to leave. I had eaten lunch with pupils who had greeted me as if I was a regular staff member and had thoroughly enjoyed their company. The pupils are given daily opportunities to be independent and lunchtimes were an example of that. When you work with pupils with such high needs, there is no time for 'performances', the day was a genuine and honest reflection of their everyday working practice.
Commitment, Ambition and Pride
The Headteacher, although only 6 weeks into his new adventure, has ambitious plans for the future and is already recruiting additional senior leaders to build capacity in the areas where he identified weaknesses, or rather areas of development. He is using his mainstream experience of the rigour of quality assessment. He has worked collaboratively with the SLT, Middle Leaders, Staff and Governors to refine the School Evaluation and consequentially, the School Improvement Plan. It truly reflects the commitment, ambition and pride of the whole school community.
Extensive Outreach Work
The Team could evidence extensive outreach work. The SLT and middle leaders have supported other local schools that are in categories and also a range of schools within the borough to deliver specialist interventions including intensive interactions, colourful semantics and sensory diets. This has served to further develop the skills and confidence of leaders in The Brier and promoted inclusive practice within the Dudley borough. In addition, in 2018-19 the school supported five other special schools through the Birmingham Education Partnership. So many other provisions are learning from the success of the Brier.
Find out more about the IQM Inclusive School Award
If your school is interested in obtaining the IQM Inclusive School Award or you wish to talk to a member of the IQM team please telephone:
028 7127 7857 (9.00 am to 5.00 pm)
or email: info@iqmaward.com for further details.
Want more information on the IQM Award? Click here to request your free IQM information pack.