St Vincent's Catholic Primary School in Ealing achieves Flagship School status for the third time.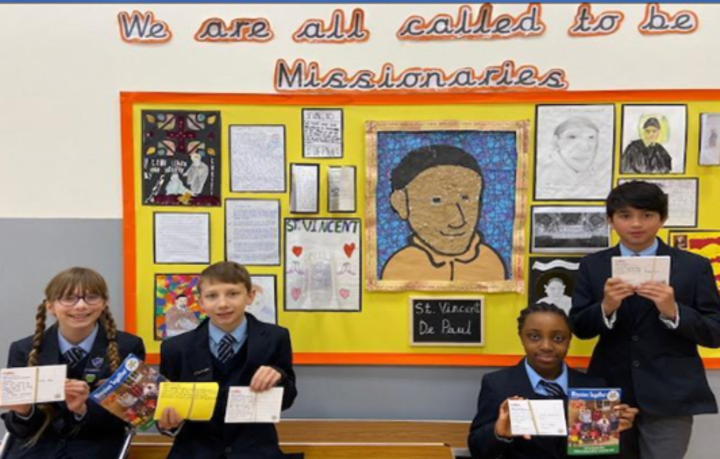 Resolve, Optimism and Great Energy
St. Vincent's Catholic Primary School is a vibrant and welcoming school, one which is highly valued by its community. Leaders are clear in their commitment to inclusion and developing the well-being of their community. This is a highly successful school and provides much in the way of exemplary practice. The ongoing COVID-19 crisis has created new and additional challenges for all schools and at St. Vincent's Catholic Primary School, these have been met with resolve, optimism and great energy.
An Increasingly Diverse Population
St Vincent's Catholic Primary School serves an area of Acton that has significant social, economic and educational challenges. There are also parts of the catchment that are more affluent and advantaged by comparison. There are 22 children with an Education Health and Care Plan, some of whom have significant needs. Free School Meal eligibility is around 20% and the IDACI measures place the school in the lowest quartile. Whilst the school has a strong Catholic ethos, nearly 20% of the cohort are made up of children of different faiths and beliefs. The local population is increasingly diverse with pupils of different nationalities, ethnicity and beliefs.
Wise Investments in ICT
The school has made wise investments in ICT which has served them well during the lockdown. Several years ago, leaders took the decision to adopt Google Classrooms as an online learning platform and since then have added a variety of content rich platforms such as Reading Plus, Times Tables Rockstars, Learning Bugs and IDL. There is an ICT suite but the school has wisely invested in Chromebooks over the past few years and now has 150 at a ratio of 1:2 for pupils in Key Stage 2. Children in Key Stage 1 and Early Years have access to iPads.
Supporting All Pupils
The school has a variety of resources for pupils with differing needs including weighted blankets, scooter boards, sensory circuits and Lego therapy. Prior to lockdown, the school had converted a space into a sensory room but its use is now restricted to one year group due to following COVID-19 regulations. The school also has a well-established garden area and a forest school on site and a fully trained Forest School Lead.
Impressive Range of Extra Curricular Activities
I spoke to range of pupils, one of whom was moved to comment that "…the staff are so nice, approachable and helpful. They do not judge you". Another told me that school was "…fun and the teachers encourage you and are positive about us". They also told me about the impressive range of extra-curricular activities that have been put on hold during the pandemic. These included a Year 5 residential, outdoor learning experience. The impressive, connected curriculum is supported by visits such as to the British Museum and to Woburn Safari Park.
Leadership Opportunities for Pupils
There is a good range of leadership responsibilities for the pupils including a variety of Ambassadors such as the Pet Ambassador, who makes sure that the school pets are cared for, Eco Ambassadors who help look after the Forest School. The school entered the prestigious Westminster Diocese Seasons of Creation competitions and were awarded first place for their work on recycling. The school website lists the impressive range of Ambassador roles as well as the Head Boy and Head Girl, Prefects and the School Council. This latter group have been instrumental in coordinating and organising the charitable efforts of the school in contributing to the local Domino Foundation which is concerned with homelessness. The school has also organised clothes donations and a food bank.
Supporting During Lockdown
Although it became necessary to adapt the curriculum during lockdown, it was evident that what was provided instead was highly appropriate and enriching. Regular contact was maintained with pupils and their families and the school remained open for the children of key workers and those pupils known to be more vulnerable. In my meeting with the Inclusion Assistant and Learning Mentor I was impressed by the work with parents and particularly those who are hardest to reach and the support for the increasing number of pupils who are dyslexic.
An Innovative Connected Curriculum
The school has continued to develop its innovative Connected Curriculum by introducing 'Building the Kingdom' which aims to contextualise the curriculum within the beliefs and values of the Catholic tradition. Specifically, the school is exploring the power and the marginalised and the programme is running across all the schools in the Westminster Diocese. This additional development to the curriculum is a superb example of how an ethos of inclusivity can be translated into practice as it explores often sensitive issues of inclusion and exclusion in a broad sense as well as recognising and celebrating the strengths and qualities of individuals.
Supporting and Engaging with Parents
It was very clear that supporting and engaging with parents and families is very important to the school. The weekly workshops run by the Learning Mentor have been highly successful and have continued remotely during the pandemic.
Working Tirelessly to Support and Enhance Provision
I met with a small group of very supportive parents who also run the Parent Teacher Association. They are an active group who make a significant contribution to the school in so many ways. They have a clear understanding of the school's context and work tirelessly to support and enhance provision. The school's PTA are members of Parentkind, an organisation dedicated to bringing together home and school, which provides valuable resources and advice to schools, parents and PTAs. From discussions it was clear that members of the PTA recognise the extent and limits of the role they play. They were appreciative of the openness of school leaders which they felt was instrumental in allowing them to operate successfully.
Supportive Governors
Governance is supportive of the school's Catholic and inclusive ethos. The Governor I met was well informed about the context and strengths of the school and the challenges it faces. During the lockdown and continuing to the present, Governors have used online platforms to remain in touch and continue to operate as a fully functioning Governing Body.
Supporting Local Organisations
Leaders, staff, Governors and PTA have an acute understanding of their community and work very hard to engage with stakeholders particularly with parents and families. Through a variety of charitable work, the school engages with and supports local organisations. Through its innovative curriculum, the school uses the community near and far to enhance learning such as the trips and visits mentioned earlier. The school holds many functions that encourage participation from members of the community from the parent workshops to the annual Christmas and Easter Fairs.
Keeping Everyone Safe
The school should be congratulated for the skilful way in which it navigated a smooth course through lockdown. Staff described procedures which were adapted to ensure safety and the continuation of a meaningful experience throughout the partial closure. Since September, further measures have been taken to maintain a safe environment and experience for all who work and learn at St. Vincent's Catholic Primary School. The work of support and site staff to make the environment safe for teaching staff and pupils is highly commendable.
Find out more about the IQM Inclusive School Award
If your school is interested in obtaining the IQM Inclusive School Award or you wish to talk to a member of the IQM team please telephone:
028 7127 7857 (9.00 am to 5.00 pm)
or email: info@iqmaward.com for further details.
Want more information on the IQM Award? Click here to request your free IQM information pack.