St Peter's C.E. Primary School, Farnworth in Bolton achieves Flagship School status.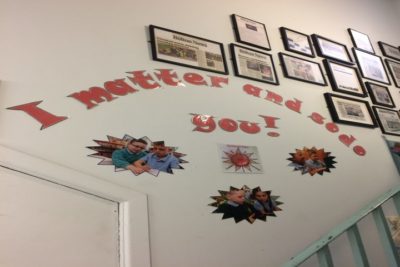 Context
St Peter's CE Primary School is a larger than average two form entry school with 418 pupils on roll, where most pupils are of White British heritage. Despite this being an online review due to the ongoing pandemic, there is a palpable sense of a school that is highly successful and inclusive. St Peter's represents everything that is best about inclusive practice. All staff led by the inspirational Headteacher and her senior team have an acute understanding of its context and a driving passion to support and have high aspiration for all their pupils and families. It is an outstanding school in every sense of the word and in terms of inclusion is a superb school in the broadest possible way. Inclusion, care, nurture and support are at the heart of its approach and is naturally ingrained in every aspect of school life. It is a setting that prides itself on providing the very best for everyone who is involved and is, a vibrant, caring and friendly place to attend as a pupil and as a member of staff. It is a thriving hub of educational and inclusive excellence where every single member of staff is committed to the school and highly valued by the Headteacher, Senior Leaders and each other. Over time, they have built up strong relationships with families and this has resulted in a very high degree of trust and honesty and a very good understanding of how the school can best support pupils and their families. This has been extremely beneficial during the pandemic, as staff have continued to go above and beyond what is expected to ensure that learning has been tailored to the needs of individual pupils and well balanced so that families have had the minimum additional pressures. The overwhelming feeling from parents that is supporting evidence of this, and previous reviews is that the school is extremely supportive, and they appreciate the commitment of all staff. In my judgement, the school's actions to care for its pupils and its staff, continues to be superb.
A Highly Inclusive School
Discussions with key members of staff, and parents were extremely useful in confirming that the school continues to successfully address all 8 elements of the IQM award. Both parents spoken to, including one who worked as a Teaching Assistant in the school, were extremely articulate and were able to give valuable supporting evidence as to the inclusivity of the school and how it collaborated closely with all parents to ensure successful outcomes for their children. During the online review meetings discussions were held with staff to discuss key aspects of the school and its inclusivity that was supported by a wealth of documentary evidence to enhance and underpin discussions, that allowed a remote and extremely positive and highly inclusive picture of the school to be seen.
Going Above and Beyond
What continues to stand out very clearly from the evidence of this online review and previous reviews is the pride the staff feel in the way that they engage and work with each other, pupils and families to more than meet need, going above and beyond what is expected. This is achieved in partnership with pupils and families providing superb levels of advice and support. Everyone at St Peter's understands their role and work in collaboration to achieve successful outcomes for all. Collaboration and superb teamwork are key to everything that happens here ensuring the best possible outcomes.
Promoting Equality and Diversity
Staff pride themselves on their superb inclusivity actively promoting equality and diversity and are committed to maximising the achievement of every pupil. The school and its community should be justifiably proud of their success in this respect, where no-one is left out or behind and where everyone is included.
Very Proud of Efforts During the Pandemic
The initial meeting with The Deputy Headteacher & IQM Lead set the scene for the review and looked at how the school, its staff and its pupils had moved forward since the last review in terms of inclusion and how they have catered for pupils and their families during the ongoing pandemic. They are proud of their efforts during the pandemic to ensure pupils in their care and their families have had access to the best possible education, care, nurture and support and are now beginning to make up for lost time. This is a fantastic achievement that says a lot about the calibre of staff at the school and their naturally superb inclusive nature. The staff should be applauded for their efforts in this regard. We also discussed in some detail how CPOMs had been embedded and used across the school since the last review and in a later meeting with the DHT and AHT who will be leading the new project around Pupil Voice discussed the different aspects involved, looked at how their involvement with the Children's University scheme will support their project and how the different elements and groups will contribute to raising the profile of Pupil Voice across the school.
Developing Pupil Voice in School
Further meetings were held with a variety of staff to review their Flagship project for 2020 and their Flagship project for 2021-22, 'Developing Pupil Voice in School'. Each meeting clearly demonstrated the passion and drive of the staff who see their roles in school not solely as a job but as a vocation with a drive to have a positive impact on the lives of their pupils and families and to ensure that they receive the best possible outcomes and care. Discussions were supported by documentary evidence supplied prior to the review and during meetings.
Focusses included: A meeting with the DHT and Curriculum Lead to review the implementation of retrieval practice strategies across core and foundation subjects and how they have ensured that the statutory requirements for Health and RSE have, and continue to be, delivered in a sensible and sympathetic manner.
Introducing Outdoor Learning
A meeting with the AHT and KS2 Lead with responsibility for outdoor learning to look at how the vicarage outdoor space had been used and, how due to the pandemic and possible issues with a change of purpose, had meant that it had not been used as discussed at the last review. However, the Lead had developed alternative plans and was in virtual discussions with Forest Frontiers to trial a year 6 workshop. We also discussed collaborations with other local primary and secondary schools and contacts were given for schools who have Forest Schools and who may be willing to help.
An Exciting Time for Everyone
A meeting with the Mindset Motivator Lead looked at the programme for the year ahead and how the tasks set by the Grow Your Mindset Team (linked to Growth mindset) will be achieved. This was followed by a meeting with one of the ICT leads who is responsible for the digital leaders and we had an interesting conversation about the direction the group will take next year supporting other pupils' understanding of digital citizenship and possibly supporting the mindset motivators in developing a growth mindset themed online or digital game.
This is an exciting time for everyone involved with St Peter's and it will be of great interest to see how this project has evolved at the next review.
Find out more about the IQM Inclusive School Award
If your school is interested in obtaining the IQM Inclusive School Award or you wish to talk to a member of the IQM team please telephone:
028 7127 7857 (9.00 am to 5.00 pm)

or email: info@iqmaward.com for further details.
Want more information on the IQM Award? Click here to request your free IQM information pack