St Johns School in the Isle of Man has achieved the Inclusive School Award for the second time.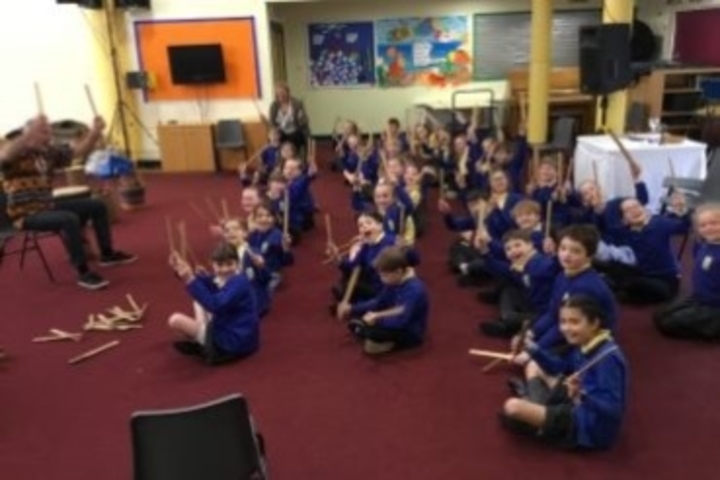 School Context
St John's is a school that reaches out and recognises that buildings cannot become barriers that wait for request or invitation to enter. It is situated within a village between two large conurbations, Douglas and then Peele. Although the rural context seems an idyll, it is impossible to suggest that this school nestles in complacency. Sometimes voices have to be louder and more strident when they come from an environment of potential seclusion and retreat.
Vibrant with Activity and Colour
This is a modern airy building and its spaces are utilised to best advantage. It is welcoming, light and vibrant with activity and colour. Displays assail you from entry and are informational at all levels. They provide currency of essential school information but also celebrate and elevate the work of all the children. This school clearly demonstrates pride and projects an understanding of the significance of its community.
Responsive to Children's Needs
The school roll numbers are falling due to restrictive building regulations within the village, but leadership here ensures that St John's needs are articulated and clearly expressed. Staffing is responsive to the needs of the children and there is a clear sense of a shared comprehension of the school's philosophy and this is never compromised.
Happy and Confident Children
It is apparent that children are happy and confident as they come through the school doors each morning and leadership maintains vigilance and proffers a ready welcome with every entry. Welcome builds the essential relationships of inclusivity and it takes the time it takes.
Open Handed Leadership
Leadership is open handed and disarmingly humble in its readiness to step back and enable others to make decisions and see through initiatives. This approach is clear with all stakeholders within the school. People are enabled to learn through practising responsibility and recognising the impact of actions.
All Staff are Involved
Ms Marie Goosen has led the collation and presentation of evidence in readiness for the assessment. She has been strongly supported and aided by Ms Emma Titley and Ms Vikki Radcliffe. The report reflects the level of understanding of this team and of their determination to ensure that all staff be involved. The programme for the day was thoroughly supported with access to all aspects of required evidence and information. Nothing was left to chance and there was a readiness and willingness to proffer any additional evidence or testimony as required.
Capacity to Grow and Develop
St John's has shown its capacity to grow and develop. This is a school that embraces the opportunity to reflect and review on its practices and is never complacent. It recognises that there is no finite point of achievement and that each day potentially brings change and the need therefore to be flexible and responsive. The Inclusion Journey continues. A thorough assessment, thank you.
Find out more about the IQM Inclusive School Award
If your school is interested in obtaining the IQM Inclusive School Award or you wish to talk to a member of the IQM team please telephone:
028 7127 7857 (9.00 am to 5.00 pm)
or email: info@inclusionmark.co.uk for further details.
Want more information on the IQM Award? Click here to request your free IQM information pack.