St. James the Great Primary and Nursery School in Surrey achieves the Inclusion Quality Mark's Inclusive School Award with Flagship status for the second time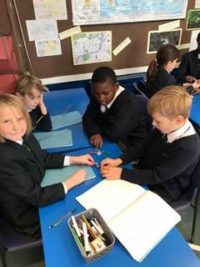 Context
St James the Great Nursery and Primary School (STJTG) is a two-form entry Primary School, with a nursery, situated in Thornton Heath in the London Borough of Croydon. There are approximately 429 pupils on roll and the school serves a diverse community, with a high percentage of pupils speaking English as an additional language. The Headteacher reported recent changes in the demographics of the school, due to increased levels of mobility. STJTG is an academy in the trusteeship of the Archdiocese of Southwark and is also part of the Croydon Umbrella trust of Catholic Schools. This trust has a formal agreement to work together, which it does effectively, including providing opportunities for peer evaluation and reviews. STJTG is a Flagship School for the Inclusion Quality Mark and inclusive practice is at the heart of what the school does. The Headteacher, SLT, staff and governors share a belief in the importance of inclusion. The Headteacher and Inclusion Manager/SENCo shared:
'We are very proud to be an Inclusion Quality Mark Flagship School. We are a Flagship school because we consistently seek opportunities to look outwards whether that be working with outside agencies and professionals or working with other schools. We recognise that we have things to learn from others both through research which we take part in with academic partners, through the Erasmus scheme where we have learnt from European expertise. We are proud that all our children enjoy coming to school and we ensure that every child can access learning. We develop well-rounded children who enjoy outdoor learning, a range of clubs and our on-site library. We have children with a range of needs in our school but each child feels comfortable to be themselves and celebrate our differences. Our children feel cared about by every staff member and our behaviour policy, pastoral support and pupil voice opportunities help every child to feel valued and engaged in the school community. By ensuring carefully planned challenges and support, we have high expectations for every learner and children have high expectations of themselves. We want to provide and for them to access the very best of opportunities to develop themselves and see what is possible for them and to be confident enough to grasp every opportunity that comes their way, to be enthusiastic about life and be leaders of service to their communities.'
The School certainly served to reinforce this statement.
The School Motto
The school motto is 'Discere Cum Dei Amore/Learning with God's Love' and there is an ethos of excellence, guided by the beliefs and practice of the Catholic Church, promoting the values of love, resilience, determination, self-belief, faith and respect. The school has experienced a completely new leadership team, yet it is evident that the school has continued to move forward from strength to strength, remaining 'like a family', with staff mobility being very low.
Pupils are Happy
Pupils are happy and make good progress at the school, attaining above national expectations in expected progress. Great emphasis is placed on pupils' social, emotional and mental health and their holistic development. The school endeavours to actively remove any challenges to learning that they may have, and inclusive practices and systems of identification, support and review are well embedded in the school. Appropriate interventions and adjustments are put into place for children, to enable them to progress. The school employs a private speech and language therapist on a weekly basis. They have an experienced ELKLAN and have trained a second LSA in speech and language, who also runs an enhanced social skills programme. The school has subscribed to NELI and uses its language screening tool. Pastoral care is a strength and the experienced ELSA supports approximately 70 pupils. She provides a range of valuable support, including bereavement work with the use of memory boxes and emotional support for those children suffering from anxiety. There are worry boxes in each classroom with a worry monster in year 1, where children can unzip the monster's mouth and place their worry inside. Staff follow these concerns up and 3 members of staff have completed the mental health first aid training.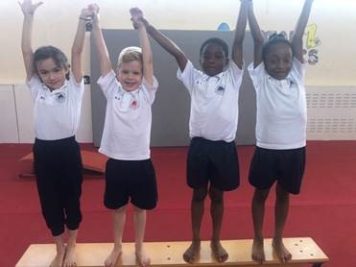 New Outdoor Learning Opportunities
The Deputy Headteacher reported that the children are 'incredibly enthusiastic' about the new outdoor learning aspect of the curriculum. Pupils are proud of their school and were keen to share some of the work they had been doing in their outdoor learning. This included making roman shields to practise battle tactics; making sound waves, both high and low pitched; taking photographs and making rectilinear shapes out of sticks. They enjoy the school trips that they go on, such as to the museum of London and the lovely big library that they have in school. They are given opportunities to take responsibility, such as through school council and eco council and all year 6 pupils have areas of responsibility, which include house captains, music and sports ambassadors and squabble busters. They said:
'It's a wonderful school because there are teachers who are very nice and there are lots of things to do here.'
Achievement is celebrated
Achievement is celebrated in a range of ways, including through awarding team points and weekly certificates. Each class has an assembly and a prayer service which parents are invited to. The school also celebrates a wide range of events throughout the year, together with inviting many visitors into the school to support the pupils' learning. Pupils can also attend a wide range of clubs; 'nearly everything you can imagine,' said one pupil.
Wellbeing is High Priority
Wellbeing of staff and pupils is given a high priority at the school. Staff report that the SLT are very understanding of people's personal circumstances and they appreciate the open-door policy and weekly staff briefing letter, which often contains a 'thank you.' They feel that they can go to members of the SLT at any time and that it is 'very much a family orientated school.' They appreciate the efforts that the SLT make to improve their wellbeing and work-life balance. These have included wellbeing afternoons, breakfast and lunch being provided on INSET days and a review of marking to make it more manageable. Every teacher has a coach who is a member of SLT. One teacher said:
'we are trusted as professionals and supported to be the best leader we can be.'
CPD is another strength of the school, with emphasis on research-based practice and a culture of affording staff the opportunities to gain experience and develop. Weekly CPD is provided for staff and staff are encouraged to develop themselves professionally, inclusive of studying for nationally accredited qualifications. Journaling, where teachers reflect on their teaching and learning, is part of the school's performance management process.
Parents Praise the School
The parents are effusive in their praise of the school with comments, such as: 'I've been really happy from day 1. It is evident that all the teachers care very deeply about the children and 'the teachers all take the time to know their personalities.' They all shared how happy their children were at the school and how they 'love' school and how quickly and successfully members of staff resolved any issues. They loved the fact that the pupils had shown them round when they were choosing a school, with one parent saying choosing STJTG had been 'one of the best decisions in my life.' Another parent commented on how the school had accommodated her children's different learning styles. Parents like the structured learning afforded by schemes run by the school, such as purple mash, my maths, Lexia and bug club. The dedicated parents 'Friends Association' organise a range of fundraising and fun events throughout the year, including a Christmas and summer fair. The school has recently benefitted from the installation of a solar-powered weather station on the roof of the school, funded by the association.
Communication and Partnerships
Communication is through a range of means, including the class dojo system, emails, messages, weekly newsletter, text messaging system and letters in bags. The school also uses the social media platforms of Instagram and Twitter. The governing body is representative of the local community and is supportive and committed to the school. Governors are linked to individual subject areas and receive regular training to ensure that they carry out their roles effectively. The Headteacher ensures that governors are very well informed about the work of the school. Recently governors attended a day where each curriculum leader provided a report to the governing body. This ensured a shared understanding of the school development plan and its priorities, together with the research-based rationale behind initiatives. STJTG is a proactively outward-looking school and through this is engaged in a number of wider partnerships. They have a close working relationship with the school's feeder parishes of St Bartholomew's Norbury and St Andrews, Thornton Heath. Currently, the SENCo is working to establish a SENCo group in the umbrella trust to work collaboratively carrying out book looks and learning walks. The school is an active participant in the Shell IQM Cluster group. It was a privilege to virtually visit STJTG school and celebrate all that they do in terms of inclusion.
Find out more about the IQM Inclusive School Award
If your school is interested in obtaining the IQM Inclusive School Award or you wish to talk to a member of the IQM team please telephone:
028 7127 7857 (9.00 am to 5.00 pm)
or email: info@iqmaward.com for further details.
Want more information on the IQM Award? Click here to request your free IQM information pack