Shortstown Primary School in Bedford achieves the Inclusive School Award for the third time.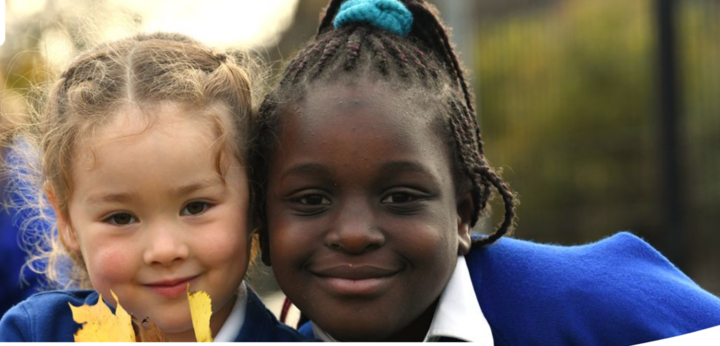 Background
Shortstown Primary School was opened in 2013 as a newly built, two-form entry Primary School. Previously, Bedfordshire had operated a three-tiered education system with the original local school being a Lower School for pupils up to the age of 8 years. Since then, demand for childcare and Early Years education has increased and it now offers significant high quality pre-school provision, catering for pupils from the age of 2 years. The school is situated within a new development on the outskirts of Bedford in an area famed for its close proximity to the R101 Air Force hangars. Shortstown has experienced significant changes during recent years which have impacted on educational needs and provision.
Context
Throughout a significant period of the 20th Century a large Air Force base dominated the area providing housing for the military personnel. When the base closed, housing was transferred to Bedford Borough Council who used the estate to provide for families struggling to find homes within the town of Bedford. More recently a large new area of housing has been developed with approximately 50% of the new build offered for rental by housing associations. The school is situated in an area of significant deprivation with many vulnerable families relying on the school for extra support for their children. There is a high percentage of pupils with Special Educational Needs and Disability (SEND) who are supported with Education Health Care Plans (EHCPs). The number of pupils with English as an Additional Language (EAL) is increasing, particularly within the EYFS and KS1.
Vibrant, Inclusive and Popular
The Headteacher has developed a vibrant, inclusive and popular school that is noted for its ability to support pupils with a very wide range of abilities and additional needs. Her energy and understanding of the needs of all pupils has enthused her staff to adapt their practice in order to help every child reach their potential. She is supported by an equally enthusiastic Senior Leadership Team although a highly important feature of the way the school is managed and led demonstrates her belief in the skills of all staff. There is no sense of hierarchy and every member of the team is acknowledged for the success of the school. The Deputy Headteacher has many devolved responsibilities and, by working closely with the Headteacher and the entire staff team, she has contributed greatly to the inclusive and supportive ethos that prevails. She also benefits from a skilled assistant who has been encouraged and supported as she has developed her professional ability to identify additional needs. The Deputy had prepared meticulously for the assessment day which was extremely productive in spite of some minor technical hitches.
A Strong Caring Ethos
The Chair of Governors attended on behalf of the whole Governing Body and reiterated the strong caring ethos, which demonstrates 'a commitment to meet the needs of every child, whatever their background'. She praised the rigorous systems which are in place and the swift and appropriate action by staff when a problem arises. She explained that Shortstown Primary School often accepts pupils who have failed in other settings and has successfully integrated pupils who have been permanently excluded from other schools.
An Innovative Approach
The school is part of a small but very supportive Academy Trust which acknowledges the challenges faced by its schools. During the initial lockdown, the Trust schools worked together and established a single educational setting. Staff from all of the phases were involved on a rotational basis and developed high quality provision for the most vulnerable children within the Trust. In this way a very challenging situation became an opportunity for staff from the various Trust schools to discover an innovative approach and to form new professional relationships. The benefits of this experience are still valued and have resulted in mutual support and a sense of belonging to a community of schools. The Trust is to be commended for acting swiftly to put this plan in place.
Supporting Families During Lockdown
Parents appreciate the efforts made by staff to keep in touch during lockdown and described regular phone calls, doorstep conversations, the delivery of food parcels and regular learning activities for the children. Teaching materials were presented in a variety of ways so that children with limited access to online resources could complete tasks from workbooks, thus increasing the number of children involved in home learning. Parents of children whose additional needs have led to a diagnosis or EHCP, spoke of the support they had been given, which was helping them to adjust expectations and to celebrate success. Vulnerable children were invited to attend school during lockdown which gave them the continuity and security needed.
Supporting Mental Health
One parent described the dual timetables that were shared, which meant that whilst there were guidelines for formal learning there were also suggestions for social activities to support mental wellbeing and readiness to learn. Parents were encouraged to take their children for a walk, to play in the garden, to eat a meal together or to sit and watch a DVD together. Staff appreciated the pressure felt by parents and wanted special family time to be valued and to complement more formal learning.
The Individuality of Every Child
In a similar way, teachers are aware of the need for simple life skills to be taught alongside curriculum lessons. Whilst they appreciate the importance of academic achievement, they are also aware that many children in the school benefit from being helped to acquire skills such as how to use a knife and fork, tie shoelaces, skip, or administer basic first aid. The Headteacher has developed a culture where the needs of the children must always come first and that assessment of achievement is based on the stage of development rather than chronological age. The phrase 'stage not age' was repeated a number of times during the assessment day and highlighted the importance that all staff place on recognising the individuality of every child.
Staff Development is Integral
Staff development is an integral part of the school's ethos and the Headteacher has developed an approach to staff meetings which draws on the expertise and leadership potential of all. A simple but carefully planned process begins with all teachers meeting together in Week One to agree priorities and identify next steps. In Weeks Two and Three the staff team divides into working parties each with a specific focus and an identified leader. When staff come back together for a whole staff meeting, priorities have been discussed and different teachers have been able to lead a working party. All staff have ownership of outcomes as they have been able to contribute to discussions which then feed into practical outcomes.
Advanced Professional Learning
Senior Leaders have accessed funding for staff development through the National Apprenticeship Scheme and consequently several members of staff have advanced their professional training. This includes the Office Manager and her Assistant, both of whom have completed apprenticeships. Their ability to effectively manage difficult situations is impressive and their overall efficiency is recognised and appreciated by senior leaders. During lockdown, all staff accessed online training to support their professional development and covered topics such as Trauma, Safeguarding, Autism Awareness and Wellbeing.
Supporting SEND Pupils
Staff are commended for their involvement and support for SEND pupils by both the Educational Psychologist and Speech and Language Therapists, linked to the school. One external professional describes the Headteacher and her Deputy as "understanding, caring and passionate" and another states that "they work tirelessly to support children with additional needs".
Nurture Class Provision
The school is proud of its well-established Nurture Class provision which caters for up to ten KS1 pupils with additional emotional and social needs. These may be the result of a bereavement, a sudden change in family circumstances or a lack of self-confidence. Whatever the cause of a child's distress, every effort is made to alleviate the anxiety and manifestations of the problem. Staff stressed that the provision is not a behaviour unit but rather a safe, caring, environment with opportunities for the children to progress with their learning, whilst having the opportunity to explore their worries and concerns. The Boxall Profile supports the work of staff and advises that many children in schools are insecure and find it difficult to express their feelings. However, with increased opportunity for social learning they become more able to express their feelings and learn to listen to the needs of others. The Nurture Class day begins with staff and pupils having breakfast together which gives the children an opportunity to share their feelings. Whilst activities are carefully planned there is flexibility so that staff can respond to needs. Activities which develop imaginative play often give insight into the anxiety being experienced by a child and staff are trained so that they know when to intervene and engage in conversation.
Well Established Pre-School Provision
Pre-school provision is well established and offers age related learning for pupils from the age of 2 years. The experienced staff team ensures that children access the appropriate wellbeing checks and since the departure of the Family Worker the relationship with the local Children's Centre has been strengthened. Pupil intake reflects the diversity and needs of the local community and most recently there has been a significant increase in the number of pupils experiencing EAL. The work of the Pre-school Team extends beyond the classroom settings and staff are often involved in parenting support and other social issues. They work closely with local services and are able to refer issues to Social Care and other agencies.
At the Heart of the Local Community
Shortstown Primary School is at the very heart of the local community. The dedication of the Headteacher, her Deputy and the entire staff team is commended for their determination to place the needs of children at the centre of their work. They see a positive future for all of their pupils and endeavour to instil self-belief, determination and resilience. They encourage children in their care to aim high and to share their aspirations with their families.
Find out more about the IQM Inclusive School Award
If your school is interested in obtaining the IQM Inclusive School Award or you wish to talk to a member of the IQM team please telephone:
028 7127 7857 (9.00 am to 5.00 pm)
or email: info@iqmaward.com for further details.
Want more information on the IQM Award? Click here to request your free IQM information pack