Ronald Openshaw Nursery Education Centre in Newham has become an IQM Centre of Excellence.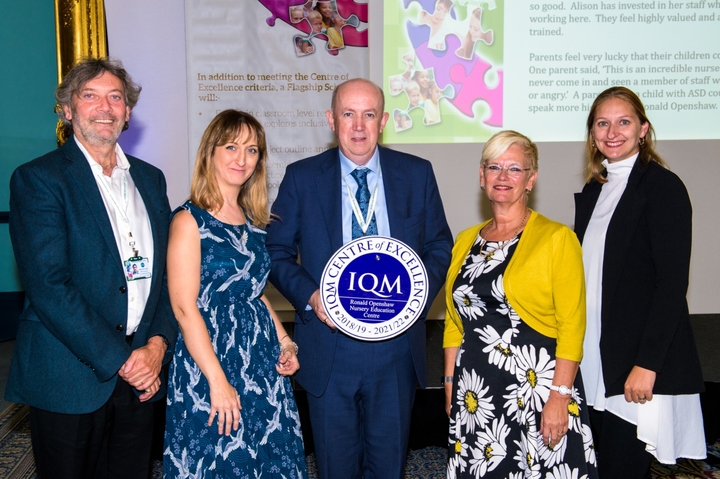 Context
Ronald Openshaw Nursery Education Centre (RONEC) is a large nursery school in the London Borough of Newham. It has a SEND hub attached for which the Headteacher, Alison Lentz, is responsible. The school was judged as Good by OfSTED in February 2019 and they will return within the year for a Section 5 inspection. 31% of the children have SEND, twenty of whom receive extra funding. The school is resourced for children with PMLD and is known throughout Newham to provide the EYFS curriculum in a way that is accessible to all. Together with Megan Panayiotou, the SENCO, the two senior leaders have created a centre that addresses the needs of all its children many of whom have complex needs including hearing impaired, autistic spectrum conditions, visually impaired, and physically disabled. Their aim is to help the children to be happy and positive and help them to have meaningful communications.
Staff Feel Highly Valued
Attendance here is higher than other local nurseries possibly because the provision here is so good. Alison has invested in her staff who love working here. They feel highly valued and are well trained. One said,
'It's an amazing place to be – everyone loves working here.'
Excellent Learning Environments
The facilities indoors and outside are excellent. The children get their own resources out and return them at the end of the day encouraging them to manage their own learning. There are dolls which reflect children's diversity in wheelchairs and walking frames etc. The facilities for those with certain needs are as good as any special school. The children have a small tortoise and rabbits to look after. Ducklings had hatched a couple of weeks ago. There is a hygiene room with specialist changing furniture, a Stay and Play Room and a room for delivering Box Clever. A class has been converted to be a sensory integrated room with soft play equipment. There is a dark sensory room for small groups. The outdoor equipment stimulates these young minds. A bubble machine spews out bubbles while children are swinging nearby. There is a mud kitchen and sheds with accessible equipment, so children do not need to ask adults. There are tuned musical instruments and various climbing frames on different levels. Children can explore tunnels and there are wide accessible slides. They grow plants and herbs. This is a well-designed exciting space.
An Integral Part of the Local Community
Ronald Openshaw is part of the East London Early Years Partnership and is a teaching school. Megan is a specialist teacher of Early Years SEND and advises staff in other nurseries. Staff from Whitefields, an outstanding special school in Waltham Forest with a national reputation, come in to discuss transition. Staff from the SEND hub support all the PVI settings in Newham. Because of its specialist equipment and staff, Newham signpost certain children here. This school and its staff are an integral part of the local community. It is very aware of ensuring it must maintain a healthy balance of mainstream and SEND children as they learn from each other.
Very Happy Parents
Parents feel very lucky that their children come here. One parent said,
'This is an incredible nursery. I've never come in and seen a member of staff who is upset or angry.'
A parent with a child with ASD could not speak more highly about Ronald Openshaw. She knows whoever works with her son will care as much for him as she does.
Extra-Curricular Activities
The school was working towards the carnival to be held at the end of the week when children, staff and helpers will parade through the streets. Children attended a relaxed performance of Toy Story 4 at a local cinema. Black cab drivers take some of the more vulnerable children to Malden and the Grosvenor Hotel in London. The children go to the Albert Hall to watch the primary proms and have visited a local farm. They go to West Ham Park and have been to Kensington Gardens. Each activity is carefully planned to ensure all children receive a rich cultural beginning to their education. The children are indeed lucky to attend this nursery.
Find out more about the IQM Inclusive School Award
If your school is interested in obtaining the IQM Inclusive School Award or you wish to talk to a member of the IQM team please telephone:
028 7127 7857 (9.00 am to 5.00 pm)
or email: info@iqmaward.com for further details.
Want more information on the IQM Award? Click here to request your free IQM information pack.