Red Oak Primary School in Lowestoft, Suffolk, part of The Active Learning Trust, have achieved the Inclusive School Award with Centre of Excellence status.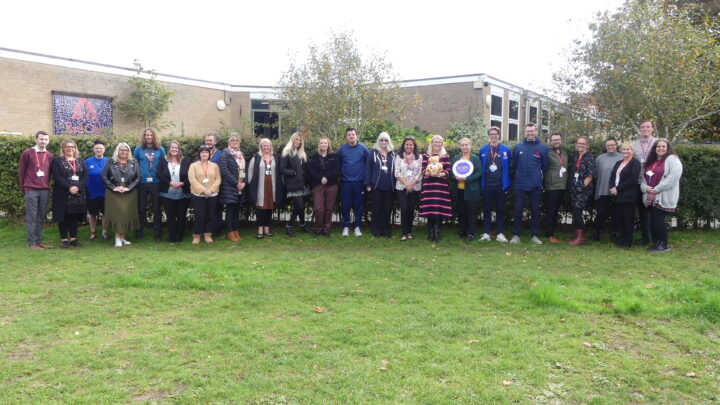 Introducing Red Oak Primary School
Red Oak Primary School is a larger than average primary school with 456 children on roll. Attendance has risen to well above national averages and children make good progress from often low starting points. Red Oak is a primary school with a Nursery located in the heart of Lowestoft. The Leadership Team, Governing Body, Active Learning Trust, and other stakeholders are focused on raising standards and maintaining the school's ethos, while ensuring that the children's backgrounds do not limit their outcomes.
Equal Access
Children with special educational needs access the same, but sometimes adjusted, curriculum as other children in the school and consequently make good progress. Leaders have a clear rationale for how pupils with special educational needs and/or disabilities access the curriculum. Relationships between staff and pupils are excellent and pupils feel cared for and supported in their learning with teachers and support staff understanding their pupils' needs.
Effective Support
The Family Support Team liaises well with parents and ensures staff can voice any concerns they may have. Staff wellbeing is a focus throughout the school and there are opportunities for wellbeing days throughout the school year. Staff feel very well supported and respected by SLT. They know that their wellbeing is a priority and senior staff are fully aware that in order for staff to be emotionally available to the children, they need to feel supported and recognised themselves.
'Where Learning is Living'
The Headteacher demonstrates strong, caring leadership and she is visible and accessible to the parents, staff and children and takes a lead in ensuring the ethos and climate within the school is calm and purposeful. The SENDCO also supports teachers well in providing advice, support, and resources to ensure all children have the learning they need. The school's logo 'Where learning is living' is evident in all that the school carries out. Everyone in the school is committed to ensuring that there is a culture of equality and diversity. The school promotes high aspirations for all its children and continues to develop the understanding of the behaviours required for a full and healthy lifestyle in preparation for adulthood.
Raising Standards
Good performance management systems have been effective in focussing teaching and non-teaching staff on pupil progress and moving the school forward. There are common themes related to the school development plan and personal development opportunities which relate to whole school improvement. The SLT is committed to raising standards and providing staff and pupils with the best possible environment and opportunities.
Wealth of Expertise
The Active Learning Trust supplements the advice given to the school and regular coaching sessions from SLT adds to the wealth of expertise available. Governors and Active Learning Trust members are positive and proud of the progress made by the school and the improvements in progress at the end of each key stage which has been a result of the high expectations of all staff. There is a close monitoring of data and learning and teaching which have had an impact on raising standards throughout the school. The triangulation of lesson observations, data and pupil work provides evidence that pupils receive an education that prepares them well for the next phase.
Empowering Children
The atmosphere in classes and in shared areas is calm with children reflecting and valuing the care and attention which all staff show for them. Children are often involved in the decision-making process when matters relating to their school environment and learning are concerned. The School Council empowers children to take responsibility for their own actions and for activities around the school and there are Anti-Bullying Ambassadors, Mental Health Ambassadors and Friendship Ambassadors, all of whom take their roles very seriously. 'I like the way teachers have different ways of explaining things,' said one child and another commented that
'If I am sad there is always someone there to help me.'
Another child in Y6 spoke about Apartheid and South Africa which had been part of his current affairs studies and 'How would you feel in that situation?' he asked.
Collaborative Support
Relationships between staff are excellent and pupils feel cared for and supported in their learning with teachers and non-teaching staff understanding their pupils' needs. The Speech and Language Specialist supports staff in identifying children having difficulties and can intervene and escalate children to a referral to further help. She also works with support staff setting targets and working alongside them to up skill their ways of working. The Nuffield Early Language Intervention (NELI) is used by the school at the beginning of the Reception year as a screening tool. The Speech and Language Specialist said that
'This is the best school I have ever worked in – it is responsive to children's needs.'
Believe to Achieve
PE and sport play a large part in motivating children and keeping them mentally and physically active. The leadership of the Sports Coordinator and his team has an impact on aspirations, fitness, healthy lifestyles, participation, and mental wellbeing. The PE department has its own motto 'Believe to Achieve' which is understood by everyone and exemplifies the work carried out by the department. They host tournaments involving many local schools and they have ensured that there is a wide participation by children from the school in those tournaments. 76% of children have represented the school in a wide variety of sports and this has had a big impact on behaviour and aspirations. The PE curriculum also includes tournaments and training clubs for Panathlon children giving them opportunities to compete at their level of need. The school is resourced to support this group of learners achieve goals they would struggle to achieve at other tournaments or other sports clubs in the school.
Bright, Stimulating Environment
There is a consistency of display in classrooms and shared areas which shows a balance between celebrating children's work and providing a focus for learning. The school values of Engagement, Enthusiasm, Resilience, Independence, and Perseverance are reflected in all the displays and are of particularly high quality. Displays in shared areas highlight the school's inclusive themes. Displays on Mental Health (All feelings are OK- it's what you do with them that matters!), Be a Rainbow in Someone Else's Cloud, Seeds of Hope emphasising hard work and effort, Learning Behaviour Super Heroes and Be Kind to your Mind are some of the displays focusing on mental health and wellbeing.
Excellent Outdoor Resources
The outdoor learning environment includes opportunities for children to develop aspects of sport and learning through play. The well set out EYFS outdoor environment encourages free flow and teacher directed and child-initiated activities, whilst the playground and field have a range of apparatus to encourage children to play creatively. The playground and field have their own picnic benches, climbing apparatus and well-marked out surfaces. Tyre activity areas were being well used at the time of the assessment and the MUGA (Multi Use Games Area) was supervised by a member of the Sports Team refereeing a football match for boys and girls. This area is floodlit to allow for community use at night. The school is fortunate in having a sports hall which also has community use and was being well used by children for basketball at lunchtime.
Parents in Partnership
Excellent work is carried out with families, pupils, and the community generally to ensure that children are cared for and valued. There are good communication systems which give parents and carers confidence in the school and in its support for their child's needs. Email, texting, newsletters, and parent consultations as well as one to one conversations keep parents regularly informed about their child's education and needs. The Pastoral, Safeguarding and Mental Health Lead Teacher supports parents with online forms, applications, and school uniforms. Parents interviewed mentioned the good induction and transition arrangement which reassured them. The school intends to run more parent workshops to keep parents better informed in how to support their children at home particularly as these have had to be curtailed during the pandemic.
Parental Praise
A parent who is a Midday Assistant and Chair of the PTA spoke about the discos, fetes and the 'mucky' run which have all contributed to raising much needed money for the school to subsidise trips and buy equipment. They have also help set up a community library which is in the school grounds and encourages a relaxed area for parents and local people to read. Parents are in full support of the school and its inclusive ethos and couldn't praise the school enough for its excellent communication and openness.
Part of the Community
The school has strong links with the local community. Good use is also made of the beach and local services to extend the curriculum. There is good support for local and national charities and an involvement of the children in raising funds for children less fortunate than themselves. The school is very much part of the community and where safe and possible, staff have also planned for outside visitors to enhance experiences and learning in school. The school aims to ensure that its children see beyond their home environment and what opportunities exist. Staff want the children to understand that their current learning leads onto many opportunities. The curriculum is consequently designed to include local, national, and international references.
Find out more about the IQM Inclusive School Award
If your school is interested in obtaining the IQM Inclusive School Award or you wish to talk to a member of the IQM team please telephone:
028 7127 7857 (9.00 am to 5.00 pm)

or email: info@iqmaward.com for further details.
Want more information on the IQM Award? Click here to request your free IQM information pack