Ravenbank Primary School in Warrington achieves the Inclusive School Award for the third time.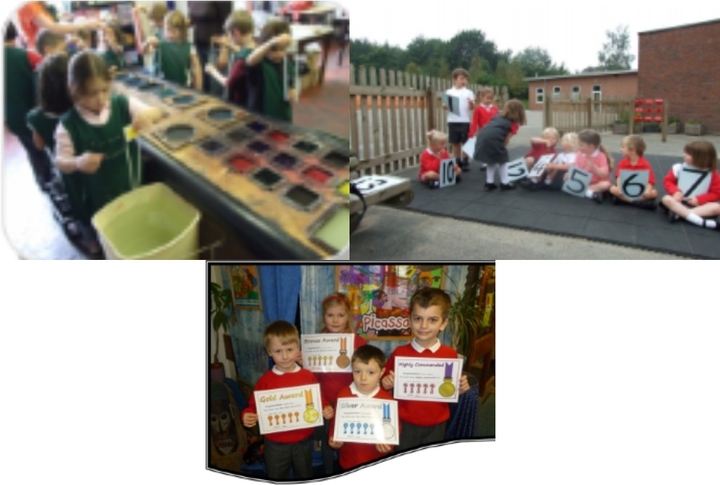 Highest Expectations for All Pupils
Ravenbank Primary School is a larger than average, extremely successful, extremely popular and oversubscribed primary school with 416 pupils on roll. It is a superbly inclusive school where equality is a core principal. They have the highest expectations for all pupils, where they are challenged to be successful and achieve excellent progress in an exciting, creative, enjoyable and innovative learning environment and culture.
Commitment to Inclusion
Through their core values of: Friendship, Respect, Perseverance and Trust allayed to their mission statement, 'Working together to Achieve Success,' they aim to give their pupils the best education possible and a superb level of pastoral care so that they learn well and are happy in school. The school continues its superb commitment to providing a highly inclusive teaching and learning environment for all pupils. This is truly a school where every pupil really does matter and is made to feel special. This is a fact I can attest to from the evidence of the review and from discussions with stakeholders. The school and staff are committed to providing the very highest standard of teaching and learning experiences which not only develop the pupils' knowledge and skills.
Strategic Vision
The school is effectively led and managed by the inspirational Headteacher, her Senior Leaders and the Governors who work effectively with the Headteacher to develop and drive forward the strategic vision of the school and to ensure the whole school culture is outstanding. This is supported by their Ofsted grading of 'Outstanding' since 2008 and this is a fact that I can attest is still the case from the evidence of this review.
Superb Care, Nurture and Support
Ravenbank demonstrate superb care, nurture and support that is the foundation upon which the school builds its educational practice developing the whole child for success in the 21st century through their inspirational and creative curriculum, where inclusion is at the heart of everything that happens on a daily basis at the school and is seen in all interactions, occurring naturally as a matter of course. This was clearly seen and identified from discussions with all stakeholders during the review and from the evidence provided. Everyone involved with the school including pupils and parents pull together to realise the school's vision and understand that this is a superbly inclusive place to come to work and learn.
Supporting Pupils and Families
During the review process I was able to talk to a variety of staff and a Governor, who spoke to me openly and frankly about their roles in the school and what was offered to support pupils and their families. Everyone without exception was extremely positive about the school and they highlighted the fact that in their opinion the school was naturally a very inclusive setting. It was clear from the conversations that everyone involved in the school was highly empathetic and understood the needs of the children they taught and supported them extremely well and that there are no barriers at Ravenbank Primary School, everyone is included and looked after to the best of their ability demonstrating the school's superb level of inclusivity. I spoke to a Year 6 deaf pupil who had submitted an entry for the BBC Radio 2 – 500 words short story writing competition this year that was initially judged within school and received, 'The Gold Award' entitled, 'Ears off, Superpower on!' An absolutely stunning piece of writing that I would have credited to a much older student if I hadn't seen it and spoken to the pupil. I also had the privilege of meeting the parent helper who runs an after school Mandarin Club on a Thursday for KS2 pupils and also the pupils who attend. I was able to watch a typical session where the students showed an amazing fluency in Mandarin considering the short time, they had been studying it and talk to both the parent helper and pupils about the topics they had covered. Their enjoyment shone though during the session, a fantastic opportunity for the pupils of the school. The parent helper also runs a session for KS1 at lunchtime. The school has excellent and developing links with China, they have already hosted Chinese guests last year and the Headteacher was able to visit China as well. This year they have recently received a visit from staff and dignitaries from China including staff from their link school 'Xi Xian Gaoxin' including the Headteacher. Ravenbank will be participating in a reciprocal visit in October this year where 14 pupils and 3 staff will visit the school in China for a week. This is a fantastic once in a lifetime opportunity for the pupils that will be shared by the staff and pupils at Ravenbank via Skype and Facetime during the visit and through reciprocal work opportunities. The school is keen to continue to expand and develop this link in the future as part of their priority for Global Learning.
Supporting Staff
I had an interesting conversation with a HLTA who had trained as a teacher and was in her NQT year and felt supported by the school. I was also able to meet an early career teacher who had been given a middle leadership opportunity to look at the curriculum and ensure that all subjects have a clear curriculum plan that covers intent, implementation and impact, looking at curriculum design for the foundation stage and implementation of changes supported by a Governor. This had been trialled this year and she was excited to share it with the rest of the school. The teacher was part of the 'Accelerate Programme' that supports early career teachers, providing professional development tailored to early career teachers. The teacher will also move on to the NPQML course.
Developing Outdoor Learning Opportunities
Ravenbank Primary School is keen to develop Outdoor Learning opportunities for their pupils and build on their already excellent practice. As a consequence of this their Assistant Headteacher who leads on Learning Outside the Classroom has put in a bid through Erasmus EU Professional Development project to fund a two year project that will involve four staff – two each year to travel to either Denmark or Sweden to participate in an outdoor learning course and then bring their knowledge and ideas back to the school to put them into practice and cascade to all staff so that everyone benefits. They also hope to build links with the school(s) involved in in the project in either Sweden or Denmark and this will support the work they are involved in as they work towards the LOTC Bronze Award. As part of this it was suggested that they might wish to visit Eatock Primary School, Bolton who have outstanding Outdoor Learning facilities. During the afternoon I was able to visit the Forest School area where a class were engaged with a representative from The Cheshire Wildlife Trust who through Postcode Lottery Funding was able to come into school for the next 6 weeks and deliver training with pupils and staff.
An Inclusive Place to Work
I was also privileged to speak to a TA who had asked to speak to me about his experience at Ravenbank Primary School as a trans man. He explained that he had been working at the school for quite a while and had been included and accepted by everyone and really enjoyed the roll supporting pupils in the school. He felt it was a really inclusive place to work and for pupils to come to learn and everyone had supported his journey. However, he felt compelled to talk to me due to his recent experience in another school over Ravenbank's longer half term break where he had not had the same extremely positive experience and was made to feel slightly uncomfortable. He felt that there were big differences in the way that both schools viewed inclusion and practiced it. At Ravenbank he was very clear that it is a natural part of their everyday ethos for staff and pupils. This was supported by a conversation with a supply teacher at lunchtime who felt she had been looked after, given all the information she needed and was included in the daily life of the school as a matter of course. She felt the school was a highly inclusive place and she felt settled and part of the team in a short space of time.
Every Pupil Really Does Matter
In conclusion it was very clear from this review that this is a school where every pupil really does matter and is made to feel special. The school and staff are committed to providing the very highest standards of teaching and learning experiences which not only develop the pupils' knowledge and skills, but develop their confidence to become innovative, independent learners, who take responsibility for their own learning and actions. The superbly caring, inclusive environment that Ravenbank Primary School provides ensures each pupil receives the very best education possible, delivered by dedicated staff. There is a clear belief held by, and enacted, each and every day that each pupil is entitled to experience as many opportunities as possible in order to broaden life experience, develop confidence and self-esteem; allowing each pupil to find what is unique about them and to capitalise upon it, whilst easing through areas of challenge. In terms of inclusion this is an outstanding school in every sense. It's clear that superb care, nurture and support are the foundation stones of inclusion and are at the heart of everything that happens on a daily basis at the school seen in all interactions between staff and pupils; between pupils and between staff; from discussions with all stakeholders and from evidence provided. Everyone involved with the school pull together to realise the school's vision and understand that this is a superbly inclusive place to come to work and learn. Everyone should be commended for their superb efforts in making this such a special place.
Find out more about the IQM Inclusive School Award
If your school is interested in obtaining the IQM Inclusive School Award or you wish to talk to a member of the IQM team please telephone:
028 7127 7857 (9.00 am to 5.00 pm)
or email: info@iqmaward.com for further details.
Want more information on the IQM Award? Click here to request your free IQM information pack.