Prendergast – Ladywell School in Brockley, London has achieved the Inclusive School Award with Centre of Excellence status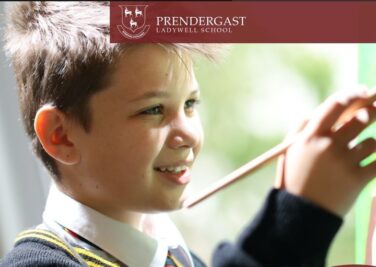 Context
Prendergast Ladywell School is a co-educational, all through primary and secondary school from 4 to 16 on one site and is part of a small Federation of schools in the local area. There is no sixth form although one of the sister schools does have Sixth Form that many of the students apply to. There is a two-form entry primary school and a six-form entry secondary school. There are 1,284 pupils on roll, 404 primary and 880 in secondary. The school is part of the Leathersellers Federation of Schools, which is led by an Executive Headteacher who delegates day-to-day management of the school to the Headteacher. The school is a Local Authority maintained school. The proportion of disadvantaged pupils is 41% which is above the national average (27%). The proportion of pupils who speak English as an additional language (EAL) is above average at 33% against 17% National. The proportion of pupils with SEND is slightly above the national average. 14% of pupils have special educational needs (SEN) and/or a disability, against 11% National. The school is a multicultural school and the largest ethnic groups are White British, Black African and Black Caribbean. 81% of pupils have attended PLS school continuously. Mobility is high with a large number of casual mid-term entrants.
The CARES Values
The Secondary School promotes the CARES Values (Community, Ambition, Resilience, Effort, and Success) and these encapsulate the safe, supportive and inclusive learning environment for young people in the local community. Achieve Excellence is the motto written on the badge of every student in the school.
Children Always Come First
Prendergast Ladywell School is a unique school that is led by two remarkable Headteachers. They work closely together and have gained the confidence and trust of their community. They have a clear vision for the way they want the school to develop, and they have successfully shared this vision with staff, pupils and parents/carers. They are driven by a passion to do what is best for the young people in their care. Children always come first, and every effort is made to ensure their needs are met.
The Team Are Enthusiastic
The Headship Team are a talented and committed group that makes things happen in the school. They are enthusiastic and determined about what they do, and staff, pupils and parents say they are approachable, and they listen and they act on what they say. The most impressive aspect of the leadership is the willingness to change and to reflect on what they are doing. They look at research and find out what is going on elsewhere and work out what might work for them. If things are not working, they do something else instead. The Headship Team are backed up by an impressive team of middle leaders who are the backbone of the school. These include the large Pastoral and Inclusion Teams who know every single pupil and family and work in partnership with them.
Wellbeing and Mental Health Are Key
Striving for inclusion and equality of opportunity and equity is the cornerstone of the school vision. The leadership (including Governors) have high expectations of themselves and for the whole school community. However, they understand that equal opportunities are not about treating everybody the same it is about meeting individual needs. Staff and pupils have a good understanding of this. They are proud of the diverse nature of the school and the way they can celebrate individual differences. Staff and pupil voice is heard, and they know they are valued. Pupils can articulate their thoughts and feelings very well. They told me that the school's emphasis on their wellbeing and good mental health started before the Covid pandemic and helped them to come through it. It is clear they enjoy school, and they generally thrive when they are there.
Everyone Is Valued and Can Thrive
The school is very active within the Local Authority and they work with a wide range of organizations and agencies. Collaboration and partnership are the way they work with each other and with external bodies. The Prendergast Federation has been a powerful group of schools that support each other and build on the strengths of the different schools. The Federation is a small one, but they are an active group that does a lot together. Staff value the opportunities for joint professional development and networking, and they appreciate the fact that the CEO knows them as individuals and is not a distant leader. The school operates as a team and feels like a family where everybody is valued and can thrive.
It Is A Truly Inclusive School
I am very happy to recommend that Prendergast Ladywell School becomes a member of the IQM family. They are a truly inclusive school and deserve this accolade. They are a school that is always happy to share its practice and to work with others. Many congratulations to everyone at the school.
Find out more about the IQM Inclusive School Award
If your school is interested in obtaining the IQM Inclusive School Award or you wish to talk to a member of the IQM team please telephone:
028 7127 7857 (9.00 am to 5.00 pm)
or email: info@iqmaward.com for further details.
Want more information on the IQM Award? Click here to request your free IQM information pack