Percy Shurmer Academy in Birmingham achieves Centre of Excellence status.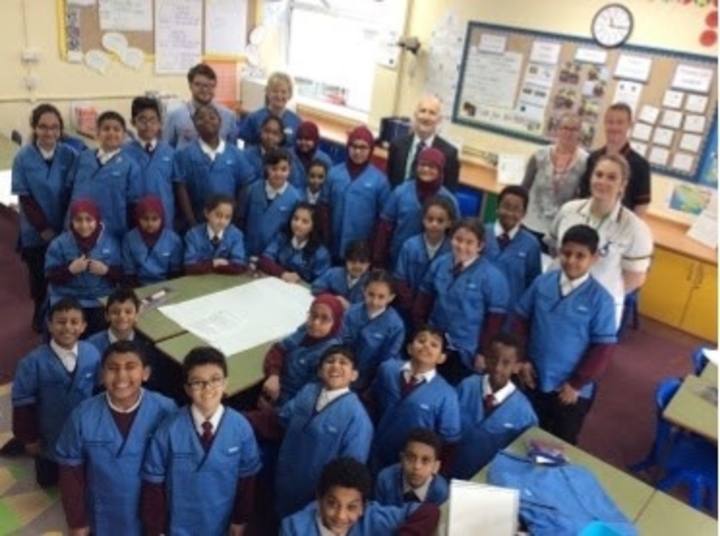 Staff Work Tirelessly
Pupils, staff and parents are extremely proud of the Inclusive ethos at Percy Shurmer Academy and Deaf Learning Base. The staff work tirelessly so that all children can have an education which is second to none, and to support every pupil to be 'remarkable.' Pupils enjoy their school and said:
"We work as a team, whatever religion or gender, we are all equal and have the same rights as every human being."
Every Child is Championed
The teachers and support staff team know the pupils well and shape the school to meet their needs. Every child is championed and given the tools to succeed both inside and outside of the school gates. Percy Shurmer Academy looks outwards for recognition, awards and research to create excellence in all areas, for example, for the last three years the school has worked with mentors from Birmingham University to run Debate Mate. This scheme results in pupils developing their high-level language skills and both listening and hearing others. The pupils from Percy Shurmer Academy have won three competitions and are working at a high standard in the West Midlands.
Pupils Take Care of Each Other
Pupils are very well behaved and take care of each other. In lessons, they concentrate well and are very keen to talk about their learning. There are many opportunities to take responsibility at Percy Shurmer Academy, for example, some pupils are part of the school council, junior leadership team and sparkle squad. Pupils are leading areas such as the Rights Respecting Schools' Award, Community Food Bank Collections, library, charity events and litter picks.
The Deaf Learning Base is a Strength
The Deaf Learning Base is a strength of the school. The base is very well led by an exceptional teacher and everything is put in place to ensure that the pupils are 'Proud to be Deaf.' The deaf pupils thrive within the mainstream classrooms and the whole school environment is well resourced with specialist equipment to 'achieve what they want to achieve,' for example, sound field systems, babble guards and hush boards are seen in all classrooms. The deaf pupils have been involved in designing a base within the school for times when this would be helpful for pupils' learning and wellbeing. Throughout the school, all pupils are learning to communicate through signing and their skills are impressive.
Everyone is Valued
This means that deaf pupils can communicate effectively with their peers. There are four qualified Teachers of the Deaf and a team of trained support staff. However, all staff are encouraged to learn and use sign language. This results in an inclusive school where everyone is valued.
Pupils are Fully Immersed in their Learning
The academy is well resourced and designed so there are attractive areas for learning; such as the garden which is a sensory space for pupils to relax, learn and feel safe. The large courtyard is an exciting area for younger pupils to learn. This area is divided into smaller themed areas with resources that promote learning and discovery, such as the theatre and the mud kitchen. The trees, pond and chickens make the area seem part of the countryside and is a safe haven for exploring nature. Internally there are well designed spaces and attractive areas to develop independence. During the two-day IQM assessment, pupils were observed fully immersed in their learning in all the indoor and outdoor environments.
Supportive Lessons Provide Stretch and Challenge
Teachers plan lessons together which provide stretch and challenge but also support. Classrooms have many resources to help all pupils and include a wide range of specific aids such as ear defenders, working walls and individual word banks. Regular assessments result in appropriate actions and interventions, for example, continuous speech and language assessments are led by a trained member of staff who is guided by an external Speech and Language Therapist. This means the school can deliver high quality therapy across the school to support the children.
Curriculum Enrichment for All
Curriculum enrichment for all is a very strong feature of the Percy Shurmer Academy. Sports, music, art, IT, sign language and gardening skills are taught by passionate specialists. Music, singing and sports are some of the strengths of the school and there are opportunities to develop these skills in performances and tournaments, for example, some pupils have worked with the Welsh National Opera to perform songs from 'The Jungle Book'.
High Quality Speaking and Listening Skills
Pupils benefit from their own TV station. This results in pupils being fully involved in producing and presenting professional shows linked to their learning and promotes high quality speaking and listening skills.
There is a "Buzz" Around the School
Visitors to the school are warmly welcomed by the children and adults alike. There is a 'buzz' around the school with many activities making the learning fun and engaging. Parents feel involved in the school. They say that they are pleased to see the Head of School on the playground asking:
"Is there anything I can help you with today?"
They feel involved in their child's education by attending workshops. They have enjoyed 'fantastic' workshops, particularly the Science one which showed parents the experiments that their children would be learning at school. The expectations are high, pupils use specialist equipment and scientific terminology which will ensure they are very well prepared for secondary science lessons. For example, the pupils learn about 'the reliability of evidence' and staff find that pupils retain their skills over time as the sessions are so engaging. Parents also appreciate opportunities to use the school library with their children.
Find out more about the IQM Inclusive School Award
If your school is interested in obtaining the IQM Inclusive School Award or you wish to talk to a member of the IQM team please telephone:
028 7127 7857 (9.00 am to 5.00 pm)
or email: info@iqmaward.com for further details.
Want more information on the IQM Award? Click here to request your free IQM information pack.