Outwood Academy Ormesby, Middlesbrough, part of the Outwood Grange Academies Trust, has achieved the Inclusive School Award with Centre of Excellence status.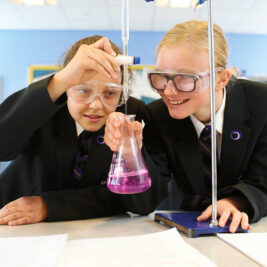 Context
Outwood Academy Ormesby is a secondary Academy serving the community of Ormesby and surrounding areas with over 900 students on roll and allocated a further 250 students to their Year 8, taking them to well above their Published Admission Number (PAN). There is a high level of Pupil Premium 64.3%, EAL 5.5%, CLA 1.1% and SEND 23.4% (2% EHCP). 17% of pupils are currently known to social care with 39.3% having either current or historical social care involvement. The Academy joined the Outwood Grange Academies Trust in 2015 and there has been ongoing progression, which was recognised by Ofsted in June 2017, as 'good'. There have been several staff changes to the Senior Leadership Team which has resulted in continued overall progression and improvement.
The Rise in Positive Praise
The Vice Principal talked enthusiastically about the consistency in lesson structure through use of the lesson template, support staff and students to 'have a sense of familiarity across all the Academies.' He described it as non-restrictive and adaptable for all subjects but 'fit for purpose.' Additionally, the percentage of students receiving a fixed term exclusion (FTE) has reduced each year from 41% in 2017-2018 to currently 18% as a result of an increased focus on interventions both as a preventative measure and on the back of early exclusions. This correlates with the rise in positive praise and reduced number of sanctions.
The Academy has Invested to Support Students
There are a cluster of Outwood Grange Academies in the Middlesbrough area. This has been used effectively to support the Academy to tailor interventions and appropriate support to vulnerable students due to the large skillset available, but also due to the consistent approach to quality first teaching. The Regional Director of SEND described how the Academy has heavily invested in support for the students. The Inclusion Team covers three areas to support students' individual needs with the Base, the Bridge, and the Personal Learning Centre (PLC) with a substantial Teaching Assistant team, Inclusion Coordinator and Special Educational Needs Coordinator (SENDCo) who has a reduced timetable and is quality assured. Furthermore, the Academy has Learning Managers in post who are responsible for a year group, again to provide consistency to students and their parents. They employ two Safeguarding Officers and have increased the Attendance Team.
The Base
The Base supports the students with high needs and those with Education Health Care Plans through in-class support and one to one intervention, also providing a safe area and can be used as a breakout room to provide support for students on an individual basis. They can provide an alternative curriculum and literacy to support students to access the content of the full curriculum which is 'personalised to the individual.' There are no time limits to the support, which is evaluated according to the students' individual requirements, offering a bespoke package of support. Furthermore, one Teaching Assistant is currently undergoing training to be Forest School trained and will be qualified to provide this provision to support team building and social skills with groups of students. Additionally, the Academy is starting to develop an EAL provision due to the rising demographic of EAL students that are provided a place. The Regional Vice Principal Deep Support described how the numbers of students with English as an additional language has risen recently from 2% to 5.5%, which although still relatively low, the future demographic indicates that this will rise therefore the Academy is taking a proactive stance to this to ensure provision is in place and has an immediate effect. In light of this, two staff have been employed to support the set-up of the EAL provision. The Academy also works closely with the Ethnic Minority Achievement Team (EMAT).
The Bridge offers a safe and nurturing space to support more vulnerable students with their emotional wellbeing.
The Bridge
The Bridge offers personalised learning with its own tutor programme, with a one-to-one tutor with Year 11 students. Again, there are no time limits to the resource as this is dependent on the students' individual needs and follows the assess, plan, do, review cycle. There are several resources to be accessed to support students to understand their needs, such as new starter assessment, Emotional Literacy assessments and the academy has trained Emotional Literacy Support Assistants (ELSAs) to provide support where required. In addition, interventions can be offered through Hart Gables for support with LBGTQ+, Educational Psychologists, who offer assessment and strategies to support individuals and staff training regarding these.
The Personal Learning Centre
The Personal Learning Centre (PLC) supports students with more challenging behaviours and investigates the underlying reasons for these, providing a graduated response to the students' individual needs. Support is provided on a one-to-one basis to build positive relationships and trust. The member of the Inclusion Team with responsibility for the PLC described how she cross references with the Learning Managers and Safeguarding Team to have a full understanding of the issues and needs of the individual students, in order to provide specific interventions, such as Anger Management, to support their progress.
The Academy is Always Progressing
The Academy has already gained the Silver Carnegie Mental Health Award and is currently applying to be a Holocaust Beacon School to serve a network of local schools and partner with the UCL Centre for Holocaust Education, to improve teaching standards, raise pupil achievement, and strengthen SMSC provision.
Find out more about the IQM Inclusive School Award
If your school is interested in obtaining the IQM Inclusive School Award or you wish to talk to a member of the IQM team, please telephone:
028 7127 7857 (9.00 am to 5.00 pm)
or email: info@iqmaward.com for further details.
Want more information on the IQM Award? Click here to request your free IQM information pack