Outwood Academy Carlton in Barnsley has achieved Centre of Excellence Status.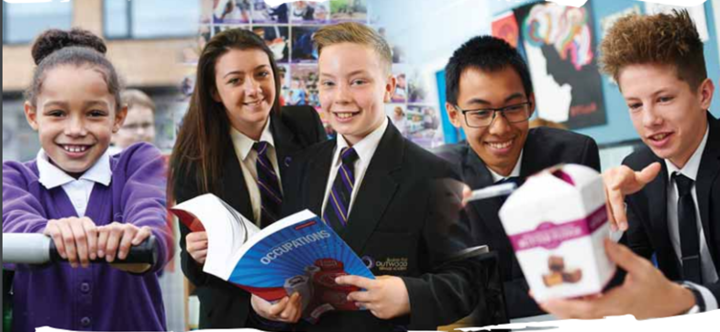 Background
Outwood Academy Carlton is a larger than average secondary school in Barnsley with 1080 pupils on roll. The Academy was previously two separate schools (one of which was in special measures) which amalgamated in 2010 and moved into their new building in 2011. Outwood Academy Carlton became part of the Outwood Grange Academies Trust (OGAT) in 2014, fully converting in 2016. OGAT is a large multi-academy trust with 32 primary, secondary and AP academies across the North of England. Outwood Academy Carlton is well supported by the Trust, which provides effective challenge and support.
Context
The number of pupils with SEND is higher than average with 17% of pupils having EHCPs. The school has a Resourced Provision on site for up to 25 pupils with
Communication and Interaction (Autism) needs. The school community is 94% White British with a small percentage of pupils with other mixed heritage. The majority of students live in areas containing significant pockets of deprivation, characterised by high unemployment and low average incomes, 41% of students are eligible for the PPG.
Rapid and Sustained Improvement
The Academy has been on a significant journey since OGAT became involved in 2014, showing rapid and sustained improvement. Numbers have significantly increased since 2014 from 750 to 1080 and the Academy is now oversubscribed. It achieved a "Good" OFSTED judgement in 2019 and the passion, belief and drive of the highly skilled Leadership Team, together with a committed and experienced Governing Body, have been instrumental in bringing about this change. Leaders describe what has most brought about this change is the real clarity and drive in the vision of "students first", alongside explicit expectations and consistency in systems and developing a culture of mutual respect, care and kindness.
Exceptional Culture of Positivity
There is an exceptional culture of positivity throughout the school. Initiatives such as "Proud Thursday" have been instrumental to this. Proud Thursday is where a panel of staff (which can include any staff across the Academy) sit in the canteen over lunchtime and students can bring any piece of learning they are proud of to share with the panel. This is then celebrated with a certificate and some sweets and the most impressive piece of learning in each year group is awarded "Proud Champion" and they receive a small prize and parents are informed.
Focussed and Positive Learning Environment
In addition to this, staff can nominate their "learning star of the week" and pupils who receive the most "praise stars" can then go on to achieve a weekly Headteacher's award. The Senor Leadership Team then spontaneously drop into lessons on a Friday to give out these awards, which can include cake treats for the whole class. Additionally, those staff who have given out the most praise are recognised as "top praisers" which further promotes the culture of positivity. Positive language and non-verbal communication is consistently used across the Academy to shape behaviour which leads to a focussed and positive learning environment. Behaviour for learning is very good in lessons and less structured periods and transitions such as break and lunch times are calm.
Expectations are Explicitly Taught
Students in Year 7-9 participate in the "ACE" (Academy Conduct and Expectations) programme where expectations are explicitly taught and students can then achieve and retain their ACE award (a gold metal pin badge which they wear with pride). Students who struggle to achieve the ACE award initially are given additional intervention and support until they succeed in achieving the award.
A Strong Inclusive Ethos
The ethos around inclusion at Outwood Academy Carlton is very strong. Leaders voice that the Academy works hard to ensure the individual needs of every learner are clearly understood in order that appropriate provision and support can be made, enabling all to make good progress. Currently, due to restrictions with the COVID-19 pandemic, it is more difficult to use some of the extensive provision which is usually in school such as 'The Bridge' and the sensory room. However, staff have adapted innovatively to this by ensuring that any students who can become dysregulated have a named 'safe space' they can go to, along with their own bag of resources to support regulation.
A Wide Range of Interventions
The Academy offers a wide range of intervention programmes, run by both school staff and external agencies, to support pupils with both learning and social, emotional and mental health needs such as Ruth Miskin phonics, Lexia, Accelerated Reader, I-space, Mind Space and bespoke Anger Management programmes. Interventions are evidence based and impact is measured with pre and post assessment.
A Skilled and Experienced Inclusion Team
The skilled and experienced Inclusion Team is a real strength of the school. They ensure the needs of every student are understood and addressed by monitoring, challenging and supporting teachers so that QFT meets the needs of all learners, offering bespoke CPD in differentiation strategies and understanding of additional needs. There is real expertise and knowledge in SEND within the Inclusion Team, alongside excellent knowledge of agencies available to support in the local area. Leaders describe the Academy as "like no other place I have worked" – with a real ethos of care, going above and beyond for pupils.
Supporting During the Pandemic
Over lockdown the Inclusion Team was incredibly busy, making daily phone calls to vulnerable pupils, ensuring access to Google Classroom activities, having regular contact with parents/carers, enabling access to meal vouchers and generally closely monitoring the safety and wellbeing of pupils, making referrals to other agencies where necessary.
The Five Pillars of Learning
Leaders also talk about how the quality of teaching and learning has improved across the school. The Vice Principal explains how the Academy consistently applies the '5 Pillars of Learning' as follows:
• Clarity of Learning Intentions.
• Recap and Recall.
• New information.
• Practice.
• Feedback.
Consistent Starters Across Learners
Leaders outline that teaching is underpinned by these five aspects of teaching and learning. There is particular focus on the clarity of Learning Intention and Recap and Recall through the use of consistent starters across lessons. Staff development is focused on ways to deliver new information as well as feedback. Lessons are monitored through regular learning walks and SLT feedback focusses on the five pillars which helps to identify areas of expertise and development within the staff. OFSTED (2019) reported that:
British Values are Taught Effectively
British Values are taught effectively through the school's "Life Lessons" curriculum and also the "Votes for Schools" programme which is delivered in tutor groups. This raises discussion topics in subjects such as racism, mental health, sexuality and online grooming and then students can vote on issues, therefore further developing understanding of democracy.
Staff are Extremely Passionate and Dedicated
It became clear throughout the IQM assessment that staff are extremely passionate and dedicated about the Academy and indeed, the vision of "Students First" shone through with everyone encountered. Their sense of drive and determination to improve the outcomes of all pupils came through strongly. The implementation of rigorous structures and processes supports the different teams to work strategically and collaboratively together, ensuring no student is forgotten. Strong teamwork amongst the staff is at the core of their relationships.
Proud Students
I had the opportunity to meet with a small group of Year 11 pupils during the assessment who spoke with real pride about their school. Some of the comments made include:
"The best thing about our school is the teaching. Lessons are explained really clearly and there is lots of support if needed."
"There is no bullying at all. If there are any issues, the school spots things early and resolves things."
"Teachers are very fair. They are strict when they need to be, but you can also talk to them. They helped me when I had a problem and spoke to me and my mum really normally."
"We have loads of clubs."
"There is lots of support around mental health e.g. LGBTQ group and The Bridge."
Opportunities for Enrichment are a Strength
Another real strength of the school is its opportunities offered for enrichment. A wide range of opportunities are offered, including Trampolining, Performing Arts, Football, Rugby, Music, Art & Photography and Cheerleading. In addition, the school offers a free daily breakfast club and a regular after school "Homework Club". Students are taken to the theatre, on residential trips and many educational visits. Participation in the Prince's Trust and Duke of Edinburgh schemes are encouraged and have a good uptake. The 'Student Voice' club is regularly involved with the community, carrying out litter picking and painting the local community centre. Regular events take place throughout the year, including a Remembrance Day celebration attended by war veterans within the community, as well as pupils and parents, half termly Praising Stars' Awards where both Super Nova and Rising Star awards are given and are attended by parents as well as students and the prestigious 'Academy Awards Ceremony' which is a black tie event sponsored by local businesses at the end of each academic year.
Staff Wellbeing is Very Important
Staff wellbeing is kept high on the agenda, regularly referred to and considered. Innovative wellbeing activities are offered such as mindfulness, yoga and SLT also regularly drop in on staff to deliver a 'Whisper' award, when they have "heard a whisper" that there is something to be celebrated about that staff member's practice. The staff member then receives a chocolate bar and applause from their class. In addition, there are clear supportive structures in place for staff such as an employee helpline and drop-in surgeries with the Inclusion Team which can focus on pupil or staff needs.
Effective Safeguarding Procedures
Safeguarding procedures are effective with rigorous and compulsory online training in place for all staff and robust safeguarding policies. The Academy uses an effective and secure online reporting system (CPOMS) monitored daily by the Safeguarding Team. Regular safeguarding network meetings take place for all Level 3 trained staff.
The Inclusion Ethos was Tangible
It was a privilege to spend time with such a passionate and committed staff team. The inclusion ethos and indeed love for pupils across the Academy was tangible.
Find out more about the IQM Inclusive School Award
If your school is interested in obtaining the IQM Inclusive School Award or you wish to talk to a member of the IQM team please telephone:
028 7127 7857 (9.00 am to 5.00 pm)
or email: info@iqmaward.com for further details.
Want more information on the IQM Award? Click here to request your free IQM information pack.