Outwood Academy Adwick in South Yorkshire achieves the Inclusive School Award with Centre of Excellence status.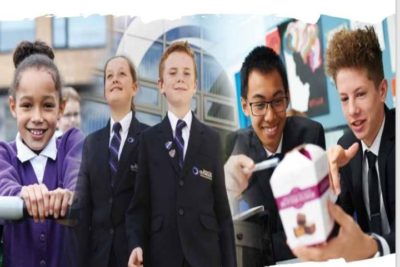 Context
Outwood Academy Adwick is slightly larger than the average-sized 11-19 secondary school in Doncaster. It is housed in a bright modern building that is purpose built for learning in the 21st century. Most pupils are White British. The remaining pupils originate from a wide range of minority ethnic heritages. The proportion of pupils receiving support from the pupil premium is well above the national average. The proportion of pupils with SEND who are receiving support is broadly average. The proportion with Education, Health and Care Plans is broadly average. The school uses several alternative providers to educate a small number of its pupils. These include St Wilfrid's Academy and Doncaster College. The school joined the Outwood Grange Academies Trust (OGAT) in 2009, that is regarded as one of the highest performing multi-academy trusts and the highest performing family of schools in the North of England. The Board of Trustees is responsible for the school, with a local Academy Council that has some delegated powers to support the academy.
Being Part of a Team
Over the two-day online assessment, it was very clear to see that everyone involved with the Academy, including parents and external partners are part of the team. It is a very friendly. inclusive and vibrant place where all are welcomed, and no one is left behind or left out. They pride themselves on valuing every person and helping them to achieve all they can, whatever their starting point. Staff work hard to deliver an exciting and relevant curriculum which inspires and motivates students to learn, with curriculum opportunities that enrich their experiences. They actively encourage students to participate and be actively involved in their education and to be independent learners and thinkers, developing them as responsible members of their community. The school's partnership with parents is vitally important to them as they firmly believe that their students have the best chance of success when the school, families, and the local community work together and this was borne out by the conversations with several parents during the assessment.
IQM Embedded in the Academy
The virtual assessment did not in any way compromise the depth, breadth, and integrity of the assessment process. The information from the extremely detailed and comprehensive Self Evaluation Report, the ADP, the information on the website and a wealth of documents, photographs and video evidence coupled with online meetings, were all helpful in triangulating the evidence to ensure that all eight elements of the Inclusion Quality Mark's Inclusive School Award, were not just established but were shown to be fully embedded in the everyday practice of the Academy. The schedule for the two days was well organised, comprehensive, and ensured that I was able to meet with a wide variety of staff, parents, students, governors, and external partners all of whom spoke confidently and passionately about inclusion and about their involvement with the Academy. It became apparent as the assessment progressed over the two days that inclusion, occurs naturally and is a highly pervasive, intuitive, and ingrained element in the ethos and culture at Outwood Academy Adwick, as is the dedication and drive of the staff to make a positive difference to everyone they work with. OGAT and the academies within have a single vision and shared set of values, that above all places,
"Students first: raising standards and transforming lives".
An inclusive vision, ethos and statement that was evident across the two-day assessment and that all staff demonstrated.
Fantastic Level of Support
During the assessment in this extremely vibrant, warm, and welcoming Academy, I found a genuine ambition for their students and themselves and integrity amongst the staff revealing that what matters most are the students, their families, and the community, as well as a fantastic level of support for each other that shines through. Each member of staff, governor and external partner spoken to was dedicated, knowledgeable and skilled. Their sense of drive and determination to improve the outcomes for all came through extremely strongly. The implementation of rigorous structures and processes support the staff in all areas and at all levels to work strategically and collaboratively. The inspirational and aspirational leadership from the principal and his leadership team coupled with superb teamwork among the staff is at the core of the Academy's outstanding inclusive practice. All adults who are involved with the Academy support each other to develop their skills and they are highly motivated to improve and to improve the lives of everyone involved with the Academy so that they achieve their potential and goals. Leaders spoken to in numerous meetings were clear about the vision and next steps for the Academy. They have excellent reflective skills in their leadership wanting the best outcomes for all students no matter their starting points or individual needs. No one is left out or behind at Outwood Academy Adwick. Every member of staff spoken to felt included and buy into the vision and values of the Academy and OGAT and they are passionate about their students succeeding, with an unwavering passion and determination to ensure that everyone receives the best education possible during their time at the OAA. It was clear throughout the assessment that staff will not settle for anything but the best.
Successes of Coping During Lockdowns
The initial conversations with the Principal and Vice Principal and IQM Lead on Day 1 and 2 set the scene for the assessment and we talked about the Academy's journey under his leadership to where they are now and included a conversation about how they had operated so successfully during lockdowns where, the staff continued to deliver high quality learning experiences for their students as part of a normal timing of the day and how they went above and beyond what is expected to ensure that students and their families and the local community continued to be supported and were able to access appropriate Teaching and Learning opportunities and with regular check-ins to ensure everyone was ok. Excellent communication with students and their families, the timely provision of teaching materials and technology ensured that pupils managed to continue working and learning so that gaps in knowledge can now be more readily addressed. Further conversations as part of the wide-ranging discussions looked at the support offered to everyone, the Academy curriculum and highlighted some areas of the school's comprehensive SER to be explored over the two-day assessment.
The Academy's Ingrained Inclusive Approach
Further meetings were undertaken with a cross section of staff, students, governors, parents, and external partners that was extremely useful in confirming that the Academy successfully addresses all eight elements of the IQM Inclusive School Award. With focused discussions over the two days that looked at all elements of the Award and a variety of different foci with numerous staff that supported the Academy's ingrained inclusive approach that allowed a comprehensive picture of life at Outwood Academy Adwick to be built up and understood. Discussions over the course of the two days had a number of foci that included: a discussion about the Academy Council and how it supports and challenges OAA; inclusion across the Academy, behaviour and a discussion about the inclusion support areas; Curriculum, the quality of education and inclusive teaching and learning; an opportunity to look at the different roles of Teaching Assistants within the Academy including Specialist TAs such as Communication Champions as part of a conversation with the newly appointed SENCo and the SEND Officer; an opportunity to discuss the curriculum offer further, Pledges, Trips and Experiences and Enrichment and what is offered as part of RSHE; a chance to have a wide ranging and interesting discussion about Attendance, support for attendance and initiatives that are helping to drive attendance forward, with the attendance since returning to school being maintained at over 90% (above the national average) discussions about the way the staff and Academy support students, staff and families Mental Health and Well-being; Transition at all points in students' Academy life; a meeting with two NQTs and two ITT staff to look at how they have, and continue to be, supported at the Academy; an interesting conversation with support staff including the Principal's PA and staff from Finance and HR that gave a different but extremely valid and valuable perspective on inclusion at OAA and showed that students, staff and families are seen as part of the school community and family; a meeting with post 16 Lead and Learning Manager that gave a great insight into the inclusive ethos of the Academy and showed how this has evolved as a joint working partnership with Outwood Academy Danum to ensure that students get the best possible opportunities, teaching expertise and curriculum offer at sixth form level.
Partners to Guide Successful Students
There was also an opportunity to talk and discuss inclusion with partners from Second Chance, CAMHS and St Wilfred's Academy who provided further evidence of the way in which the Academy and staff successfully engage with external partners to ensure successful outcomes for their students, and it was clear from these conversations that these partners are welcomed into the Academy and that their work and advice is valued and acted upon. They felt that the Academy is inclusive, and they value their working relationship with staff and students. It was a pleasure to have the opportunity to talk to members of the Student Parliament and a group of Reading Ambassadors who talked articulately and with passion about their roles within the Academy that they felt was valued by the staff and by other students. It was clear from the conversation that they are valued student leaders and want to make a difference. They were a credit to themselves, the Academy and their families and are true ambassadors for OAA. I look forward to visiting in future and continuing the discussions and see what has changed due to their valuable input. The meetings with numerous parents confirmed the close working relationship staff at the Academy have with them and with their children and they feel fully included in the education of their children and feel that they are partners in their education and part of the OAA family. It is clear from these involved discussions there is a superb level of support for students across the Academy that more than meets need and that the staff should be praised and highly commended for and that supports the outstanding inclusive practice seen at the Academy over the assessment. It was a privilege to engage in so many discussions and conversations over the course of a hectic and busy two days, with such enthusiastic, dedicated, and professional staff, students, governors, and external partners.
Feeling Privileged
It was a privilege to visit Outwood Academy Adwick to conduct their virtual assessment underlining their outstanding inclusive ethos, care, nurture, and support at the very heart of their ethos and vision and was talked about and discussed openly during the assessment.
Find out more about the IQM Inclusive School Award
If your school is interested in obtaining the IQM Inclusive School Award or you wish to talk to a member of the IQM team please telephone:
028 7127 7857 (9.00 am to 5.00 pm)
or email: info@iqmaward.com for further details.
Want more information on the IQM Award? Click here to request your free IQM information pack