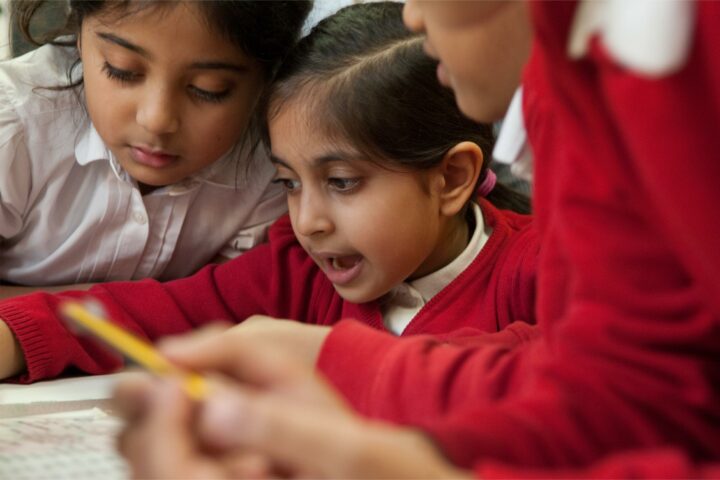 Children's Needs Are Met
The school is very inclusive and makes sure that all children's needs are met in the most inclusive way possible.  The new Rainbow Rooms are developing well with parents pleased with the progress that their children are making in the new provision.  Parents are overwhelmingly positive about the school and feel that they have made a good choice in sending their children to the school.  Examples were the child now being able to talk where previously they were pre-verbal and how behaviour at home had improved dramatically as parents were using the same strategies at home as the child did at school e.g.  Now/Next symbols and checklists. 
One parent described that she feels fully involved in her child's education, understanding the additional support that he gets and that she is regarded by staff as the expert around her child.  They described feeling comfortable around their child's teachers and feel able to discuss anything with them.  One parent mentioned that the teachers work with them if there are any issues until they are resolved. 
Pupils Polite, Welcoming and very Articulate 
The pupils who spoke to our Assessor about their school were polite, welcoming, and very articulate.  Behaviour is very good in the school, however when there are concerns, the Safeguarding Team has robust processes and procedures in place.  It was interesting and heartening to hear about the steps that were taken with 2 children to help them overcome external pressures to settle down to learn.  These 2 case studies highlighted the school's resilience as well as showing that their persistence in raising concerns to external agencies meant that the children were subsequently able to make progress in their learning and to have better Mental Health.  They showed a high level of adaptability and self-review on this part of the school which is a credit to them. 
Trips linked to the curriculum have been re-launched after the pandemic.  The school has used the skills, knowledge, and experiences approach to make sure that the out-of-school experiences that the children take part in increase their knowledge around a topic as well as improve their Mental Health and Wellbeing.  
Newsletters show photos of the children on trips as a guide for parents who may be able to take their child to these places at weekends.  Local trips have taken place to Epping Forest, The Gruffalo Forest and Hainault Forest which are very enjoyable for pupils who spend most of their time in the city. 
Colourful Semantics Programme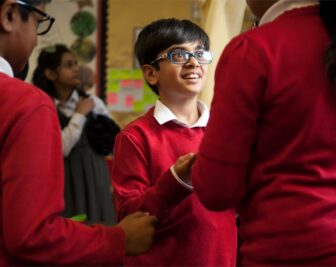 A good example of inclusion is the introduction of the Colourful Semantics programme to all classrooms, not just Rainbow class as the school has seen how it can benefit everyone.  Five teachers have undergone the training.  All classes now have a basic pack linked to their texts.  The plan is to have a Colourful Semantics pack for each topic/text eventually. 
One of the Learning Practitioners, who is a recent appointment to the school, spoke about how welcoming and supportive she has found the school.  Feeling very well guided by the Senior Learning Practitioner who has responsibility for SALT, she is now able to run her own intervention groups, assess pupils and give feedback.  She says that the modelling from an experienced practitioner has given her the confidence to make a difference to pupils around their speech and language development. 
The Senior Learning Practitioner spoke about how children who initially struggled with open-ended questions, now know the structure of the sessions, and have become much more communicative.  This progress can be seen once they are back in the classrooms and at playtime.  Impact sheets clearly highlight the progress which can be discussed with parents and other professionals.  Some children are able to be taken off the programme as they have made so much progress. 
Enthusiastic About Homework
Pupils are enthusiastic about their homework; it was a pleasure to see all the intricately decorated crowns that pupils had made at home in preparation for the King's Coronation.  It was clear that they had taken a lot of time and pride in this creative activity. 
Year 6 pupils are taught in a separate building.  They move from classroom to classroom and work with different teachers so that they get a flavour of how it works in a secondary school.  It is a good transition strategy so that they aren't so overwhelmed when they transition to secondary school.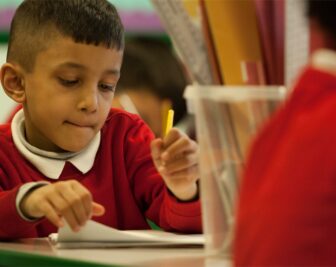 The school continues to be a Rights Respecting school and have just received the Silver Award as an indication of their commitment.  Pupils are very knowledgeable about the Rights Respecting programme and were able to explain how the articles are celebrated in assemblies and in lessons.  Pupils were rightly proud of a video that they have just made which will be accessible on their website.  
There are 24 Ambassadors, one per class.  The Ambassadors make sure that they take the views of their classes to the meetings and that their views are regularly collected.  The school is heavily involved in World Children's Day, the Outright campaign where pupils have written a Health Care Poem and Odd Socks Day, an initiative to prevent bullying. 
Pupils spoke about how they value Bubble Time where pupils write their names if they have a concern, so the teacher knows to speak to them in private.  A newly introduced initiative which has the aim of increasing pupil voice even further, is to have a class ideas book where individuals will be able to respond to questions such as, what makes an ideal lesson?  Leading to the Ambassadors being able to feedback the findings to their peers. 
Parental Engagement is Good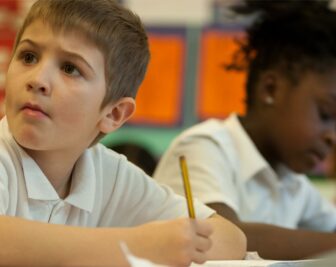 Parental engagement in their child's learning is good.  The school run focused phonic workshops for parents of Reception children so that they have a thorough understanding of how phonics is taught.  Parents attend Stay and Play sessions in the Nursery where staff can give them advice on how to support and increase their child's oracy skills. 
The curriculum continues to be inclusive with the school having their work accredited this year by gaining Quality Standard Marks for English and Maths.  They plan to gain more curriculum awards during the next academic year. 
The main focus of the school re curriculum continues to be oracy as many of the children on entry do not have age-related language skills, particularly expressive language needs. 
The school did INSET sessions for the Early Years Foundation Stage (EYFS) staff in January on NELI and 10 weeks into the programme the pupils are making outstanding progress with their increased oracy skills. 
Although pupils enter the school at well below average for their oracy skills, Key Stage 2 data show that by the time they are in Year 6 they have caught up with their peers and show good progress. 
Our Assessor added, "It was lovely to visit the school again and to talk to everyone about how proud they are of their school and to hear about the new initiatives that have taken place this year.  I particularly enjoyed seeing the children all focused and learning in the Rainbow Rooms. Thank you for the visit."
Find out more about the IQM Inclusive School Award
If your school is interested in obtaining the IQM Inclusive School Award or you wish to talk to a member of the IQM team please telephone:
028 7127 7857 (9.00 am to 5.00 pm)
or email: info@iqmaward.com for further details.
Want more information on the IQM Award? Click here to request your free IQM information pack.