Marlfields Primary Academy, Congleton has been reassessed and achieved Flagship Status for the second time.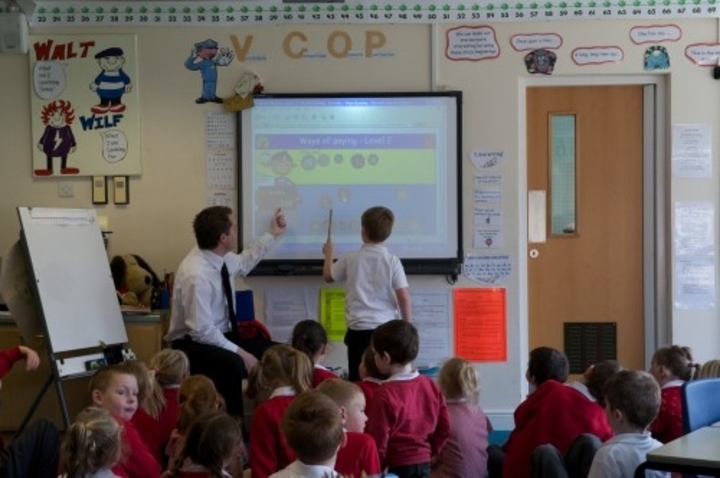 Context
Marlfields Primary Academy is average sized school with 200 plus pupils on roll. In a well maintained and well-ordered building that has excellent facilities, that caters for the needs of its pupils in the 21st century, with large airy and well-resourced classrooms, some of which are open plan and allow integration of pupils and groups, and spaces for smaller groups to be taught and interventions to occur without disrupting the learning of others. It is situated in an area of socio-economic diversity in Congleton, pupils attend from a wide mix of private, local authority and rental housing., with a small number of EAL pupils. However, there is a settled atmosphere of care and of continuity that is evident as you enter the school. There has been a rise in the number of children coming into school with family issues and there has been a rise in families being supported with CAFs over the last few years, and an increase in numbers of children listed as Children in Need or moved to Child Protection status; the school is fully able to support these families and often goes the extra mile to ensure their needs are fully met and they are included in all aspects of school life.
Growing as Individuals
Marlfields Primary Academy prides itself on being a school that accepts all children and helps them to grow as individuals, to achieve their potential and be ready for their next steps in life. As their mission statement states 'Where children come first". A fact that I can attest to from my visit to the academy, from discussions with pupils, staff, governors and parents.
Welcoming Nature
Thank you for the invitation to visit your school to carry out your second Flagship Review. I enjoyed my visit immensely. It was a pleasure to meet and talk to staff, pupils, parents and governors who were all extremely supportive of the academy and spoke about the progress made since the last review. I was impressed by the very welcoming nature of the academy and the level of professionalism and dedication of staff to ensure that the needs of the pupils are continually met, in the most inclusive way possible. Over the course of the review it was clear to see evidence that inclusion is at the very heart of everything that happens in the academy and is highlighted by their vision for all who work or learn here 'We strive for excellence in all we do as a school and in the wider community. We provide a place where we can all achieve our potential; develop our minds and cultivate our interests.
Inclusive Learning Environment
This is clearly a superbly inclusive learning environment where all pupils are valued as individuals, as members of the academy and as members of the local community and is clearly at the very heart of its community where care, nurture and support are central to everything that occurs here. It is an impressive, inclusive learning environment where pupils are encouraged to achieve their full potential, where everyone involved is committed to the inclusion of all pupils. They should be justifiably proud of what they offer and what they achieve.
Confident and Happy Pupils
I was impressed by the confident and happy pupils and by the shared vision of the staff, who are committed to inclusion in its broadest and best sense. Staff are inspired to develop and to contribute to the inclusive ethos. There is a happy, stimulating and vibrant learning environment throughout the academy with a focus on helping pupils to develop the skills, which they need to be effective and they are encouraged to become independent learners. Pupils I observed in classes, around the academy and at break and lunchtime were friendly, polite and able to talk honestly and confidently about their learning and about their involvement in what is offered here, with a very active school council and a strong commitment to pupil voice.
Inclusive Practice
During the day, I attended a fantastic Macmillan Coffee Morning and spoke to staff, pupils, parents and governors who were effusive in their support for the academy and were exceedingly happy with what was offered to the pupils. I also met to discuss and thoroughly explore, often at some length, both the review of last year's actions and the Action Plan for the year ahead with staff and governors enabling me to build a picture of the fantastic inclusive practice at the academy. Everyone I met was very helpful and spoke highly positively about their experiences at Marlfields.
Sources of Evidence
As part of the review, I had the opportunity to observe the academy at work and I observed and shared the superb inclusive culture that infuses every aspect of life here. Pupils are valued for who they are and what they will become, they are keen to share their life in school with visitors. The staff are very positive about the academy and without thinking, go the extra mile and beyond to ensure that the pupil's needs are met. There is a superb quality of support, care and nurture that has continued to evolve to enhance provision since the last review. Staff are clearly very enthusiastic, motivated, professional and work exceptionally hard to ensure that the needs of pupils are met. This can clearly be seen in the interactions observed during the day there is a superb rapport between the staff, between the pupils and between the staff and pupils. They are committed to ensuring every success for their pupils and themselves, every pupil is known and stretched to achieve their full potential.
Inclusion Underpins Everything
It was a pleasure to visit and review such a fantastic, vibrant, welcoming and friendly school where inclusion underpins everything that happens here. Marlfields Primary Academy is a superbly inclusive, extremely positive and highly purposeful community focused on high quality teaching, learning and provision for all those involved, pupils and staff alike. They provide an outstanding enabling and supportive environment for all to grow and have their contributions valued and have an opportunity to demonstrate what they can do. An example of this is their involvement in 'Kiva' a Finnish programme that focuses on building positive relationships, improving general wellbeing and making school a safer and more enjoyable place, an excellent programme that the academy has bought into and trained its staff to use. There are numerous opportunities for pupils to experience enrichment through the curriculum and after school. During the review, I observed high quality art work displayed all around the school that has been produced by the pupils working with an artist that is employed for 2 days a week to work with pupils in their own purpose-built studio in the school grounds. The artwork, whether it be paintings ceramics or sculptures is stunning, the academy also has received a grant from Tesco to support renting an allotment for the pupils and volunteers to grow vegetables. For the past two years' the academy has been invited to show a garden by the Royal Horticultural Society at Tatton Park, a fantastic opportunity for the pupils to design and show, something the academy and the pupils should be immensely proud of. Other opportunities include the chance to attend workshops with The Halle Choir.
A Very Clear Vision
The staff all have a very clear vision and drive to continue to move the academy forward. Continuous improvement in all areas is the key to what is done here, and everyone works hard to ensure this happens and continue improvements in their outstanding inclusive practices, set alongside rigorous, yet supportive accountability processes and tracking and monitoring of pupils. The staff and governors are not content to sit on their laurels but are continually looking for the next improvement or innovation that will move things on and make things even better for the pupils and the staff, ensuring that everyone shares and contributes to maximising the success for all who either work in this, outstanding academy or are educated here. The academy holds numerous awards that show their inclusive approach though their work with their pupils. Awards such as, Better Energy School Award 2016-17 with their entry, 'Harnessing Natural Power', they were a Special Award Winner for Northern England, Eco Green Flag Award achieved for the work in November 2016, they are a Fair-Trade Achievers School awarded in December 2016, and hold the Green Tree Award – Platinum level from the Woodland Trust in February 2016. All projects that involved staff and pupils from the academy. They should be applauded for their efforts in this regard. The academy also operates their own fully equipped radio Station that pupils learn how to use with a member of staff and then deliver their own radio shows to the academy at key times, although it could be used more widely and allow more pupils to experience being a radio presenter. Marlfields are active members of CECP – Congleton Education Community Partnership that includes all twelve primary schools in Congleton and provides support for community activities across the town. As part of this initiative the academy are also involved with BEST and have recently attracted funding to set up a Forest School on the academy grounds that will be used by other Primary Schools as well, with a member of Marlfields staff being trained to deliver Forest School activities. It was suggested that after training the member of staff contact St Mary's School, Levenshulme who have an outstanding provision in this respect. The academy also holds the Silver International Schools Award for their work on global dimensions and are linked with a South African School. Re-accreditation will take place in 2018 and they are keen to expand on what they offer in this respect in the future. There is a very strong pupil voice in the academy that is led by The School Council who are always looking for ways to improve what is offered to pupils here, such as fund raising to buy a defibrillator and in the past, they have worked with staff to get a large outdoor climbing frame installed and a football court in the outdoor learning areas, currently they are investigating ways to include a netball court.
A Culture of Critical Reflection
There is a superb culture of critical reflection that permeates the academy meaning that existing strategies, programmes and schemes are robustly evaluated and refined where appropriate. They are part of The Aspirer Teaching Alliance, a Primary led collaboration between 21 primary and secondary schools in Cheshire East and surrounding boroughs, led by Ash Grove Academy in Macclesfield. Their ethos is simply to improve outcomes for all young people, especially those from more challenging circumstances. Marlfields has been involved in projects to improve teaching and learning for pupils across the alliance examples of which are. 'Investigating the effectiveness of phonics interventions and investigating the effectiveness of talk Boost (ICAN) in reception. Additionally, they continue to seek new solutions to the challenges that are faced in achieving the goal of enabling all pupils to succeed to the best of their abilities and is continually developing its exceptional practice on inclusion and is sharing its excellent practice with other schools.
Find out more about the IQM Inclusive School Award
If your school is interested in obtaining the IQM Inclusive School Award or you wish to talk to a member of the IQM team please telephone:
028 7127 7857 (9.00 am to 5.00 pm)
or email: info@inclusionmark.co.uk for further details.
Want more information on the IQM Award? Click here to request your free IQM information pack.