Holland Park School in London has achieved Flagship School status for the third time.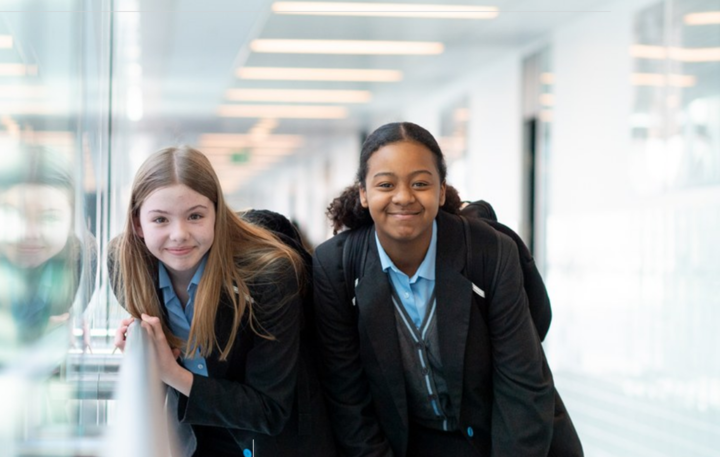 COVID-19
The review was carried out virtually as a result of the COVID-19 pandemic. I started the day meeting with the Deputy Head who is the Inclusion Coordinator, he outlined what had been happening in the school since I last visited in December 2020. Sadly, this was the worst week in terms of COVID-19 as they had four positive tests that week and subsequently had to send eighteen Sixth Form students, one hundred and five pupils in other years and six members of staff to self-isolate. Whist these numbers are small when compared to many other schools this caused great disruption and anxiety for everyone.
Online Learning
The Deputy Head told me that the school was ready before lockdown happened, the online teaching programme was up and ready to go. They had carried out staff training with staff, set up accounts, trained students and started using Google Classroom. The school had purchased Show My Homework prior to using Google Classroom and had started to put homework tasks on there. They now believe this was not a good investment as Google Classroom is proving to be better. A quick survey was carried out to establish how many students needed devices and access to internet and found that a good proportion did not have them. Subsequently, they gave out school equipment and bought thirty laptops; they also got a number of laptops from the DFE.
Creative Lessons
A decision was made to avoid live lessons, mostly for safeguarding reasons but they did lots of work with staff to encourage them to be as creative as possible when setting work. They produced lots of recoding of parts of lessons and practical demonstrations. Appropriate provision for SEND students was in place and several specialist services such as Speech and Language support was provided online. Teachers and TAs tried to create some 'fun' activities as well as 'normal' lessons/work. A number of reward events were held along with several charity events such as the 'StepAthon', which got the community moving and raised funds for Great Ormond Street Hospital.
Regular Contact with Vulnerable Students
As the Safeguarding Lead the Deputy Head explained how they ensured that students were safe, they identified all vulnerable children and he and his team were contacting them almost every day. He believes this regular contact helped form stronger relationships with those students. The Safeguarding Policy was amended to reflect the changing circumstances.
Centre Assessed Grades
The process of agreeing Centre Assessed Grades in the summer was very thorough and was complicated by the numbers of Year 9 and Year 10 students who also needed grades. They had to lobby the Government for them to be awarded grades as well. The lobbying worked but the results won't show on performance tables. The school accepts this as it's about individual students' achievements that really matters. The A Level grades proved to be problematic (as in other schools) as the time lag in terms of Government decisions meant some students lost their preferred university places. There are now even greater numbers of students in Year 12.
Regular Contact with Teachers
When the students came back to school (very happily) they had to face tests and assessments, so teachers could work out what they had learned from participating in Teaching and Learning during lockdown. However, no grades were given and parents were not contacted. The tests were just for teachers to use to plan their teaching. Assemblies have not been possible so far this week and this is a big loss for a school that use assemblies to bring students and staff together and to get key messages across. In order to keep them engaged and motivated they are bringing two classes together (socially distanced) to talk to them, to help them understand what they are being tested on and to reassure them and advise them. Students will also be doing Mock Exams just before Christmas. The pressure to achieve and make progress continues but students feel this is the norm and they know they are well supported by their teachers. They had been in regular contact with their teachers over the lockdown period and they know they have their best interests at heart.
Increasingly More Collaborative
My next meeting was with the Lead Practitioner in the English Department. There are thirteen teachers in the department and they are increasingly more collaborative. However, there are no team bases where the team can work and plan together so they have to use classrooms. They have two meetings a week and save plans and resources on a shared drive. She said all the Schemes of Work are written by her and the new Head of Department. The Schemes are very detailed and include all the things deemed as non-negotiable as well as lots of additional ideas that teachers can use. She said teachers are very free to do what they want to do in terms of delivery, as long as it's working.
Exemplar Weeks
The school recently had two 'exemplar' weeks where all teachers observed two other teachers. Learning from peers is encouraged and time is built into the lesson schedule to enable this to take place. Teachers observe along with a member of SLT and leave the lesson after forty minutes to talk about the lesson and then they come back into the lesson to talk to the teacher.
Good Professional Learning and Development
I met with the Deputy Head who has responsibility for the Curriculum. She thinks it's the high expectations of everyone that make the school so special. She said there are lots of opportunities to learn and widen your experience and this is coupled with good professional learning and development. As there is no middle leadership layer she oversees science, history, geography and RE, but all have a Lead Practitioner who carry out many of the tasks associate with leading a department whilst she does 'the people management and Performance Management'. Her role is to keep the subject curriculums under review. She said this model enables teachers who work in the department to take on different responsibilities and gain additional experience. She oversees all exams in the school. There are weekly Subject Team Meetings chaired by herself or the Lead Practitioner.
A Nurturing Approach
I met the Assistant Head and English Lead. He aims to develop a nurturing approach and be as supportive as he can be. Every department has a development time and English (as a core subject) have two meeting times a week. He established pairs and groups of teachers to work together on a variety of tasks. In addition, he told me they often work in groups of three that are made up of an experienced teacher and an NQT and one other. They participate in various development activities designed to develop their practice. Both the Assistant and Lead Practitioner for English go into lessons as much as possible and see what is working well. He told me that he and the Lead Practitioner work together to lead the department and people can pop into their lessons as they wish. I asked about the Performance Management Process and he said that every conversation is a performance management discussion – it's ongoing. He said that nobody should be surprised by the outcome of PM, feedback or judgements made as it's all about progression. Having said that he has not yet been through that process with his team and he will need support with that when the time comes.
Effusive in Her Praise
It was a pleasure to have a discussion with a Year 13 student, she has been a student at Holland Park School since Year 7 and feels very lucky to have a place there. She was effusive in her praise for the staff at the school whom she said have formed excellent relationships with students and she thinks this is what makes the school so successful. She attended a local primary school and about half her class came to the school. One of her best friends from primary school left at the end of the year to go to a different Sixth Form as the school could not offer the subjects she wanted to study.
Current Affairs
We talked about had been happening in the world whilst the lockdown had been in place and particularly about the Black Lives Matter movement. She said that they have daily conversations about current affairs including BLM, gay rights and climate change etc. and these are very open discussions. She said there is a collective view that encourages students to talk and to educate themselves. She said the PHSE programme has different themes that promote discussion and they don't shy away from difficult or controversial subjects. That is the ethos of the school.
Welcoming and Friendly
I spoke with a new teacher who has only been at the school since September, she was appointed through a virtual process and has settled in very well, She works in the Maths Team and there are four new members of the team. She stated that it's a big department and everyone has been welcoming and friendly and all have different skill sets. There is one teacher in particular that she can go to for help if she needs it.
High Expectations and Standards
I asked the teacher what was different about Holland Park School and she said it was about the very high expectations and standards, particularly in terms of marking and teaching. However, she also said it is very supportive in helping staff and students in reaching them. Colleagues share assessments and resources, so they are not duplicating work. Furthermore, she told me that behaviour is Holland Park School is excellent and the positive environment is conducive to learning. Students are keen to do well and take a lot of pride in their work. She said students enjoy being part of the school and she rarely comes across any who are disaffected. When this does happen there is an effective Behaviour Team who will work with these students and help them to become more motivated and engaged. She describes the team as firm with the students but they are supportive and warm at the same time.
Governors and Parents Working Together
Finally, I was able to talk to the Headteacher who I have met many times on my visits to the school. Unsurprisingly, he spent most of the time during lockdown in school with the Deputy Head and he insisted that the rest of the team who had young families worked at home for the duration. He said the Academy Head and the Senior Team made sense of the DFE Guidance (all 46 versions) which was all very stressful. He spoke about the agreement that was made with regards to Centre Grades for students in Year 9 and 10, as well as in Year 11. He described the way the Governors and parents had come together to lobby Government and he was very thankful he has such influential supporters.
Innovative and Creative
We went on to talk about staffing and he told me staff turnover this year was 21%, they had to recruit through Zoom but he was surprised that he was still able to employ high quality teachers in this way. He said the school is now working under strict COVID-19 restrictions, which get in the way of many activities that would normally happen such as assemblies, performances, extra-curricular activities, many of the things that make the school unique and create the culture and ethos but they are hoping to reintroduce as many of these as possible in a safe way. The new Flagship Project is centred around this aim. As a very creative and innovative school I have no doubt that they will find new ways to do things.
Maintaining the Ethos and Culture
The Headteacher spoke in detail about all the actions that had been taken over lockdown and since students and staff returned to school. They are being very careful to follow the rules and there will be no parent evenings in the foreseeable future (whilst the pandemic is around). He had to convince parents that this was the right thing to do. They are using rigid seating plans and social distancing and have severe restrictions on movement time during the day. They came up with the plans as a team when they (SLT) all came back in August to decide. As assemblies are no longer an option, he has held 97 'small gatherings' with students so he can explain what the school is doing and why. He said it is important that they hear from him and so he is 'on repeat' to every teaching group in the school. His aim is to try to maintain the ethos and culture of the school during this difficult time.
A Reflective Headteacher
It was good to talk to the Headteacher who remains as reflective as ever. He is always willing to think about what he is doing and to admit if he or the school have got things wrong. He has created a school culture that encourages staff and students to ask questions and to get involved and to grasp their opportunities in front of him. His warmth and care for the community he leads is his biggest asset. As the Year 13 student said, "he is just a big softie." I hope when I visit next year that the school has emerged from COVID-19 safely and positively and that they continue to move forward at a pace.
Find out more about the IQM Inclusive School Award
If your school is interested in obtaining the IQM Inclusive School Award or you wish to talk to a member of the IQM team please telephone:
028 7127 7857 (9.00 am to 5.00 pm)
or email: info@iqmaward.com for further details.
Want more information on the IQM Award? Click here to request your free IQM information pack