Clacton Coastal Academy in Clacton-on-Sea has achieved Flagship School status for the third time.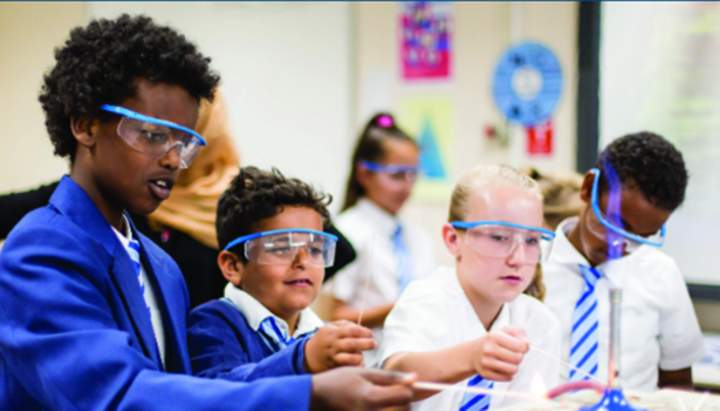 Virtual Learning
My first meeting of the day was with the Assistant Vice Principal who had organised my visit, she brought me up-to-date with what had been happening in the school since my last visit. The COVID-19 pandemic had a major impact and struck when the Acting Interim Head had taken over which was three weeks prior to lockdown. She and the Senior Team worked together (supported by AET) to do what needed to be done and to get the virtual learning platform (Google Classroom) up and running. The Interim Head spoke to me about this later in the day but the Assistant Vice Principal commented that the virtual learning package had been amazing. When I last visited the school (May 2019) this was one area they were developing and was obviously very beneficial to the school during the lockdown. Plans around this development moved quickly once lockdown was suggested. The Assistant Vice Principal explained that the school had a major outbreak of COVID-19 cases before half term and had to close the school for an extended half term break. Subsequently, Google Classroom came into its own and lessons were delivered online.
Supporting During Lockdown
As the Safeguarding Lead and DSL, the Assistant Vice Principal was very busy over lockdown and spent most of her time making welfare checks and following up on safeguarding concerns. Currently she is very involved with the pastoral provision and is also supporting behaviour across the school. She told me about all the changes that had been made to the Senior Team and that I would meet many of this team later on in the day. She explained that the new Headteacher had started working with them in July and has settled in very quickly and everyone is hoping he will stay and provide stability for the school. He is proving to be popular with the school community and is very transparent and a good communicator.
Vision and Values
The Headteacher explains that his greatest challenge is to get people (all stakeholders) on board with his vision. This has been even more difficult during the pandemic where he can't (as he otherwise would) talk to children in assembly, to staff at staff meetings and parents in face-to-face meetings. He has had to find creative ways to communicate and has set up a number of open forums where he can share his vision and values and be honest about what has gone wrong in the past. He said he likes to model things and live the standards that he expects others to aspire to. He is expecting staff in particular to model a set of behaviours (especially in their use of language) when working with students.
A New Behavioural Approach
A new approach to behaviour is being introduced, behaviour has been a key issue for the school for a number of years and many systems have been introduced during that time. This one is different in that 'Pivotal' is an approach to talking to students about behaviour. It is a positive approach that is focused on staff rather than children. As the Headteacher commented, "backing students into a corner with no way out is not going to lead to good behaviour". In turn, students are expected to use a similar language and positive approach. He said, "we want them onside and working with us". With this in mind he tries to model his conversations with staff and pupils and parents and is very visible in and around the school.
An Increasing Roll
The school is recruiting many more children who come in as first choice of school and there are currently 252 in Year 7 and 101 students in Year 12. Furthermore, the numbers are looking good for next year's intake. Marketing and promoting the school were carried out virtually this year and they done virtual tours and arranged some visits when the school was empty.
Pupils are in Bubbles
The school is fully staffed, and staff attendance has never been as good (since September). Staff came together during lockdown and since the pupils came back to school to ensure they were as safe as they possibly could be and that schooling could continue. The Senior Team came in for two whole days before the school opened up to sort things and get it prepared for opening. Pupils are now in year bubbles and stick to a small area of the school, they have their own toilets and areas to collect food from during the day. The playgrounds are also organised to ensure bubbles don't mix. The Link (Alternative Provision) have also formed a bubble with their own facilities. Teachers move between bubbles but in a controlled way. The Learning Support Assistants have been divided up so they can support individuals and groups in different bubbles. Staff health concerns and family circumstances were taken into consideration when it came to their deployment during lockdown and when all pupils returned in September.
Supported by AET
The Headteacher told me that the school had a lot of support from AET during this time. He is able to sign up to their values and principles which mirror his own. He is very appreciative of the expert support the Trust was able to give the school when lockdown hit. He has a very good relationship with the CEO and is impressed with the number of professionals available to advise and guide him and his team. This was particularly important when it came to safeguarding.
Pivotal Programme
The new Pivotal programme recently introduced in the school is designed to develop positive relationships between children and adults. The programme is based on the book 'When Adults Change Everything Changes' and is based on the principle; First attention to First Contact (which is about active listening to pupils). The focus was on adults rather than children and involved the use of positive language when tackling poor behaviour. It was also about making the rules simple and praising pupils rather than admonishing them. During my previous visit to the school there was a recognition that the (then) new Behaviour Policy was having a negative effect on pupils who resisted the harsh regime. They acknowledged even then that this needed to change, so I am delighted this new approach has been introduced.
The Reward System
I asked the Vice Principal how the reward system has changed since my last visit to the school. The AET system relates to finding 'your remarkable' and there are numerous rewards pupils can claim when they accrue positive points. Nominations are made every week and there is a trolley of 'nice things' (including things they might give family members for Christmas) they can choose from. Teachers and support staff can give positive points to individual pupils for a whole range of things, including working really hard in class, for excellent behaviour or for being particularly kind. These positive points (which staff log) can result in a positive call home, a text message or a postcard. In fact, pupils have designed a positive postcard for their year group. Normally there would be an opportunity to be awarded a 'Golden Ticket' event such as a trip to the cinema or elsewhere, but this is not possible during the COVID-19 pandemic.
Remote Learning
The Vice Principal told me about the success with setting up Google Classroom and running even before the school closed to most children. This was a planned development that was scheduled to happen over a few years but the pandemic made this an urgent priority. Staff were given more training prior to lockdown and set about preparing work for pupils to do at home. A mixture of paper-based work packs was used initially until teachers had organised more online learning. Many teachers taught live lessons online and Governors scrutinised lessons. I asked how staff felt about this scrutiny during a very difficult time but it seems they accepted it as part of an AET protocol. The school is expecting an Ofsted Inspection and it seems the Trust are determined to gather as much information as they can before that time and to arrange support where it is needed. A further AET review is due in a few weeks' time. Some lessons were pre-recorded as the school were aware of the fact that even though the school had given out many Chrome Books and dongles to those that needed them, many children did not have the space or privacy needed to work at set times.
Continuously Improving Teaching and Learning
My next meeting was with another Vice Principal, she leads Teaching and Learning across the Academy. The Academy and AET Trust have a clear understanding that inclusion is primarily about what happens in the classroom and school improvement is all about continuously improving the quality of teaching and subsequently learning. I asked the Vice Principal how this was to be achieved, she told me AET have introduced a new Teaching and Learning Framework with seven different dimensions that link to Teacher Standards. The Mastery Flow Model is part of the framework and she stated this automatically strengthens the school's position as an inclusive school as the model requires teachers to re-teach when pupils have not grasped the concept being taught. This model has been introduced in September, so it is in the early days of development. A series of CPD sessions prepared teachers to teach within this framework. The model has been primarily used in maths and English and subsequently these subjects are further along with the programme than other subjects. However, other subjects will be adopting the framework this year and are working with maths and English teachers to learn from their experience. All staff are fully aware of the importance of using the Mastery Flow Model language when using this framework.
Identifying Gaps
In order to identify gaps in knowledge and skills across the school since pupils returned in September, a number of steps have been taken including formal tests and assessments. The new Year 7 took SATs papers (supplied by AET) and the data suggested they were well below where they needed to be. The idea of doing sample SATs papers was a Trust wide policy and they did some writing and reading tests as well. The data generated from these tests identified the gaps and allowed teachers to target their teaching more accurately. The tests and assessments probably increased anxiety levels amongst the pupils but the argument is that they urgently need to get Year 7 on the right road for their future. Other year groups have also had some form of tests and assessments to establish their gaps following lockdown.
Supporting Pupils
My next meeting was with the SENCO, we had met on my previous visits to the Academy and she stated there has been a lot of change in the pupils now needing support from her department. She said they are now focused (mostly) on social and emotional needs as well as mental health. She told me Year 7 are proving to be an "interesting" group and it seems like they have to learn everything again. This is not surprising as they have been out of school for six months but have had to learn how to talk to each other, to act in a classroom and how to behave in the playground. She claims they have regressed socially and academically. 69% of year group are not at age related expectations and there are ten children in the cohort with EHCPs. Currently there are 27 pupils with EHCPs across the school, but she said there are many more who require support. There are currently 81 pupils in the SEN register who all need some support. Most external agencies and professionals are now doing group interventions and teaching staff how to run the groups and support individuals. Therefore, school staff are expected to take on more and more as the funding (the school's and the LA's) is matching the needs.
A Mental Health Champion
There is now a Mental Health Champion in the Academy who is getting to grips with that role. However, this support is aimed at pupils rather than staff. The SENCO is part of a number of SENCO networks including one with AET schools. She also networks with the primary SENCOS that give great support to each other as well as sharing good practice. The support from the AET SEND Service is also helpful.
Supporting Vulnerable Students
I then met the individual in charge of the Alternative Provision (the Link). We talked about the way the school had responded to the COVID-19 lockdown and particularly the provision for vulnerable and key worker children. She said they used the Link for provision and had between 30 and 35 children every day. Most were vulnerable pupils, although they also had some key worker pupils. There was a core team of staff who work in the Link provision but then other teachers and LSA were added to the rota. They also ran a summer school for Years 7, 8, 9, 10 and 11. They did not have as many pupils attending as they had hoped but did cater for and attendance was around 80 maximum. Summer school was organised through AET and pupils were invited to attend as a way of catching up with their learning.
Pupil Voice
It was good to meet two Year 11 students along with a Pastoral Lead who is responsible for Student Voice. The Head Boy and Head Girl were chosen to represent student voice at the school and this has always been a strong area for the school. We talked about the current restrictions and bubbles and the way they are currently managing student voice activities. They told me they are doing many of the activities in bubbles and on Google Classroom. The Prefects, the Head Boy and Girl meet regularly (socially distanced) to plan activities.
Supported by Their Teachers
The students are worried about the uncertainty that the virus has brought with it, they state that they are just trying their best to carry on and remain as 'normal' as possible. They told me about their experience of working from home, where they had set lessons to do. The two were lucky to have their own space to work in at home and had devices and internet to access Google Classroom. They said their teachers really helped and supported them, ensuring they kept motivated and on top of their work.
Discussing Controversial Issues
The students told me that there were PowerPoints about Black Lives Matter, to open up the chance for discussions in form groups and they said they do regularly (as time allows) have opportunities to discuss and debate controversial issues.
Supporting Mental Health
Following this meeting it was good to meet the School Counsellor and Designated Mental Health Lead. They told me they continued to work with pupils they were working with prior to lockdown but are also taking new referrals. They said there is a lot of anxiety following lockdown and they are trying to work with pupils to build a sort of toolkit for all students. The questionnaires sent to every pupil will be analysed and ones that are flagged up will be put into different intervention groups (for instance on self-regulation). The expectation is that Learning Support Assistants will deliver the intervention workshops following appropriate training. They told me that they are primarily in school to support pupils but are also there if members of staff need advice or guidance. They said that staff are signposted to a 24 hour Helpline and last year (during lockdown) the Assistant Vice Principal made staff aware of the help available for staff, although most of this is external to the school.
A Period of Change
Clacton Coastal Academy has undergone huge changes since I last visited them and the changes are still ongoing. The school has had a lot of problems in the past and I sincerely hope that they now have a period of stability where they can all work together to remove the considerable barriers that get in the way of pupil progress and wellbeing. They know exactly what the problems are and what needs to be done to resolve them but they are going to take time, probably years to make a difference. This is what the new Headteacher has taken on. He is very positive about his new role and he is supported by a very effective Senior Team. However, the next six months will not be easy as staff reductions come to fruition and the ability to support pupils is (maybe temporarily) hindered.
Find out more about the IQM Inclusive School Award
If your school is interested in obtaining the IQM Inclusive School Award or you wish to talk to a member of the IQM team please telephone:
028 7127 7857 (9.00 am to 5.00 pm)
or email: info@iqmaward.com for further details.
Want more information on the IQM Award? Click here to request your free IQM information pack