Alperton Community School, Wembley in Middlesex, achieves Flagship School status again.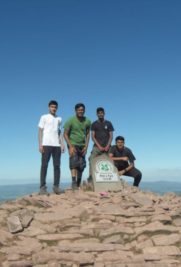 Context
I met with the Assistant Head Inclusion Lead at the start of my virtual visit and she gave me a background to the context of the school. The school is now a 12-form entry and has more than 1800 students on roll. The population is multi-lingual and multi-cultural and there are more boys than girls. 14% of students receive Free School Meals and 25% are Pupil Premium funded. There are 4 Looked After Children and 242 students on the SEN register. 1561 students are classed as EAL although the vast majority are fluent in English with only a small number arriving with little or no English and no previous schooling. There is a prominent level of deprivation in the area and the school makes provision for the effects of poverty. The school is popular and is oversubscribed and children come from several different London Boroughs.
Covid Challenges Met
The current Headteacher has been in post since 2013 and we talked about the school experience over the last year and the way the school had come through (and are still going through) the Covid 19 pandemic. He described it as a "rollercoaster" of a year and that there has been a big emotional impact on staff and children (and families). However, everybody came together to make sure the needs of all students were met. Students and staff were delighted to get back to school in March and settled well despite many Covid restrictions. He told me that issues are bubbling up now and they are picking things up now that they have never seen before in terms of student's behavior and their mental health. The school became very aware of their parenting role during this time as many children had few routines and boundaries during the extended period at home and this interfered with their work output and their difficulties in settling down to the normal routine of school. The head explained that they are not a 'soft touchy feely' sort of school and students are expected to follow rules and behave well. During lockdown there have been issues and a growth in social media abuse (including racist, homophobic, sexist abuse and harmful gossip). The school has responded to this with great determination to deal with the perpetrators through the normal sanctions but also through a restorative approach and through education. Now students are back in school this process in on-going and infiltrates the curriculum and the whole school ethos.
Support for Wellbeing
Mental Health and wellbeing are of students and staff are central to the school ethos and this is well resourced with a team of psychotherapists (some in training) are based in the school and can provide individual support for students. Staff can access the Employee Assistance programme if they need additional support with their mental health. During the pandemic, the School Leadership worked with the Human Resources Team to reach out to those members of staff who were deemed to be vulnerable. Some people are still struggling but are well supported both formally and informally through their department heads and teams.
Pupil Returns as Teacher
My next meeting was with the More Able Lead who is also a teacher in the Maths department. Interestingly, he was a pupil at the school and started there as an NQT. His commitment to the school is obvious. He told me his role was created because the school had identified that more able students were not making the progress they should, and many strategies were put in place to reverse this situation. The gap between GCSE and A level is very high and there is academic tutoring and coaching in place for sixth form students.
Engaging With and Supporting Pupils
There is a two-pronged approach regarding more able students: 1) looking at what teachers are doing in the classroom and 2) what is happening outside the classroom and how to identify and intervene to overcome those barriers. Professional development sessions were set up and this included finding out who those students were and identifying different teaching and learning approaches. The first of these was an emphasis on Quality First Teaching as the cornerstone of classroom practice. The Teaching and Learning Communities allowed staff to gather and share information with each other and to allow reflection and discussion around specific research. The school adopted the Tom Sherrington's Teaching Walkthrus – Five Step Guide to Instructional Coaching. This promoted a discussion with teachers across the departments and gave them opportunities to talk about different strategies. Paramount to all the strategies is the importance of getting to know the students very well. Students are not told they are identified as more able as labelling them is not thought to be helpful.
Data Driven Provision
The school does have a setting policy and students are set Maths, Science and English and other subjects. However, the Covid pandemic and class bubbles have not allowed this to happen in the way it would normally, and many are now being taught in mixed ability classes. I asked if the school had looked closely at the difference the setting mixed ability has made. This year it has provided relevant data that could be researched by the Learning Communities to help decide whether the school returns to the practice of setting or to do something different. This would be a very useful piece of research that could potentially have an influence on the way students are taught in the future.
Staff Committed to Continuous Professional Development
Further discussion around teaching and learning were held with the Assistant Head who is the Teaching and Learning Lead, which includes Professional Development provision. He works with the Deputy Head and other colleagues including the More Able and the Pupil Premium Champions. I was told that the approach is not top down and the voices of the teaching profession are heard. Professional development is carefully planned and targeted and ensures the teachers have a choice and a say in their own professional development. It is rare for Professional Development to take place in the hall with input from the front (as is common in many schools). Instead, the sessions require far more participation from staff. The Assistant Head told me that his aim was to get teachers to be comfortable talking about teaching and he introduced Teaching & Learning Communities to facilitate this process. These communities are discussion based and are peer led. They involve research and reflection and cover a range of topics. The biggest revelation is that there is no one right way to teach. We all do it differently and therefore it is so important to get everybody talking. They made sure that senior leaders were not leading the groups, equity is important, and all members of the community were equal. There were around six or seven of these TLCs over the year and they were then asked to present what they had researched and what their conclusions were.
Dynamic Curriculum
Teachers, especially NQTs, are given clear guidelines in terms of planning and teaching but I was told it was not mandatory to follow the exact lesson-planning template. Teachers are allowed a certain amount of autonomy and there are no ridged rules or frameworks. The Assistant Head told me "We are still learning about teaching" which is an indicator of the approach taken by the school. The recognition that teachers need to develop a passion for teaching and remain learners themselves is important. They are given time and opportunity for discussion during department meetings and their Learning Communities where they can exchange ideas and work alongside teachers in other departments. This is a very positive way forward as good quality teaching is key to good quality learning and progress. We talked about the way teachers are given the opportunity to see each other teach and ways that this might be extended and developed to allow them to learn from each other. We also talked about how the school can involve students in informing the teaching process. Student voices need to be used in helping to further develop pedagogy and curriculum. I was told that these aspects are currently being explored.
Safe and Nurturing Environment
I met the Deputy Head who is the DSL and has overall responsibility for safeguarding throughout the school. He leads a large safeguarding team – there are twenty-one safeguarding officers, who can share the load and support students. A trained School Nurse is the deputy DSL, and she manages many of the cases and much of the administration. However, several other senior staff and pastoral leads are DSL trained and between them they decide who is the best person to manage different cases. Everything is recorded on CPOMS, and the DSL and the Deputy receives alerts when new information is added, and they decide on next steps and decide who (on the team) is the best person to talk to the student concerned. They also decide if the case meets the threshold to refer on to the MASH team. Most importantly, the safeguarding team are advised to be persistent in their approach to safeguarding.
Pupils Voices Heard
The philosophy is that the school is a listening school and that means that if something is said once, it is heard. All concerns are followed up and all are taken seriously. The support available by statutory services are complicated by the fact that the school receives students from many different London Boroughs and so the services vary. Formal supervision is provided for the safeguarding team, but it is down to the individual if they accept the offer of supervision. There is a designated safeguarding governor plus another who is learning the role and may take over in the future. They are knowledgeable and supportive and (in normal times) come into school to meet with the DSL and Deputy and check on various aspects of the safeguarding process including the Central Record.
Returning to School Post Lockdown
There has been a rise in the number of safeguarding incidents and subsequent referrals since March 8th when all the children returned to school. This was not unexpected, but the numbers of students involved is higher than originally considered. The next steps, in terms of safeguarding, is a very thorough safeguarding review where they will concentrate on gathering the voice of the child. The most recent survey amongst students indicated they felt safe at school they highlighted particular issues that needed to be addressed. One of these was about name-calling and the attitude of boys towards girls. I was told that after half term the school will produce a whole school development plan build around the latest Ofsted "Everyone's Invited" report, which is due out very soon.
Welcoming Environment for New Pupils
The teaching of English as a second language is a real strength of Alperton Community School and I was pleased to meet with the EAL Teaching & Learning Lead. She told me that most students are fluent in English and in their own language, but they are unable to write in their native language. There are an increasing number of children arriving at the school who are new to the country and who have little or no English. Some have never been to school, and many are suffering trauma. There have been five new arrivals since January. She told me she prepares their profiles and makes sure teachers have access to these. There is a two-week induction period where they learn basic phrases and learn about the basic structures of the school. Some of these students are very vulnerable and she tries to get to know the parents and families. More able students across the school are targeted for additional support to ensure they achieve their very best. This is also true of EAL students who are identified as MA and are supported by teaching them the academic language they need to access their subject learning. She also trains teachers to teach and use academic language and vocabulary. Subsequently, teachers model good practice.
Targeted and Appropriate Support
Next, I met with the Pupil Premium Progress Officer who, although not a teacher, she operates rather like a learning mentor, and she does teach life skills to some students. There are 250 on the Pupil Premium list and she supports them in a variety of ways and have student progress meetings. The data decides how children are selected for intervention but the senior team or any member of staff can flag concerns and they will be picked up and their specific issues will be addressed. The role of the Pupil Premium Officer is different from the role of Pastoral Leaders in that her focus is academic rather than pastoral. She meets all the Year 7 Pupil Premium students individually during transition meetings and then does follow up sessions with them as they progress through the year. She emails teachers if anything specific comes to light and strategies are put in place to support them. Teachers are very responsive and positive and are keen to share practice and ideas and strategies. Data is collected regularly and is scrutinised carefully, and this will often flag up particular children who are causing concern. There is a still a gap between advantaged and disadvantaged students, but this is narrowing. The biggest gap is noticed in Year 7 when they first come to the school but decreases as they get older due to the many interventions in place. Additional catch-up and interventions are provided during the Easter and Summer holidays. There is a Homework Club and a Book Club to help with literacy.
Find out more about the IQM Inclusive School Award
If your school is interested in obtaining the IQM Inclusive School Award or you wish to talk to a member of the IQM team please telephone:
028 7127 7857 (9.00 am to 5.00 pm)

or email: info@iqmaward.com for further details.
Want more information on the IQM Award? Click here to request your free IQM information pack