St Michael's Community College in Crewe, Cheshire achieves the Inclusive School Award with Centre of Excellence status.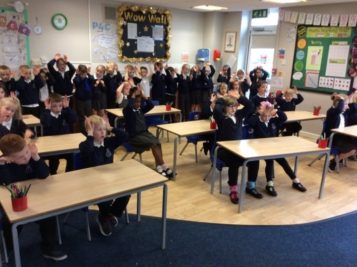 Context
St. Michael's Community Academy in Crewe is a larger than average, two-form entry primary academy with a nursery provision. There are currently 438 pupils on roll ranging from aged 2-11 years. St. Michael's Community Academy became a sponsored academy, within the St. Bart's Academy Trust, in 2013. It serves a community which faces considerable social and economic challenges, with an index of multiple deprivation score of five (out of a total score of 52, with one being the most deprived wards). 35% of pupils are in receipt of Free School Meals, double the average number nationally and significantly above the Cheshire East Primary Schools' average of 11%. 17% of pupils speak English as an Additional Language (EAL), slightly below the national average. The Academy serves a high number of vulnerable families with 51% of children classed by the Senior Leaders as vulnerable. These are children who have identified as living with domestic violence, neglect, emotional neglect, threat of physical abuse, poor attendance, lack of parental engagement, involvement with external services, serious medical conditions or are EAL children. 15% of pupils currently on roll are receiving support from Children's Social Care.
Warm and Welcoming Academy
In October 2019, the overall effectiveness of St. Michael's Community Academy was judged as 'requiring improvement' by Ofsted, however leadership and management, behaviour and attitudes and personal development were all judged to be 'good' with the Early Years Provision judged 'outstanding'. Ofsted noted that St. Michael's Community Academy is a "warm, welcoming academy where pupils feel well looked after and safe" and that staff "have pupils' best interests at heart." The Ofsted report also recognises that "Leaders know what improvements need to be made" and "have brought about major improvements in pupils' behaviour and attendance" and are "making a positive difference to pupils' outcomes." The limiting factor in 2019 was the Key Stage 2 data which was significantly below national average, with only 36% of pupils meeting the expected standard in reading, writing and maths. The Headteacher acknowledges that pupils' attainment in 2018 and 2019 was unsatisfactory however academy wide improvements had already been put into place to ensure this is never repeated.
Overcoming Challenges of COVID
Since the last Ofsted inspection, leaders have implemented systematic changes to the curriculum to accelerate progress including the introduction of the Literacy Company's 'Pathways to Read' and 'Pathways to Write' programmes alongside regular standardised 'Progress and Understanding in Mathematics Assessments' (PUMA) and 'Progress in Reading Assessments' (PiRA). The impact of these initiatives has been hindered due to the disruption to learning caused by the COVID-19 pandemic however Senior Leaders have noted improvements in pupils' progress in the times when they have been attending the academy for longer periods of time. Although there were no external assessments in the last academic year or this summer, the Senior Leadership Team are confident, based on in-academy tracking and monitoring data, which is verified by the Trust, that their 2020 and 2021 cohorts have made progress, which is at least in line with national averages.
Courtesy, Consideration and Respect
The complex challenges of the Academy's demographic influence the Academy's priority areas and drive their unwavering ambition for an inclusive education which seeks to
"Prepare each child to face life beyond the academy with confidence."
Their core values "Courtesy, Consideration and Respect" shape the ethos and culture for behaviour. Staff and pupils role model these values which creates a harmonious, welcoming environment. The friendly atmosphere is continually commented upon by staff, pupils, parents, and external visitors. The Headteacher summarises the Academy's vision for inclusion as:
"Every child, no matter what background, is welcome at the Academy."
and staff:
"Do everything they can do to make the pupils the best they can be, ensuring every child gets everything they need."
They have a passionate commitment to:
"Make a difference to every child and look after their families."
Dedicated and Proactive
The Academy has a deep-rooted dedication to inclusion which is evidenced through the substantial proportion of the Academy's budget which is spent to increase the capacity of the wider Inclusion Team through the employment of a team of non-teaching specialist staff. The Assistant Headteacher who leads behaviour, wellbeing and personal development is also the Academy's SENDCo. She does not have a teaching commitment, freeing her up to fulfil her role effectively and focus her efforts on driving up standards across all inclusion areas. She benefits from the support of two Assistant SENDCos, resulting in a secure approach to ensuring that all pupils, who have additional learning needs, have detailed provision plans in place which are regularly monitored. The SEND team is proactive in engaging external agencies to access diagnoses and targeted treatment for specific children, and they work closely with parents to support them through the process. The Senior Family Support Worker is a qualified Community Nurse with established links in the community. Her role is an asset to the Inclusion Team as she can deliver a comprehensive package of support for health, safeguarding and wellbeing. Her role is also instrumental in forging positive relationships between the Academy and home.
Commitment to Providing 'Holistic' Education
St. Michael's Community Academy has a collective responsibility for pupils' wellbeing. They have a pragmatic approach and investigate reasons behind pupils' behaviour and emotional responses. There is regular contact with home, meetings with parents, home visits, and established community links to signpost families to support if needed. The Chair of Governors describes the Academy's philosophy as:
"Not what we say but it is what we live."
They surpass expectations to nurture and guide their pupils and families. The appointment of a fulltime Forest School Leader and two Enrichment Coordinators demonstrates further evidence of the Leaders' commitment to providing a holistic education. On the Academy's website, the Forest School Leader explains that this provision:
"Offers all learners regular opportunities to achieve and develop confidence and self-esteem through hands-on learning experiences in a woodland or natural environment."
The Enrichment Coordinators plan an exceptional extracurricular package, which enhances the educational experience of all children, with an additional strategic focus of including pupils with SEND and Social, Emotional and Mental Health (SEMH) needs in all sporting and enrichment activities, allowing everyone to feel successful and flourish.
Find out more about the IQM Inclusive School Award
If your school is interested in obtaining the IQM Inclusive School Award or you wish to talk to a member of the IQM team please telephone:
028 7127 7857 (9.00 am to 5.00 pm)

or email: info@iqmaward.com for further details.
Want more information on the IQM Award? Click here to request your free IQM information pack