St George's Infants, Colchester achieves the Inclusive School Award for the fourth time.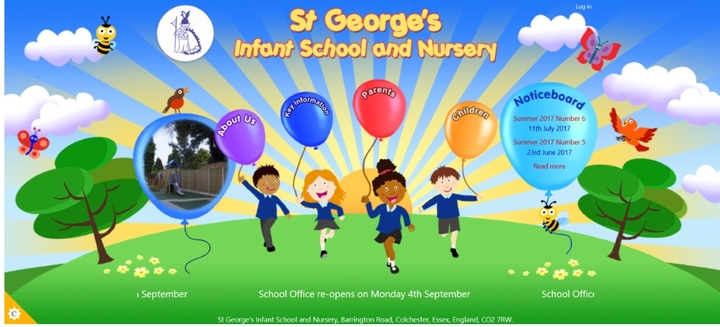 A Learning Environment That is Inclusive
St George's Infant School and Nursery is a sound example of a supportive and inclusive learning environment. Children enjoy school and are friendly, well-mannered and supportive of each other. There is a clear commitment, throughout the school, to making a difference for every child.
Calm and Purposeful
The learning environment is calm and purposeful and has been carefully redesigned with inclusion in mind. This is evident from the neutral colour scheme and uncluttered learning areas designed to support all pupils in their engagement along with the addition of wheelchair friendly paved outdoor areas and raised planting beds to support specific students. The school prides itself in making reasonable adjustments which can benefit the majority and recognises that good practice for one is, more often than not, good practice for all.
Analysis and Evaluation of Data
Skilful analysis and evaluation of data is a strength for the school, with the leadership team, teachers and governors involved in discussions to drill down for cohorts, groups and individuals. All involved are aware of current areas for development for the school and have had a part in decisions made in order to address these. Despite facing several challenges, working in this way, the school is a supportive environment with common aims and understanding.
Parents Hold the School in High Regard
It is not surprising that parents hold the school in high regard, with one parent describing the school as a family and another saying he would champion the school which he feels goes above and beyond on a daily basis. Parents appreciate the open-door policy and the easy access they have to the headteacher and the leadership team. Communication with parents is effective and parents feel they have ample opportunities to be involved in their children's learning. Many cited the recent Spring Exhibition as an excellent example of this.
Celebrating Success
There is a strong emphasis on the celebration of success. This is reflected in the recent changes to the behaviour policy with children highly motivated by 'Field Friday' which they earn by collecting Dojo points. Celebrations focus on learning and attitude in school along with achievements outside of school and are personalised to meet the needs of individuals. Good attendance and punctuality are also celebrated as part of the weekly open assemblies with parents. As a result, attendance is 96%, which is above the school target and national averages.
CPD is Carefully Planned
CPD is planned carefully to meet the needs of the school and there is an impressive engagement with a range of professionals in the best interests of improving outcomes for students. Weekly visits from colleagues at Market Field, the local special school, have led to the development of a comprehensive training programme for the support staff which is already having a measurable impact for students. Led by the passion and drive of the Headteacher, the school is well placed to listen to, and make best use of, advice offered through peer reviews and advisory teacher visits.
Developing Therapeutic Approaches
The creation of a Rainbow Nurture Room two years ago, has enabled the school to develop its therapeutic approaches. The Nurture Lead provides extensive support for identified students and their teachers. In addition, the Headteacher tours the school each day, checking in with vulnerable students and reminding them of strategies for a successful day.
The Governing Body Knows the School Well
The Governing Body are established and know the school well. They make use of focused school visits based on a comprehensive monitoring schedule. They are knowledgeable and challenging, citing several examples of times when they have acted as critical friends to the leadership including the discussion of previous discrepancies in data between classes.
Find out more about the IQM Inclusive School Award
If your school is interested in obtaining the IQM Inclusive School Award or you wish to talk to a member of the IQM team please telephone:
028 7127 7857 (9.00 am to 5.00 pm)
or email: info@inclusionmark.co.uk for further details.
Want more information on the IQM Award? Click here to request your free IQM information pack.