Rayner Stephens High School has achieved the Inclusive School Award with Flagship status.

Friendly, Vibrant and Developing Community
Rayner Stephens High School is a highly inclusive, secondary school in Tameside.  They are part of the Stamford Park Trust led by Ashton Sixth Form College.  Those involved with the Trust have a shared belief that the young people of Tameside should have access to the best education provision so that the students in their care are able to realise their ambitions for their future and their life chances are improved by embedding outstanding practice.  Under dynamic new leadership it is encouraging to see that there has been no loss of momentum since the last IQM Review in fact the pace of change has increased, and they are clearly a school on the move.  The vision and values that have recently been revisited and demonstrate the highly inclusive ethos evident across the school are now embedded in everyday practice.  They are moving forward determined to provide outstanding educational and pastoral opportunities for all involved.  They are an outstanding inclusive school.  It is a friendly, vibrant, and developing community with a happy, family-orientated approach.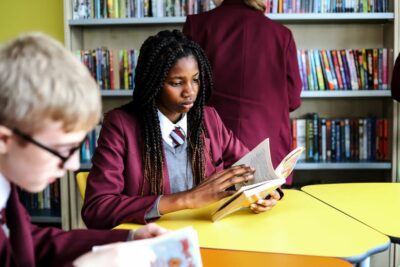 The review demonstrated that all staff are actively involved in enacting the school's inclusive vision.  Interventions and strategies are put in place to ensure successful outcomes and said interventions are continually assessed and evolve to meet the changing needs of students, staff and external partners clearly know the students, families very well.  Often going above and beyond what is expected to make a difference as part of the school's relentless drive for all to achieve.  What was also clear is that staff at all levels make time to ensure they support each other's wellbeing and work together very well.  There is a naturally caring, supportive environment at Rayner Stephens that ensures every student receives the best possible educational experience and care delivered by highly motivated, inclusive, and dedicated staff.
Best Possible Experience for Students
Discussions with key members of staff and external partners during the review was extremely useful in confirming that the school continues to successfully address all elements of the IQM award, supported by documentary evidence both prior to and during the review to enhance and underpin discussions and built on the evidence of previous reviews.  Staff actively and enthusiastically engage in discussions, talking about inclusion at the school, how things were improving at a fast pace, review the schools COE Action Plan clearly relating the successes and next steps.  There was also an in-depth discussion about the Flagship project for 2023–2024.  It was clear that staff see their roles as a vocation not as a job, they are passionate about making positive differences to students and their families.  The evidence from these discussions and meetings highlighted the fact that everyone involved with Rayner Stephens is highly invested in providing the best possible experience for students and this has an enormously positive effect on both themselves and their students and is something they are and should continue to be proud of.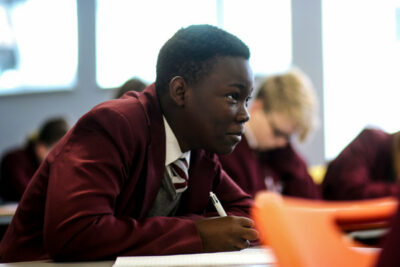 It was a pleasure to engage in discussions with staff, students, and external partners as part of the review process and to hear their differing but supportive opinions of the school and their involvement.  There is a strong belief that the school is improving at a fast pace and is an outstandingly inclusive place and that it will continue to evolve and change to meet the need of its community, rising to meet whatever challenges occur in the future.  It will be of great interest to see how the school has moved forward at the next review and it will be a pleasure to re-engage with these extremely passionate, articulate, and inclusive members of the school community.  During the review there were a number of opportunities to discuss elements of inclusion with a variety of stakeholders and to visit areas of the school and see the changes since my last visit.  These included the following:
A detailed and enlightening meeting with the Headteacher to discuss the school's journey since the last review and the context of improvements and the fast pace of change.  Including the extremely inclusive approach whereby the school are part of The National Breakfast Scheme but have broadened their approach to offer free breakfasts prior to school starting to every student and the same at break time, breaking down barriers and providing for all.  This also includes Family Dining at lunchtime for years 7-9 where all students sit at a table with their peers, and all have roles in terms of putting meals on tables or clearing up etc.  Staff have found that it encourages socialisation opportunities to students, and they are then allowed outside for the last half of their lunch.  It will be expanded up the school over the next few years.  Our Assessor had the opportunity to visit the dining hall to see it in action and it was a calm and ordered place with students undertaking their roles and chatting while eating their lunch.  We also discussed the schools work with feeder primary schools that will continue to be a focus of improvement and engagement.
Fantastic Programme
An opportunity to visit a Reading Intervention with a focus on the schools Fluency Comprehension Programme for students in Years 7 – 9 who need the support in the school dining area overseen by the schools Literacy Co-ordinator and supported by a team of five City Year UK (charity) volunteers/mentors who worked with a small group of identified students.
It was impressive to see the mentors working with 2/3 students and to see the students positively engage with the mentors in reading in front of their group.  It is a fantastic programme devised by the Literacy Co-ordinator and developed in conjunction with educational researchers at UCL and HFL Education.  It is something that along with City Year UK that should be given a wider audience in schools.  It will be interesting to see how the programme has developed at the next review.
Later in the day our Assessor was able to have a further detailed discussion with the whole-school Literacy Co-ordinator about the superb whole-school literacy programme that he has put in place and enacted.  It is a very comprehensive and well thought out package that supports the school's students and is worthy of a wider audience.  Our Assessor explained they were impressed by the scope and breadth of the programme and said the school should be very proud of their approach.
After the Fluency Reading Intervention, our Assessor was able to meet with the City Year UK volunteers to talk about the programme they are involved in and their roles in supporting students in the school.  City Year UK is an education charity dedicated to empowering young adults (18-25 years) to support pupils furthest from opportunity to succeed in school.  Where young people are given a year to tackle educational inequality in schools to effect a change and have the opportunity to coach and inspire students to succeed and themselves gain skills to learn to lead and find out who they want to become.  As the schools Impact Officer stated, 'The programme is a dual reward; our school's benefit from having a team of near peer volunteer mentors working with groups of students but also the mentors themselves benefit hugely in terms of their own leadership and development' https://www.cityyear.org.uk.
Fabulous Accolade
The volunteers work in Rayner Stephens for 4 days and the final day is spent with City Year UK developing leadership skills.  While in the school the young mentors work with students each morning as part of the Fluency Intervention supporting the improvement of reading and literacy skills and then work with their own identified group of 10 students in specific lessons and in 1:1 support sessions and support after school clubs.  The young volunteers spoken to along with the Team Leader and School Impact Officer were extremely supportive of the programme and of their involvement in the school.  They all felt that they had been welcomed into the school and accepted as part of the team by the staff and the students.  They felt that Rayner Stephens is an extremely supportive and inclusive school.  A fabulous accolade and a fantastic programme that would benefit other schools.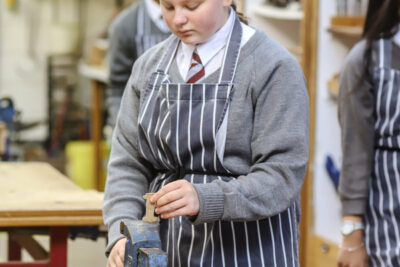 Whilst on a tour/learning walk of the school our Assessor had the opportunity to see teaching and learning in action and to talk to students and staff.  It is very clear to see that the school has worked hard to ensure classrooms and corridors are calm spaces and that everyone is engaged in lessons.
Polite and Respectful
Students when spoken to in classrooms and on corridors were polite and responded appropriately when spoken to by staff.  It was clear that there are good relationships between staff and students, they are a credit to themselves and the school.  Our Assessor had the opportunity to look at the newly refurbished library that will enable more students to access books and computers and spend time in a quiet and reflective space.  They also had the chance to see the newly refurbished science labs and the space where further building works are planned to give the school a new performing arts annexe and to continue to enhance the provision for students.
A conversation with a member of staff temporarily seconded to the Senior Leadership Team (SLT) with responsibility for Student Leadership was enlightening and gave an insight into the school's inclusive approach in this regard with plans to continue to strengthen student leadership roles, student voice and the move to a House System next year.  Later during the review, our Assessor was also able to meet a number of students involved in leadership as Anti Bullying Ambassadors.  It was quickly apparent that they are determined to make a difference in the school and feel they have a wide remit to facilitate change to continue to improve students' lives at Rayner Stephens.  A discussion followed and a number of suggestions were made that demonstrated their maturity and the breadth of their thinking and focus.  They were articulate and clearly felt enabled to speak their mind in a supportive setting.  They are a credit to themselves and the school.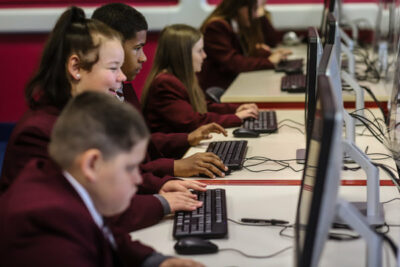 Our Assessor met with the newly appointed SENDCo and the Assistant SENDCo to discuss their roles across the school and it was clear that they are outward facing and want to ensure that all students are able to achieve success no matter their starting points and differences.  They are keen to continue to work with all staff and departments across the school.
Part of the meeting included a visit to the Hive. It has evolved from the old Aspire Centre and relocated creating two designated intervention spaces.  Where interventions such as Hive red packages, led by trained staff can take place and smaller group interventions, such as "Think Good Feel Good" were observed in action are provided within the Hive setting.  Academic interventions have use of an allocated classroom space allowing them to become more formalised.  The spaces are now extremely effective for students across the school.  What was clear from the conversation with students in the Hive was that they are well looked after and there is a clear understanding that inclusion means all students, no matter what the barriers to learning are, no one is left out or left behind.  There is also an understanding that inclusion is about staff as well as students and all need to be included if they are to support them appropriately.
Staff are Extremely Proud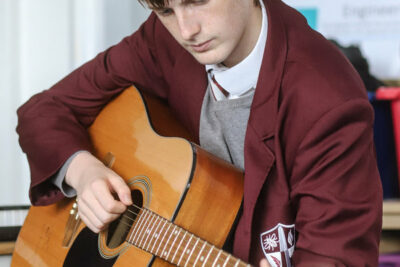 Our Assessor also met with a number of staff with different roles in the school to look at inclusion in terms of how they support students but also how they are supported by their peers and how they support each other.  It was very clear from these staff members that staff wellbeing is a priority and that they all feel supported and love coming to work.
There is a good evolving staff wellbeing committee and a process that supports them and enables them to effectively support their students as part of the 'Rayner Stephens High School family'.  What became apparent as the review unfolded was the passion and enthusiasm that everyone brings to their roles in such a professional and yet warm manner.  There is a pride in what they continue to achieve in identifying needs and providing appropriate support given the challenges that staff, students and families have faced.  The conversations with staff reinforced our Assessor's belief that Rayner Stephens continues to be an outstanding school in terms of inclusion, ingrained in its ethos and this is enacted each and every day.  Staff are extremely proud of what their colleagues and students achieve on a daily basis and talked with pride and passion about their roles and the opportunities they offered in terms of teaching, learning, nurture, and support.
Students spoken with in meetings and around the school were mature and articulate.  They gave their views freely without fear of censure and were empowered to by the positive ethos of the school to share their views.  This is the true measure of the respect and partnership that has evolved at the school.  Everyone involved should be proud of this and be extremely proud of what they continue to achieve, with the emphasis placed on ensuring everyone is nurtured and included and no one is left out or behind.
Find out more about the IQM Inclusive School Award
If your school is interested in obtaining the IQM Inclusive School Award or you wish to talk to a member of the IQM team please telephone:
028 7127 7857 (9.00 am to 5.00 pm)
or email: info@iqmaward.com for further details.
Want more information on the IQM Award? Click here to request your free IQM information pack.