Outwood Academy Portland, Worksop in Nottinghamshire, part of the Outwood Grange Academies Trust, achieves the Inclusive School Award.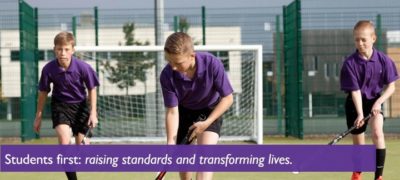 Outwood Grange Academy Trust
Outwood Academy Portland is a large, over-subscribed secondary school of choice in Worksop with around 1500 students on roll. It joined Outwood Grange Academies Trust (OGAT) in 2012. Outwood Grange Academies Trust is an education charity and not-for-profit sponsor of primary, junior, and secondary academies with over 30 academies across the North of England. The Trust has an unwavering commitment to the inclusion agenda. Through its core values it promises to "transform children's life-chances" and "put students first." These overarching values underpin the high expectations for all and the sharp focus they place on academic achievement. Students make excellent academic progress at Outwood Academy Portland. The 2019 Performance Tables show that the number of students who attained a grade 4 or above in English and maths was well above the national average, with 83% achieving this key measure. The number of students who achieved a Grade 5 or above in this measure was also above the national average, at 59%.
High, but Achievable Expectations
Outwood Academy Portland is a school where high standards and expectations are insisted upon. These high standards determine all policies, everyday behaviours and routines. High expectations are never diluted. If a young person requires help to meet the expectations, staff endeavour to tailor appropriate support to suit individual students' needs. Within the robust Academy structures there are bespoke interventions and initiatives which are designed specifically for Outwood Academy Portland's student demographic. The Principal has autonomy to make changes to approaches which best suit the needs of their students. The staff are constantly evaluating the effectiveness of their practice to continuously improve and enhance. It is clear that they all want the best for the young people they work with.
New Principal
The current Principal was appointed in January 2020, just before the start of the Covid-19 pandemic. He began his teaching career at Outwood Academy Portland, successfully progressing to his current role. As such, he is fully aligned with the OGAT ethos, values, and systems. During the review process, he was candid in his evaluation of current provision, highlighting the areas for development which have emerged since the disruption caused by the pandemic.
Resetting Mindsets after Lockdown
When returning from periods of lockdown last academic year, teachers noted that the students were not as engaged in their learning. The Principal talks about a lack of a sense of togetherness and respect which was evident. His goal is to reset the students' mindset and get them back on track with their attitudes towards learning. To enhance the students' overall educational experience, Leaders wish to drive "a sense of belonging and encourage students and staff to pull together, as a team, to equip them with the skills and qualities they deserve to enable them to be successful in life." Fortunately, the standards of attainment remain high and the trajectory of results at Key Stage 4 continues to rise year on year. Interestingly, when reflecting on the 2021 outcomes data, in particular the cohort of students who had been in receipt of multiple fixed term exclusions, the students made good progress.
Focus on Emotional Well-Being
Like all schools nationally, mental health and wellbeing has been brought to the forefront of school priorities by the pandemic. The Principal and Governors acknowledge the importance of supporting staff and students' wellbeing. This prioritising of wellbeing is evidenced through the various leadership roles in this area. Staff feel well-supported and listened to by the Principal who, they say, they can approach about anything. He
"always has an 'open door' and will give you his time."
They describe him as
"really motivational, passionate about school and really driven".
Find out more about the IQM Inclusive School Award
If your school is interested in obtaining the IQM Inclusive School Award or you wish to talk to a member of the IQM team please telephone:
028 7127 7857 (9.00 am to 5.00 pm)
or email: info@iqmaward.com for further details.
Want more information on the IQM Award? Click here to request your free IQM information pack