Norbridge Academy in Nottinghamshire Achieves the Inclusive School Award with Centre of Excellence status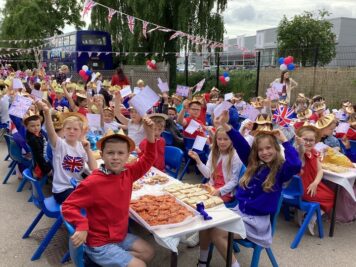 Pupils Have Great Pride
Norbridge Academy is a larger than average Primary School for pupils from 3 to 11. It is a 2-form entry school with 465 pupils on roll (including a 52-place nursery) that is popular within the community. The environment in school is fully accessible to all pupils. The building is all on one level and pupils are able to access all areas regardless of any physical disability. The school has a number of wonderful facilities to enhance every pupils' experience at primary school. The Library, redesigned and decorated over the summer holidays provides an inviting and engaging space for children to develop a love of reading. Inside there is also a 'calm room' and a children's kitchen. Classrooms and displays support learning well. Outside the school has a range of facilities; A converted bus for reading and music, a sports MUGA, a large field with an outdoor reading/learning area, Memorial and Staff Gardens, Beehives and an outside stage. Pupils take great pride in their environment and are responsible for looking after the Memorial Garden developed in memory of a pupil who passed away whilst in KS1.
The Academy's Mission Statement
The Academy prides itself on having inclusion at the heart of everything it does. The Academy's mission statement: 'Be the Best You Can Be' is well embedded and permeates all aspects of the school. It is well understood by pupils, staff, parents and governors and is central to daily life in the school. Norbridge Academy has 4 broad aims which are central to developing and nurturing all members of the school community:
• Developing individual talents
• Nurturing respect for self and others
• Provision of enriched learning opportunities for all
• Being a school for the future
Expectations Are Clear
Expectations of pupils and staff are clear and the Academy's behaviour policy supports all members of the school community to live and work together in a mutually beneficial way and aims to promote an environment in which everyone feels happy, safe and secure. All staff treat pupils as individuals and clearly articulate the importance of managing pupils according to their particular needs, identifying how to enable children with particular needs to access and succeed in school. A focus on identifying and managing children's anxieties is clearly evident enabling pupils with SEMH needs, ASD and anxiety to be managed highly effectively. Individual behaviour in class and around the school is exemplary.
Staff Lead By Example
There is a holistic and collegiate approach to policy development across the Academy and staff show effective collaborative working practices. Staff lead by example, acting as role models, fully engaging with the Academy's inclusion agenda with the Norbridge Code applying equally to staff and pupils. Leadership and Management of inclusion through the coordinator roles and responsibilities enables a clear analysis of need, leading to strategic action plans and successful outcomes. Staff at all levels take responsibility for individual needs of learners and class teachers to ensure that all planning is clearly differentiated. Class teachers monitor pupil progress closely and discuss individual needs with key staff and parents ensuring appropriate support and intervention is always provided.
The Academy Is 'One Big Family'
Staff and leaders talk with passion and great commitment about the importance placed on treating every child as an individual, understanding their own personal situations and being adaptable and flexible at all times to meet those needs. Parents also speak highly about the strong ethos of the Academy as one 'big family'. Norbridge Academy ensures that all children have their learning, efforts and achievements recognised and rewarded through a comprehensive rewards system including House Points, Special Mentions, and Reading Celebrations. Leaders' have passion and a sense of purpose and the pupils engage in and enjoy their learning at Norbridge Academy. Norbridge Academy is greatly welcome to join the IQM Family of schools.
Find out more about the IQM Inclusive School Award
If your school is interested in obtaining the IQM Inclusive School Award or you wish to talk to a member of the IQM team please telephone:
028 7127 7857 (9.00 am to 5.00 pm)
or email: info@iqmaward.com for further details.
Want more information on the IQM Award?