Kingsley High in Harrow achieves this award for the third time.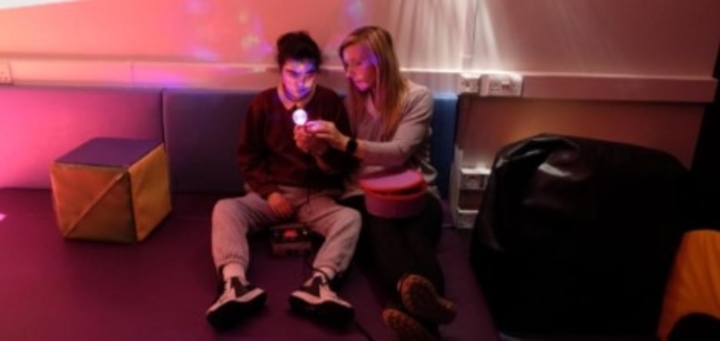 An Outstanding Special School
Kingsley is an outstanding special school for 90 pupils who have a range of severe and complex learning difficulties. The staff are passionate about meeting the needs of their pupils and are always striving to find ways of achieving this through adapting and differentiating every step that is taken until pupils are secure and confident in what they are doing. There is a culture of research that underpins their practice. An example of this is the introduction of the new Impacts curriculum where the Assistant Head did a thorough research project with Rosewood School to ensure its suitability. The new curriculum has five skill areas and is focused on early development. Curriculum themes have been developed in a three-year rolling programme which have been developed by staff and will be reviewed to evaluate their success. The current themes for the second half of the summer term are; Activate for KS3, Healthy Heart Healthy Mind for KS4 and Mind Body and Soul for Post 16. The themes are differentiated to the needs of the pupils and there was evidence that pupils were really enjoying this approach.
Committed to Benchmarking
The school is committed to benchmarking with similar schools to verify their standards through joint moderation with Watling View, Woodlands, Linden Lodge and Jack Tizzard. The school is also part of the Brent, Harrow and Hertfordshire assessment group facilitated by School Improvement Specialist, Jan Martin. This group of schools has developed an assessment continuum and a set of 'I can' statements for English, Maths and Science bridging the gap between P levels and the National Curriculum of which Kingsley has played a part. The school is committed to this joint practice development that has secured confidence and enabled the school to move forward. A new assessment format is currently being trialled. The school takes the approach of evaluating their work very seriously involving the whole staff to ensure everyone is on board with all new initiatives. The new assessment system has been devised through their collaborative work with their feeder primary Woodlands to ensure that there is a system that flows from primary to secondary. Kingsley has also organised a conference on assessment and joint training for Harrow special schools.
Post 16 Pupils
Post 16 pupils have a common room that is appropriate to their needs and age. They have an opportunity to cook their own lunch once a week and run a healthy tuck shop from the common room.
An Appropriate Environment
The more complex post 16 pupils have an appropriate environment that is beautifully calm and spacious, where they can engage in leisure physiotherapy. Post 16 pupils have a broad curriculum with two hours of physical activity a week, transition and college links as well as work experience. Their accreditation is based on ASDAN and EQUALS. A post 16 lesson was observed with pupils experiencing a healthy routine of showering, drying and styling hair within the classroom. Pupils were stimulated and excited and making very positive responses. Post 16 leavers were that evening attending their leaving ceremony at the Civic Centre and being presented with their certificates by the Mayor, a wonderful example of the attention to detail that the school ensures for all pupils.
Working with Parents
Working with parents is strength of the school. The Welfare Officer is very engaged with parents signposting to clinics and workshops, giving out information, advising and being extremely helpful in coordinating approaches. The Family Liaison Adviser organises coffee mornings for families and runs specific workshops based on what families need. Specific groups of parents have been targeted for different themes, for example Tamil speaking families who have needed to understand how services work. The Family Liaison Adviser has researched specific community groups for them to attend and they are most grateful for this additional help. It has made a difference and these families are now more confident in approaching the school. Other workshops are there to reaffirm the work of the school as in visual communication. These workshops have helped parents to understand and encourage them to reinforce the school's strategies. The Family Liaison Adviser has also done much work on transition, making sure all the new families are welcomed into the school community. She feels this work is 'handing on the baton' to ensure continuity and progression.
A Residential Experience is Important
A residential experience is available to pupils each year. The school feels this is an upmost priority to enable pupils to be independent as some parents find it very hard to manage to take pupils away from the family home. This works well for families who feel isolated. The school is seen as a safe place that is not judgemental. The school is also committed to helping parents where there are difficulties such as bereavement and feelings of loss.
Pupils with Autism
The school has worked very hard to ensure that pupils with Autism are developing their skills and are fully included in the curriculum and social activities. There are pupils who find transitions very difficult for example, from the school bus into the school and staff are extremely sensitive to this, giving pupils time, which requires individual support and encouragement. In class, pupil profiles are evident under EHCP headings. Pupils have very specific personal targets. Time in the mornings is dedicated to this and it has made a huge difference to progress as pupils are acquiring skills through daily repetition. Individual therapy is included in the morning sessions of PLP targets and five staff are also RNIB trained.
The Student Council
The Student Council includes a representative from every class. Decisions are made at these meetings by the pupils and this informs what happens in the school including nominations for the staff award and what to do with donations. Speakers are invited to the council meetings and pupils evaluate their work for the year. Council meetings are highly structured and pupils were fully engaged.
Innovative Work with a Local Mainstream School
Innovative work has taken place with a local mainstream school Cedars, involving placement exchanges to gain knowledge and expertise in both settings. This has improved relationships and both schools are now inviting each other to events. SEN development has been offered by Kingsley and a pupil joins a mainstream class once a week for music.
The Importance of Behaviour and Safety
Behaviour and Safety is a strength of the school. Training for physical intervention and de-escalation is well embedded. The ethos is one of a 'shared responsibility'. Staff work together to make sure that all pupils are supported to be safe at all times. The individual behaviour support plans are informed by diagnostic evaluation of patterns of behaviour by the Assistant Head with responsibility for this area.
The Governors' Role is Very Important
Governors take their work very seriously and have committee work plans to ensure that they evaluate and monitor the work of the school. The chairs of the committees then take their evidence to a strategy group where recommendations are made to the full Governing Body. Planned learning walks involving governors take place and governors contribute to self-evaluation of the school and the GB through external review.
Find out more about the IQM Inclusive School Award
If your school is interested in obtaining the IQM Inclusive School Award or you wish to talk to a member of the IQM team please telephone:
028 7127 7857 (9.00 am to 5.00 pm)
or email: info@inclusionmark.co.uk for further details.
Want more information on the IQM Award? Click here to request your free IQM information pack.