Kensington Primary, Newham has been assessed and has achieved the national award for Inclusion.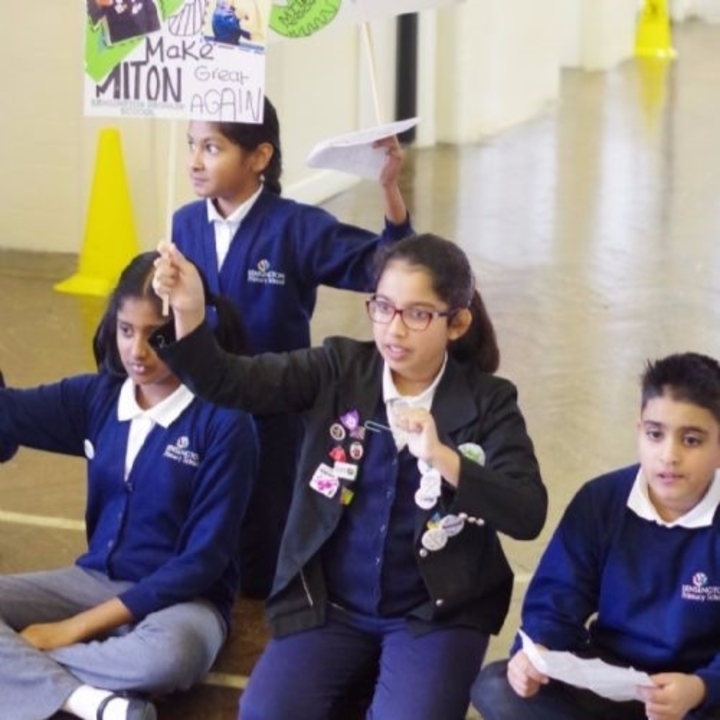 Truly Remarkable Place
Kensington Primary School is a truly remarkable place. The school, a large and old Victorian building, stands proudly in the middle of a long street in East Ham, London. Life in all its guises hustles and bustles around it – families of different shapes, sizes and make-ups mix with a people drawn from a multitude of nationalities and ethnic backgrounds. The school, with a pupil roll of around 575, is larger than the average primary school and is set within a diverse community that largely originates from the Indian sub-continent. There is a significant recent arrival of communities from Eastern Europe including a small but significant Roma community. The school draws from families from social housing that is increasingly rented although many more established families own their home.
Multicultural and Diverse
All of this serves to represent a multicultural and diverse catchment which concentrates as a true and complete unity of happy and engaged pupils and families all coming together as one school community with a common aim: to learn. Or, to phrase it in Kensington terms: to grow futures, leaders, achievement, a desire to exceed and a will to care.
A Visible Presence
The Headteacher is a visible presence, and this is welcomed by parents, pupils and teachers. Nothing is too much trouble or too trivial for the Headteacher, who is seen to prioritise pupil need over paperwork and admin. This too, is true of the SENDCO and indeed of all school staff. Everything about the staff team says, "we are a caring school" and this is recognised readily by Governors and parents.
"We're all in it Together"
During the assessment an "unofficial" strapline for the school emerged. Unprompted, the line "we're all in it together" was given many times over to the assessor in various conversations and interviews with staff, parents, governors and children. That the same language has emerged to articulate a philosophy demonstrates how embedded and understood the ethos of inclusivity is felt by all involved with Kensington.
An Inclusive School
From the moment one arrives at Kensington it is clear that you are entering an inclusive school. From the warm greeting at the main reception desk to the immediate "family feel" that is sensed as you come through the doors, Kensington shouts "WELCOME." It is an outward facing school that embraces visitors, visits and partnerships. As one parent said, "our school is a school for everyone – everyone matters because everyone cares."
There is a wealth of inclusive practice that touches all aspects of the school community – pupils, staff, parents and partners. These examples include – but are by no means limited to – the following:
A Wealth of Inclusive Practice
• Universal praise and appreciation for the Headteacher and SENDCO.
• A strong, cohesive and valued staff team with a good attitude for developing their practice.
• All staff feel valued and this helps continuing professional development moving forwards in the same direction. Staff buy-in to, agree with and understand CPD priorities, especially those that link in to the wider school priorities.
• Parent Gym workshops – once something to "avoid" and now a "badge of honour."
• Well-developed inclusive learning environment.
• Pupil attitudes and levels of engagement and behaviour are extremely high.
• The inclusive feel and ethos that permeates the school – a real "family" feel. The staff know the children and readily share and celebrate their successes.
• Kensington Leads, Kensington Cares, Kensington Achieves, Kensington Futures, Kensington Exceeds. A forward-thinking programme which sits at the heart of the teaching and learning process in the school.
• Visionary, forward thinking leadership based on trust, research, inner-belief and purpose.
Sources of Evidence
The two day assessment involved lesson observation across a range of classes, observation of playtimes, an interview with members of the Governing Body, meetings with a group of parents, support staff and pupils, a learning walk through the school with the SENDCO, and scrutiny of supporting evidence which included a range of inclusion documentation.
Extremely Thorough Audit Document
The Inclusion Quality Mark Co-Ordinator, Helen Harris, has been instrumental in coordinating the IQM self-audit process and must be praised for the professional way in which she has led on this programme throughout the school. The documentation was extremely thorough and articulated the school's inclusion journey accurately, fairly and clearly. Helen had built A LOT into the itinerary which was a clear sign of how much Kensington had of which it was proud! Somehow, we managed to get through everything on the schedule! This was, in no small part, down to the fact that the assessment days were well planned and well managed, a further example, should it have been required, of the diligent and professional approach that Helen brings.
Find out more about the IQM Inclusive School Award
If your school is interested in obtaining the IQM Inclusive School Award or you wish to talk to a member of the IQM team please telephone:
028 7127 7857 (9.00 am to 5.00 pm)
or email: info@inclusionmark.co.uk for further details.
Want more information on the IQM Award? Click here to request your free IQM information pack.