Irk Valley Community, Manchester has been assessed and has received the Inclusive School Award.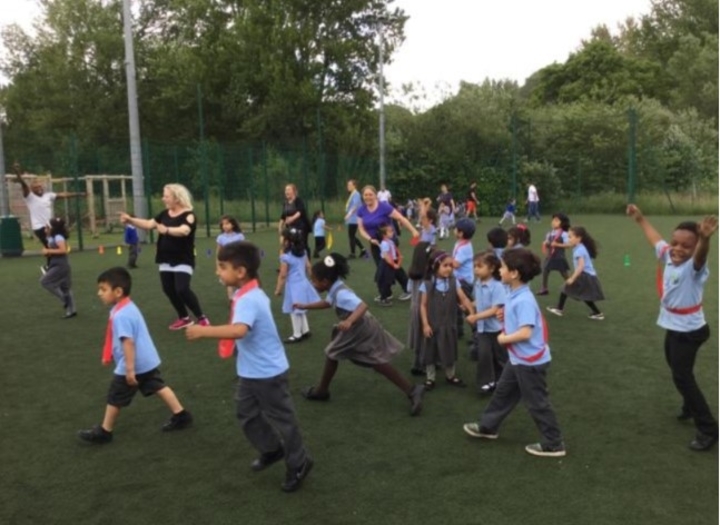 Context
Irk Valley is a larger than average community school of 502 pupils currently on roll including a 65 place Nursery. The school's multicultural intake enables pupils and families to experience many cultures and languages, and pupils respect each other's differences, having tolerance for other views and beliefs. They have worked hard to develop parental links with great success and there are many opportunities for parents and families to learn alongside their children and be involved in the life of the school, creating a real community feel. Seventy six percent of pupils in the school have a first language which is not English, a school where 34 different languages are spoken. The school has excellent induction processes for pupils new to English, and families feel extremely welcome as evidenced by the many conversations with parents during the assessment. By the end of Key Stage 2, many children with EAL have made excellent progress.
Supporting Vulnerable Pupils
Mental health is an issue for some pupils and families and the school works hard to support this with an excellent programme of pastoral care for pupils and good signposting to support parents and families in need. A TA has had one day's training through the NHS to support primary mental health issues and with another day's training will be able to deliver more effective support. The outstanding school attendance team work very hard to reduce the amount of time children are away from school and this has been effective, with a continuous rise in attendance over the last two years, at the time of the assessment attendance stood at 97% a fantastic level of attendance, for which they should be commended. Attainment on entry is well below the national average. The proportion of pupils eligible for free school meals at 37.5% is higher than the national average, 16% (82) of its pupils are on the SEND register.
Breakfast Club
The school offers a Breakfast Club for pupils before school, where they can choose between cereal or a hot breakfast all for £1 and there are opportunities to involve themselves in games and Lexia as well as a different ball game in the hall each morning. This is extremely well supported by staff who give their time freely and is attended by large numbers of pupils, who then get their day off to a calm start.
After-School Club
The school also offers an after-school club for £3.00 that runs from 3.20 pm – 5.00 pm. This is made up of 5 children with an ECHP or statement, 77 children as SEND support, 22 SEND support children receiving outside agency support. The school is supported by a senior educational psychologist who provides assessment and targets for pupils. These form part of the assess, plan, do, review cycle and individual learning plans are devised from these. Five one to one support assistants attend fortnightly meetings with the SENCO and receive in-house training to meet pupils' needs. Safeguarding is outstanding and all staff, students, volunteers and visitors to the school have Safeguarding and PREVENT training relevant to their roles. The school has strong relationships with the Early Help Hub and external support for families is extensive. Therapeutic intervention is provided for vulnerable pupils including play therapy through the School Counsellor and drawing and talking, who works in the school for one day a week and offers invaluable support for vulnerable pupils. They can also draw upon the experience of the school nurse who is in school for at least half a day each week. There are two Learning Mentors at the school; one full-time and one part-time who provide invaluable help and support with behaviour and attitude to learning.
Including All Pupils
The school should be proud of the staff they employ in this respect to ensure the correct outcomes for pupils and their families and the staff should be commended for the work they get through in this arena to ensure all pupils are included and have successful outcomes. Everyone in KS2 including staff complete the Daily Mile around the school, this has led to improvements in physical, social, emotional, mental health and well-being. The session which I witnessed during the assessment takes just 15 minutes and although at the start some pupils didn't complete a mile there has been measurable improvement. The school should be congratulated for their endeavours in this area.
Ensuring Pupil Progress
Through pupil progress meetings all groups of pupils are discussed and, where necessary, appropriate plans are put in place to support their attainment and progress. The school also employs a Parent Support Advisor who helps with attendance, supporting pupils, helps parents to complete paperwork, helps as a translator and in a multitude of other supportive ways that enable pupils and families to attend school and be successful. She is well regarded by staff, pupils and the community. The Head-teacher leads on pupil premium in the school, supported by a Pupil Premium Manager and they closely monitor the progress and provision for disadvantaged pupils supported and challenged by the senior leadership team and pupil premium governors.
Not Resting on Their Laurels
Irk Valley Community School is a good school, as evidenced in their most recent Ofsted report in July 2014 where they stated 'Teaching is good across the school, and some is outstanding. Staff typically have high expectations and pupils learn quickly. Pupils' behaviour is good. They enjoy coming to school and are keen to learn. They say they feel very safe and are well looked after in school…The leadership and management of the school are outstanding. School leaders and governors have a very clear understanding of how well the school is performing and where it can do better…. parents are very supportive and appreciative of the school. I wholeheartedly agree with these statements but from the evidence seen and discussions with all stakeholders during the assessment I would say that the school is outstanding. The school does not rest on its laurels and is constantly looking at ways to develop for the benefit of the pupils, parents and the community that it serves. Pupils follow a carefully planned curriculum that meets all statutory requirements and clearly outlines skills and expectations for each phase of learning. All staff have a clear vision for the school and their pupils and a relentless determination and drive to succeed. Pupils show enjoyment of learning about themselves and the world around them, again clearly seen during learning walks around the school.
Behaviour and Safety
The behaviour and safety of all pupils is outstanding as I can attest to from the numerous interactions observed during the assessment in classrooms on corridors and at breaks and Lunchtime. It is refreshing to see a school where they have only three rules – Be Ready, Be Respectful and Be Safe, that has come out of their work with Pivotal Behaviour and drives interactions in the school so successfully. These rules are understood and known by everyone in the school and adhered to very successfully. The school continues to improve in every aspect under the leadership of the Headteacher, Deputy Headteacher and Senior Leadership Team who have created a shared vision and desire amongst staff to continue to drive the school forward. The school's vision is "To develop confident, successful, happy and caring individuals who love learning and are able to make a positive difference in the world". This is supported by the school's values that underpin all aspects of school life: Respect, Excellence, Aspiration, Co-operation and Happiness – REACH that are embedded in everything that happens in the school setting. They provide a very happy, caring and stimulating environment in which every pupil's uniqueness is celebrated and they can grow to fulfil their potential, evidence of which I clearly saw time and again during the assessment. They are committed to inclusive education in its widest and most encompassing sense. As a team, the school has developed their systems and procedures to support all learners across the school and are continually looking to improve their practice so that their provision is the best that it can be for all pupils, so that everyone can reach their full potential regardless of sex, race, age, culture or disadvantage. The staff work extremely hard to provide a fully inclusive learning environment where they celebrate diversity and difference and where pupils are treated as equals.
Well Planned Visit
Thank you for inviting me to assess your fantastic school. Please thank your pupils, staff, parents, governors and external partners who spoke so openly about their school during assessment and about the extremely inclusive ethos that abounds there. My visit was very well planned and managed with a very detailed and thorough self-evaluation document that was well organised. The process which the school adopted in collating the evidence resulted in an accurate self-assessment of its policies, awareness and practice. Over the assessment, it was clear to see that inclusive practice is not just an additional part of the curriculum but is ingrained in the ethos and culture at the heart of the school and part of everything that happens, where staff, governors, pupils and parents work in partnership to ensure the best for all. Individual difference is celebrated and seen as a positive feature in this school, where everyone is encouraged to see the strengths in others.
Extremely Welcoming and Friendly
Irk Valley is an extremely friendly and welcoming learning community within a modern, bright and airy building, having been built in 2010 on stilts to ensure that it doesn't flood as it has a river at the bottom of the playing field and has been well considered, and planned to be fit for 21st Century education with fantastic facilities both indoors and externally for the benefit of the pupils and staff. Irk Valley is a school that is a vibrant ever-changing and developing community with a happy, family-orientated environment where exciting things happen in and out of the classroom. It is a school where pupils are listened to and valued, they feel they belong and continue to achieve and grow as individuals. During the assessment, I clearly saw this demonstrated as I moved around the school in classrooms, on corridors in discussions and conversations with staff, pupils, parents, governors and external partners delivering parental workshops, that are highly valued by parents and include activities such as Sewing, Maths, Family English support, Phonics, Cake decorating, Pattern cutting and soft furnishings. Everyone involved in the school is inspired to develop as individual learners and to contribute to the inclusivity of the school. This also filters out to parents and the local community, as evidenced by the parents I met during the day. All parents spoken to, whether as part of a group or individually acknowledged the superb supportive work the school and its staff are continuously involved in to support their children and themselves and that they often go above and beyond what is expected of them to ensure successful outcomes. One adult delivering a parent workshop who has worked in Adult Education for over 25 years told me that this was the best school she had worked in, for the way that parents were welcomed into the school and were given help in supporting their children and themselves often at short notice, a fantastic accolade echoed by the parents.
The School Lives and Breathes Inclusion
This school lives and breathes inclusion. All staff are happy to share their school and celebrate their vision for an inclusive and successful school and they feel part of 'The Irk Valley Family'. During the assessment, I saw Irk Valley at work and at social times, experiencing the extremely unique culture and ethos that is part of the school and naturally underpins everything that happens here. This is, in my opinion, an outstanding school, that pupils and staff are proud to be a part of. During the assessment, there were numerous examples seen that showed Irk Valley proudly stands at the heart of its local community, such as the fact that the school employs four staff to deliver interventions in the afternoon so that pupils who have not made sufficient progress in the morning are able to engage in an intervention either as a small group or 1:1 that will enable them to successfully access learning the next day. FSM and PP pupils are prioritised but not to the exclusion of the needs of other pupils. I saw these interventions first hand and spoke to staff and pupils involved in the process who were appreciative of the help they were getting to catch up quickly. I was impressed by the confident, respectful, mature, extremely well behaved and happy pupils and by the shared vision not only of the Headteacher, Deputy Headteacher and the Senior Leadership Team but by all staff employed in the school, who are committed to inclusion in its broadest and best sense. It is clear to see that the children really enjoy their education here and enjoy coming to school for the many opportunities it gives them. There is a superb sense of care and nurture within Irk Valley and the community surrounding the school, where every member is valued for who they are and what they might become in the future.
Pupils Actively Participate
Pupils actively participate in learning throughout the school, clearly seen in the way in which they engage in lessons, a fact I can attest to from many observations. The school is focused on improving the attainment and wider outcomes for all pupils. Teachers plan very carefully to identify and meet the needs of all pupils utilising the support staff that are highly skilled and work as key professionals alongside teachers. There is a very rigorous monitoring process including formal classroom observations, scrutiny of pupils' work and of teachers' planning as the school continues to provide high quality provision across the board. Within this framework there is also a commitment to staff well-being and nurture and a rigorous but supportive PM system. There are excellent relationships between the pupils, the staff and the Governors who are very much a part of the school. Every member of staff and adult who works in the school is a positive role model for the pupils modelling the behaviour which they expect, which I clearly saw during the assessment and in conversations with staff, parents, pupils and Governors. There is very much a family feel to the school. Behaviour in classrooms, around the school building, outside in the well maintained and superbly equipped play areas, is exemplary, pupils are extremely courteous, mature and respectful to each other, to staff and to visitors. There are excellent systems in place to support the children and their families. The school 'knows itself' very well and has the highest expectations of all members of the school.
Excellent Facilities
Physical access in and around the school is excellent as one would expect from a modern building. Classrooms and corridors are bright, cheerful and full of attractive displays of children's current work that support the calm and extremely nurturing learning environment. Pupils and staff use ICT and each classroom is equipped with interactive screens, along with computers and there are also banks of iPads to be used by pupils during class and at other times of the school day such as Breakfast Club. The parents I spoke to during the assessment were extremely positive about the school and that it is an open and honest place, where they feel comfortable, listened to and valued and where not only will their children be supported but they know they will be supported as a family. Parents said that they always felt welcomed and that staff willingly discuss any issues and support their children. School communication with them is outstanding and the school is proactive in letting them know how well their child is doing. School governors are highly effective and visit the school as often as possible and are well informed about the work and the progress that the children are making. Governors support the school effectively and are knowledgeable about the strategic plan for Irk Valley. They understand their role and use this to drive and hold staff accountable for the progression of the pupils at all levels.
Inspirational and Aspirational Leadership
To summarise my assessment of Irk Valley Community School there is inspirational and aspirational leadership across the school at all levels, coupled with extremely professional, highly motivated and enthusiastic staff with a great passion for teaching and for the development of all pupils. There is excellent use of pupil premium funding and tracking to support vulnerable pupils, alongside superb support for staff and pupils at all levels, including training and CPD as appropriate. There is an extremely strong and passionate Governing Body that is fully involved and integrated into the life of the school, actively promoting the inclusion policy of the school. They are well trained and knowledgeable about the school and provide both support and challenge to the school. They know that their contributions are valued by the school. This is a school where pupils always come first, and they are encouraged to do their best, irrespective of ability, disability, social background, ethnicity or gender, consequently they achieve well or better. There is a calm but vibrant, feel to the school within an enjoyable, happy, nurturing and purposeful learning environment that sets the tone for learning and enjoyment for the staff and pupils. In my opinion from the evidence of the assessment the emotional and educational support for all pupils and the staff is an outstanding feature of the school and is a key element in its success and why it is valued not only by the local community, but by the staff and the pupils, who are regularly going beyond what is expected to ensure successful outcomes for the children and families. Staff morale is exceptionally high and excellent relationships were evident throughout the visit between staff, pupils, parents and governors. Staff felt that there was a highly effective support network not only for pupils but also for staff and families which ensured the school was a happy place to be. There is very much a family feel to the school where everyone works to support each other to achieve the best for themselves and the pupils in their care.
Find out more about the IQM Inclusive School Award
If your school is interested in obtaining the IQM Inclusive School Award or you wish to talk to a member of the IQM team please telephone:
028 7127 7857 (9.00 am to 5.00 pm)
or email: info@inclusionmark.co.uk for further details.
Want more information on the IQM Award? Click here to request your free IQM information pack.